Plan Templates
24+ Weekly Planner Templates
Do you know that a weekly planner template can help you to be more productive at work? Of course, the many professionals who prefer to use the Daily Planner Templates for the week know how much useful these tools are. If you are ready to change the way you do things at work, and even at home, you will find these files so useful. So much, in fact, you cannot even do without them. Of course, these files make planning easier. And this makes it easy to account for time in the best way possible.You may also see plan samples.
Printable Weekly Meal Planner Template
Simple Weekly Family Planner Template
Sample Weekly Fitness Planner Template
Weekly Sales Planner Template in MS Word
Basic Weekly Student Planner Template
Printable Weekly Schedule Planner Template
Free Sample Weekly Training Planner Template
Editable Weekly Goal Planner Template
12 Week Fitness Planner Template Layout
Free Weekly Budget Planner Design Template
Free Weekly Homework Planner Template
Free Weekly Lesson Plan Sample Template
Toddler Weekly Lesson Plan Template in Pink Colour
Free Basic Weekly Planner Template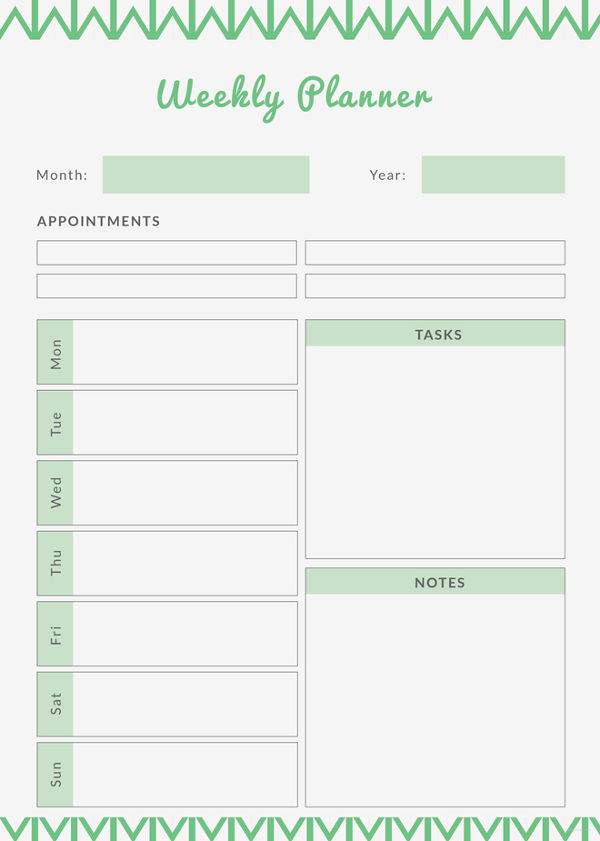 Free Weekly Sales Planner Template
Free Weekly Day Planner Template in PDF
getselfhelp.co.uk
Use this file to create a weekly plan earlier before you start your week. You could write the simple plan during the weekend so that you could jump straight to business when Monday starts. One more important thing to remember is that the templates are free.
Weekly Time Planner Outline Template
northeastern.edu
This is a free template that you can download and use at any time of the day. The outline of your plan completely depends on how you would like to spend your time. The goal of this template is to help you plan your time with ease.
Free Weekly Menu Planner Template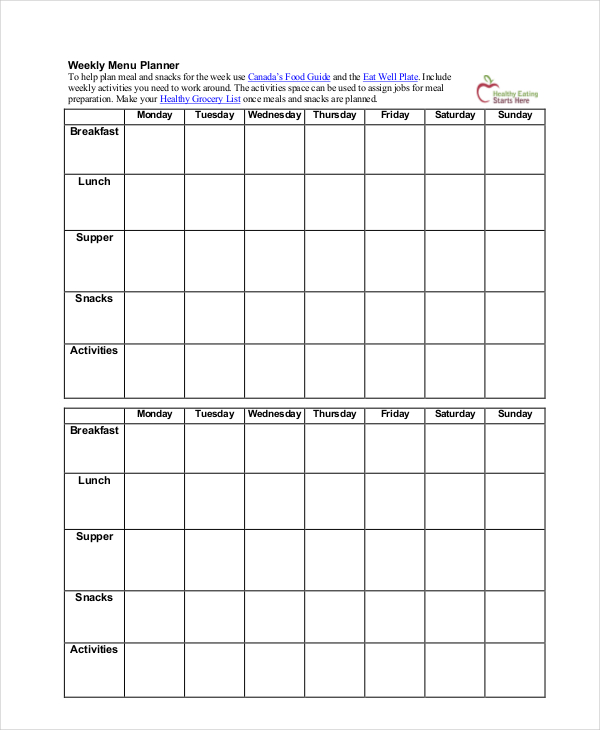 albertahealthservices.ca
At the end of the day, using a Weekly Meal Planner can help you plan everything in your home right. As long as you have a suitable plan in place, you never have to worry about spending too much or unnecessarily.
24 Hour Student Weekly Planner Calendar Template
utas.edu.au
Being a student is tough. But it can get even tougher if you do not have a study plan. It is best to create a schedule that will help you study well from the first day of the school's week to the last.
Printable 7 Day Weekly Planner Template
ryerson.ca
The 7-Day weekly planner is a good piece of document for people who prefer creating plans to follow throughout the week. If you are one of the persons who just can't do without a weekly plan, this may be the right template for you.
Aesthetic Weekly School Planner Template
routledge.com
Sample Organizer Hourly Planner Template
rice.edu
Simple Weekly Meal Planner Template
muschealth.org
What are the uses of Weekly Planner Templates?
If you are a student, a weekly planner will help create a lesson plan that will guide you throughout the week.
Employees can use the templates to prepare their Weekly Schedule. This will enable them to become more productive as well as more resourceful at the place of work. Of course, having a plan on hand allows you to focus only on what really matters. At the end of the day, you spend a lot of your time being more constructive than otherwise.
Free Weekly Revision Planner Template
downloads.bbc.co.uk
Free Student Budget Planner Example
queensu.ca
Free Student Blank Weekly Planner in PDF
uq.edu.au
What are the Benefits of Weekly Planner Templates?
A lot of people waste time every single day for one silly reason: lack of a weekly academic planner. The problem with wasting time is not that you cannot make up for the lost minutes, the problem is that you can never turn back the hands of time to do things the right way. To make sure you make every minute of your personal and career life count, it is important to download and use a weekly planner template. The best thing is you can download these templates for free. Start using these templates and make every minute count.
While a weekly planner is a document you can create from scratch every week, you may find the repetitive task of designing the document, say every Sunday night, quite boring and absolutely overwhelming. As such, you need a weekly planner printable template that you can download and use straight out of the box.
More in Plan Templates