Powerpoint
14+ Professional PowerPoint Templates
Presentations are an integral part in the business world. When you are task to make an expert business presentation in front of your bosses, your main goal should be to provide a skillful presentation that will engage your audience. Remember that the key point to an accomplished and successful presentation is how you effectively demonstrate the information. The most convenient way to a killer presentation is by using a PowerPoint template.
Let's admit it, nobody wants a boring presentation. That is why our website is dedicated to provide our valued readers with professionally crafted templates so you can edit PowerPoint template to match the purpose of your presentation.
Business Professional Power Point Templates
Professional Business Plan
utdallas.edu
Professional Development in Business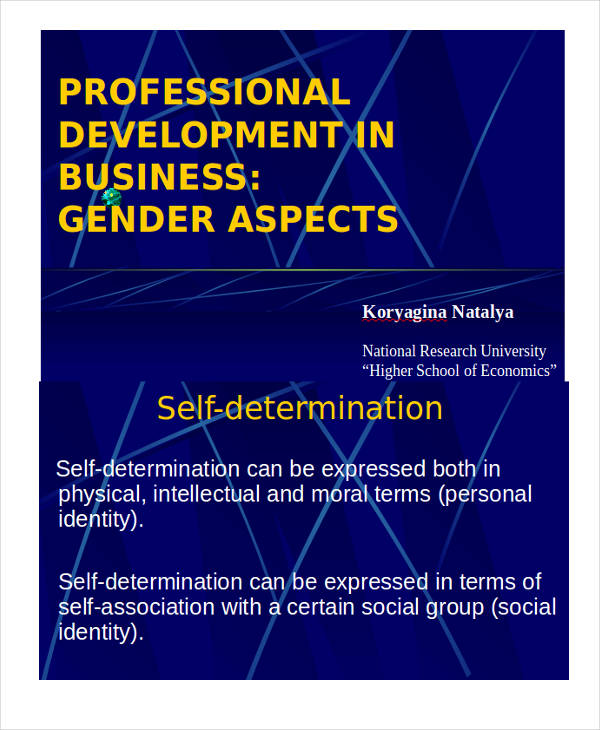 social.hse.ru
Business Attire: Discussion Session
indiana.edu
How to Design a Professional PowerPoint Presentation
Have you ever experienced sitting down in a poorly designed PowerPoint presentation? A boring and messy PowerPoint presentation is not going to do any favor to the audience watching. It would only be a waste of time since the audience is not able to absorb all the information because the presentation is not only boring, but also distracting, especially when it is overly designed. In this section, we will provide you with the proper way of designing a PowerPoint presentation.
Observe KISS (keep it straight and simple).
No matter how simple the layout is, make sure to use it to your advantage by controlling an orderly flow and hierarchy of information.
Instead of using long paragraphs and sentences, simply the information using keywords and bullets.
Use white spaces on each slides when presenting details and ideas to make your audience focus more on the key points of your presention.
Use serif fonts to make the information more readable.
If you have no any experiences in designing a PowerPoint template, we would recommend you to download the free PowerPoint templates or the best PowerPoint Templates from our website.
Tips for Delivering a Professional PowerPoint Presentation
If you want to tell a story to your audience, be sure that you are able to give a compelling PowerPoint presentation. This is especially hard if you are task to give a big presentation. The main purpose of using a professional PowerPoint presentation is not to bore the audience with long discussions; instead, it breaks down the information into small yet detailed parts.
Determine and understand your audience and what they would want to learn from the presentation. To be able to do this, you will need to do a thorough research on your target audience and list down all the ideas that you think are essential and relevant to the presentation.
When structuring the information, make sure to section them off in a logical order so that the audience do not have a hard time following the flow of the presentation. You can incorporate imagery in a slide for each new section to keep the audience engaged and interested throughout the presentation.
Use a professional design for the entire organization as it plays a vital role in branding – incorporate fonts, logo, and coloring associated with your company. Make sure to use clean and clear designs, as well as high resolution images to boost the quality of the visuals.
To help you deliver a professional PowerPoint presentation, why not check out our downloadable and editable high-quality modern PowerPoint templates and cool PowerPoint templates for ease and convenience?
Professional Animated PowerPoint Templates
Free Professional Animated Presentation
cs.ubc.ca
Professional Computer Animated Presentation
technicaldept.co.uk
Professional Academic PowerPoint
ademicleadership.curtin.edu.au
Different Uses of PowerPoint
Whether you are a business entrepreneur, teacher, or student, PowerPoint is a powerful tool when you want to attract and grab the attention of your target audience towards your views.
Corporate training – Managers usually use PowerPoint presentation to provide a better, effective, and interactive training to associates. It helps to generate better and more results in a shorter period of time.
Marketing strategy – Are you planning to use a PowerPoint presentation to pitch investors or introduce a new product? Marketers often use this powerful presentation tool to highlight the vital aspects of their marketing strategy, such as the details and cost of the product, analyzing competitions in the market and others.
Learning solutions – Since PowerPoint combines visual and audio, it makes normal lectures because more engaging and interactive. The medical PowerPoint Templates on our website are great for presenting lectures or training to medical personnel or students.
Professional Corporate PowerPoint Template
Corporate Business
hajarian.com
Creative Corporate Presentation
indiana.edu
Presentation on Corporate Management
web.viu.ca
Modern Professional PowerPoint Template
montgomery.k12.ky.us
Why Use Our PowerPoint Templates
Aside from being professionally crafted by expert designers, the templates on Template.net feature high-resolution PPT images that can be easily used any time and for any purpose. It also comes in myriad designs and backgrounds to make your presentation stand out and memorable to audience. You can also customize our website to suit the branding of our company by letting your add your logo and change the font.
Looking for the perfect PPT template for your wedding? No problem. Visit our website and download the wedding PowerPoint templates and the animated PowerPoint templates for free!
IT Professional Power Point Template
kau.edu.sa
Professional Nursing PowerPoint Presentations
Professional Nursing Organizations
vanurse.org
Professional Nursing Development Plan
nes.scot.nhs.uk
Office Professional Power Point
pcc.edu
Dos and Don'ts of PowerPoint
Do want to impress your bosses and colleagues with a great PowerPoint presentation? Make sure to follow this guideline to make the best use of PowerPoint for your presentation.
Do use professionally designed templates for effective presentation. Download from our website the free PowerPoint templates & backgrounds.
Do maintain simplicity of your presentation.
Do keep the font size for the title of your presentation between 36 to 40 points.
Do limit the bulleted points to 6 and less per slide. Make sure all bulleted infornation are short and concise.
Do incorporate relevant keywords to easily convey your message to the audience.
Do use colors that are gentle to the eyes.
Do use charts, diagrams, and graphics to enhance your message.
Don't add too much special effects and animations going on.
Don't use inconsistent colors for each slides.
Don't use eye-straining, brightly colored backgrounds.
Don't use too much images and graphics.
Don't go over 20 slides per deck.
Don't read all the information found in each slides.
Don't forget to proofread the information before presenting them to the audience.
More in Powerpoint