Powerpoint
58+ Christmas PowerPoint Templates – Free AI, Illustrator, PSD, PPTX Format Download!
Christmas is an occasion that is extremely vibrant and loaded with colors and images. Adding layouts that are reminiscent of this festival is an imperative option for most users who are looking to include red, green, and white hues into the mix. One can make use of free Christmas templates for rendering the preferred look which ascertains every single detail of this occasion in the most perfect manner. If you want to make an elegant Christmas list PowerPoint with purple and gold borders, we got templates perfect for that. We even have templates for Catholic Church-themed PPTs, one that is black and white, or even orange rustic themes. All of them are perfect to make a PowerPoint for this religious winter holiday. The bell tolls on all these amazing features! You can also see Christmas Gift Certificate Templates.
Elegant Christmas Slides Presentation PowerPoint Template
If you looking to mix the green and red of Christmas in your presentation to make it vibrant, this Christmas slide presentation PowerPoint template is the perfect one for you.
Christmas in Numbers Powerpoint Slideshow Download
This amazing spread of blue with a little Christmas Menu is the template you might need this season. This Christmas in numbers PowerPoint slideshow is easy to download and showcase Christmas.
Gold Christ in Christmas PowerPoint Template
This Christ in Christmas Business PowerPoint template is a vibrant match of colors that welcomes Jesus Christ to the earth and celebrates his birthday. It is easy to download and use.
Christmas Project PowerPoint Presentation Template PSD Layered
If you have to present on Christmas, this Christmas project PowerPoint presentation is the one that provides an amazing professional layout that also screams Celebrations! It is a layered template.
32 White Christmas Xmas Templates for Presentations AI
This 32 Christmas Xmas templates for presentation gives you the perfect slideshow where you can insert your required text. It is downloadable in AI format and contains 32 slide templates.
Winter Holidays Christmas Gifts Festival Templates PPT
This holiday Christmas gifts festival flyer template is in a PowerPoint format that helps you to make a PPT on Christmas or gifts that one sends out during the festival season.
6 Christmas Border Powerpoint Animated Card Template
Christmas Cake Template Presentation Download

presentationmagazine.com
Christmas Themed Powerpoint Template PPT Format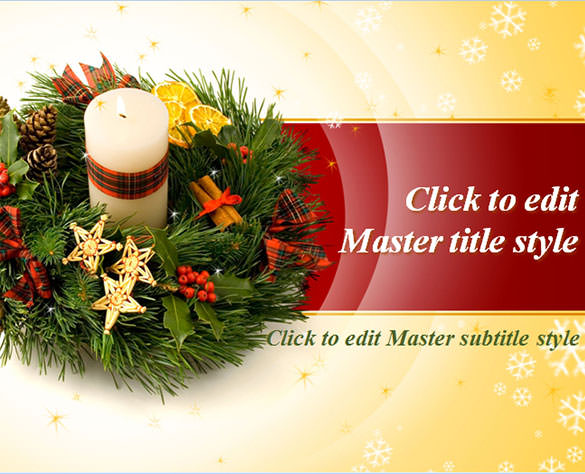 free-power-point-templates.com
Snow Christmas Tree Template Powerpoint Download

presentationmagazine.com
Christmas Joy To The World PowerPoint Sermon Template
Green Holiday Gift Christmas PowerPoint Background
Black Christmas Stars Template Presentation

presentationmagazine.com
Miracle of Christmas Ministry Powerpoint
Christmas Powerpoint Template Template Download

free-power-point-templates.com
Glory in the Highest Christmas Powerpoint Download
Blue Christmas PowerPoint Template With Ball and Tree
PowerPoint Template With Christmas Bells Tree
Christmas Gift List Powerpoint Template PPT
Birth of Jesus Christ Orange Powerpoint Template for Christmas

free-power-point-templates.com
Christmas Lights Template MS Powerpoint Download

presentationmagazine.com
The Christmas Rustic Story PowerPoint Slideshow
Christmas Church Template Nativity of Jesus PowerPoint

free-PowerPoint-templates.com
Printable Red Christmas Santa PowerPoint Template
PowerPoint Template With Catholic Christmas Holiday
Jesus Religious PowerPoint Purple Background Christmas
Christmas Event PowerPoint Template PPTX Format
Christmas time may be a few months away, but you have got to start preparing for it in advance. As a business-runner, you have to start thinking of ways in which you'd reach out to your staff and clients and give them Christmas greeting cards. One of the most popular tricks is to make a Christmas PowerPoint presentation on behalf of your company, and send it to clients, well-wishers, etc. We have got some awesome Christmas PowerPoint templates for this purpose! You can also see Christmas templates. Most of these layouts come with predefined sections which allow us to add texts and graphics depending upon the alignment needs. The best possible specifications like multi-device compatibility and a variety of textures make these essentials highly credible. Wait no more and add these enigmatic templates into the scenario for lending a magnificent look to the PowerPoint slides which are comparable to the grandeur of the festival itself.