Invitation Templates
13+ Retirement Celebration Invitation Templates in PSD | AI
What is a retirement party all roughly? It's a celebration Party invite Templates of the number of years of service and it honors a person's attainments in their skilled field. At the identical time, it's time to mention a smart bye to any or all those co-workers you've got worked with for several years. And currently, as you retire, you'll not see these folks on a commonplace. You will additionally see Retirement Invitation templates.

Table of Content
So whether or not you're hosting your retirement Party for one for a colleague, retirement party invite template helps you choose the way to set about it. You will additionally see Farewell Party invites.
How to Prepare a Retirement Celebration Invitation?
When a retirement party invites you, you would like to certainly clear on the main points. You don't wish anyone confused about things just like the codification, or worse, the time of the event. Confirm all of your retirement party invite basics are coated by checking off every of the following:
1. Date/Time: Confirm to administer all invitees enough schedule plans so that they will create the party. decide to send invitations out a minimum of 3 weeks before.
2. Location: Wherever is that the party located? If it's troublesome to achieve space, you'll most likely wish to incorporate directions also as an address.
3. Reason for Party: Create it clear from the start that it's a retirement party. Otherwise, you may have confused guests bringing to light with a present.
4. Honoree's Name: As well as the honoree's name in writing can facilitate less acquainted guests' guarantee they need correct writing system so that they recognize what to write down in an exceedingly retirement card.
5. What to Wear: Is that the party a black-tie or casual affair? Is there a themed costume? Confirm to incorporate these details on the cardboard so no attendee comes clad.
6. What to (or not to) Bring: Confirm to designate "No gifts" on your invite if you don't need a pile of presents to bring home once the party.
7. Any Other Details: Are you asking guests to give to the honoree's favorite cause? Or even you would like to designate the party as an adult solely house. Otherwise, you may wish to request guests to RSVP. Either way, confirm it's clear on the invite.
If you're searching for extra steerage, you'll be able to follow our different orientated necessary data to incorporate on party invites.
4+ Retirement Celebration Invitation Templates in PSD | AI
1. Retirement Luncheon Party Invitation Template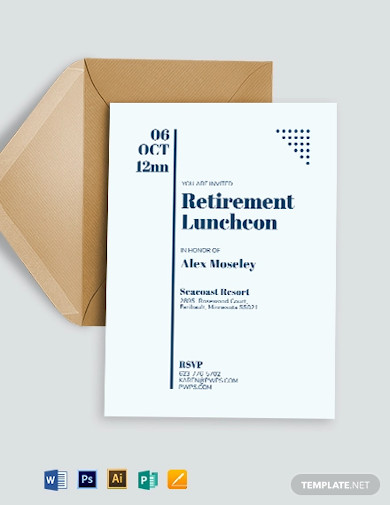 2. Military Retirement Invitation Template
3. Retirement Party Invitation Guest Template
4. Teacher Retirement Party Invitation Template
5. Surprise Retirement Party Invitation Template
6. Retirement Happy Hour Invitation Template
7. Retirement Luncheon Invitation Template
8. Modern Retirement Party Invitation
9. Elegant Retirement Party Invitation Template
10. Retirement Invitation Flyer Template
A retirement party is an occurrence wherever your friends and colleagues get an opportunity to satisfy and move with one another. If you're invitatory each team to the party, it makes total sense for you to choose template styles that are specially crafted for the aim. Instead, you'll be able to merely work with the templates meant for invitatory coworkers solely. When the audience is mixed, find this Attractive Retirement Invitation templates assisting you with the correct phrasing that's easy and heat at the identical time. Rather than vibrant and private invitations, these are easy choices that, make things easy in the troublesome time and allows you to make a decision which of them to use.
11. Retirement Invitation
Pick from a spread of retirement party template choices on-line and customize them to urge yourself the simplest package and send a retirement party invitation. Even in higher situations, it will get enticing discounts on varied websites. Once it's regarding the resolution Day at work, you're making reminiscences for life! You will additionally verify here Funny Party Invite Templates.
12. Retirement Invitation Flyer Template
If somebody you recognize and embrace is retiring, you have got masses to celebrate. Their career heritage is probably going packed with years of toil, dedication, and lots of milestones. You'll wish to throw a celebration that highlights all of their achievements in their field and appears forward to the restful years to return. However, before you realize an ideal retirement party, you wish to channelize the invites. To create an Event Invitations in Word certain your retirement party invitations are excellent for the occasion, confirm to envision out our retirement invite phrasing guide below.
13. Sample Retirement Invitation Flyer
14. Retirement Invitation Example
Download
Frequently Asked Questions:
1. What to incorporate in Retirement Party invites?
2. What is some Retirement Party invite phrasing tips?
3. Mention some Retirement invites template and Invite concepts.
4. What to incorporate In Retirement Party invites?
Tips on Sending Invites for a Retirement Party
The phrasing of your retirement party invites can vary looking at the party itself. If it's an informal party with shut friends within the retiree's curtilage, the invite ought to match that tone. On the opposite hand, if the party could be a formal affair, you'll wish to convey that formality on the invite. By matching the phrasing to the tone of the party, guests can recognize what to expect and may dress consequently. Follow the recommendation below for invite phrasing tips, and so look at our party invite phrasing guide for added facilitate.
Wording For Formal Invites
Address invitees by their titles and last names. Begin the invite with an acknowledgment like "Please be part of our team for a retirement dinner with gratitude." Use polite, clear phrasing in your invites and a proper close like "Sincerely," at the top. Then confirm to sign your name.
Wording For Casual Invites
First names are fine for casual invites to parties for friends. Casual invites will either be short and sweet, humorous or something that matches the honoree's temperament. These retirement invitation templates still would like all the fundamental data, however, there's a lot of leeway for the phrasing vogue.
A couple of dances at a retirement party might be a good idea to make the ambiance relaxed and comfortable for the aged couple who can revive they're gone back days and rekindle their memories.
Conclusion
Retirement Invite Template And Invite Concepts
If you're specifically searching for phrasing templates for your retirement party invites, look nowhere else. We've provided phrasing examples for various kinds of retirement parties below.
More in Invitation Templates