Most people may not notice it but printed menus help complete any wedding reception's table setting. And in this article, we break down the steps on how you can create impactful wedding menu designs. Multiple examples of downloadable wedding menu templates are also curated below.
A good wedding menu is one that is both informative and visually appealing. Its design should reinforce the wedding motif to make the event more memorable.
Step 1: Determine your wedding motif.
First off, you need to be clear on what your wedding motif is. It's important that your wedding menu design matches your wedding motif and decor. To illustrate, if you are planning for a summer wedding, it is best to create a tropical wedding menu.
Step 2: List down the food or courses you will be serving.
Next, create a list of all the different food courses that will be served during the wedding reception. Also, decide on how much information about each course you want to write down on your wedding menu.
Step 3: Get a printable wedding menu template.
Afterward, choose and download a printable wedding menu template. By using these pre-made templates, you do not have to decide on the menu layout, content, and overall design. You just have to replace the template's built-in placeholders with your own content.
Step 4: Print out on high-quality cardstock.
After proofreading and saving the final template file, you should begin the printing process. To get better prints, you may have the menu template printed at your local print shop. Make sure to use cardstock with a high GSM number as they are thicker and sturdier. You may also incorporate more advanced printing techniques to match all your other wedding stationery designs.
Step 5: Determine the optimal wedding menu placement.
Once you printed, make sure that your wedding menus are placed strategically as part of your wedding tablescape. Most of the time, classic wedding menus are placed on top of the silverware. But, you may always come up with different arrangements based on the existing wedding decorations.
Be inspired by these downloadable menu templates in PSD, AI, INDD, DOC, PUB, and PAGES file formats. Each template may be customized to fit any kind of wedding table setting.
Take your table settings to a whole new level when you incorporate the Banquet Wedding Menu Template shown above. This blank menu template features clean and simple designs that will appeal to a lot of wedding planners and couples. As a fully editable template, you may replace the template's header image with an original photo or illustration.
Filled with illustrations of wholesome sea creatures and script typefaces, the Beach Wedding Menu Template (featured above) works best to match the fun and festive appeal of beach weddings. When using this elegant menu template, make sure that you use the built-in font styles and font colors as they help make the menu design more appealing.
Choose the Bride Wedding Menu Template (embedded above) if you are looking for minimalist menu designs. This is an editable template so you may change the default pink accent color to match your official wedding color.
The Choice Wedding Menu Template (pictured above) works well for weddings that follow a navy, teal, garden, or country wedding theme. The template uses neutral greens, grays, and blues so make sure that your wedding tablescape incorporates these same color palette as well.
Looking for a more formal wedding menu design? Try out the Function Wedding Menu Template shown above. This editable wedding menu template may be printed in different sizes to match the specific requirements of your desired wedding table setting.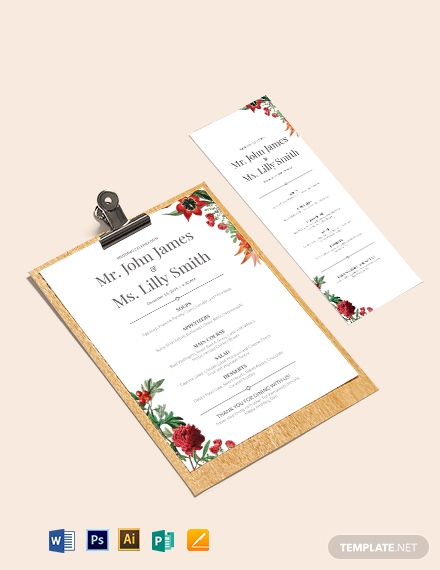 Some of the best wedding tablescapes are those contain a pop of color. You may achieve this through the use of the Printable Wedding Menu Template embedded above. This template incorporates floral border designs whose blooms may be edited to match or to contrast your official wedding color.  Tip: Consult a color chart first if you wish to change the template's color scheme.

As its name implies, the Vegan Wedding Menu Template (pictured above) suits couples who prefer to serve only vegan meals or those who want to create a separate vegan menu for their vegan guests. This template follows a light green color scheme but you may change this to match your wedding motif.
Planning to create a vegetarian menu for your wedding guests? Then, check out the Vegetarian Wedding Menu Template featured above. This formal menu template works best for traditional wedding dinners. But it can also be customized to match any kind of wedding reception dinner event you want to have.
Whether you have decided on a colorful wedding theme or you just want a different wedding menu design, you will love the Watercolor Wedding Menu Template shown above. This menu card design works well with any wedding table setting and it also makes for a good conversation starter.
Add a touch of sophistication to your wedding table decor when you use the Sample Wedding Menu Template Menu embedded above. This template uses clean Serif typefaces and a simple leaf border illustrations in a white background to help emphasize all the other elaborate table decorations you have in place.
Rustic, vintage, fall, country, or traditional. You name it and the Chalkboard Wedding Menu Template (pictured above) will work just fine. This template may be printed as a wedding menu sign. Or, it can be placed on top of your silverware and decorated to match your table place settings. To get the most out of this elegant event menu template, you may use specialty paper or actual chalkboard paper. Ask your local print shop owner about it.