Agreements
10+ Best House Rental Agreement Templates
If there are two or more parties involved, misunderstandings and conflicts might happen—may it be in a job, business, or life in general. One way to settle misunderstandings or avoid them in the first place is to secure an agreement. With the rise of house renting business in the society, it is important to have a legal document that would ensure the occupants that they would get the best service and would guarantee the landlords about the reliability of the occupants. In this article, we have provided you with five easy steps on how to write a house rental agreement.
Table of Content
5 Steps to Write a House Rental Agreement
Step 1: Research laws.
Before making a draft of your house rental agreement, it is important that you have an in-depth knowledge about the landlord-tenant laws in your country or state. Know what is legal and what is not, be aware of the health and safety policies, and review if there are rent control laws in your area.
Step 2: Format and organize your document.
Keep in mind that you are creating a legal document, which is why you have to format it for formality's sake. To organize your document, you have to provide headings for the different sections of the agreement such as payment information, tenancy terms, tenant responsibilities, landlord rights and others. If you don't want to start from scratch though, you can look for ready-made templates online.
Step 3: Describe the property.
Next step is to describe the premise to be rented so that your prospect occupant will know what to expect. Include all information about the place and specify damages if there are any. This would also help you know if the tenant took care of your property and determine the damage/s incurred by the tenant.
Step 4: Write the terms.
Now, you have to specify the terms and conditions. Your rental agreement should cover the essential details such as the names of every tenant, amount of rent, repair and maintenance policy, restrictions, and consequences. Make sure to discuss the terms detail by detail to avoid future troubles with the tenants.
Step 5: Proofread.
Proofread your document and make sure it is free from errors. It would greatly help if you consult a real estate lawyer to have your rental agreement reviewed.
10+ Best House Rental Agreement Templates
1. House Rental Agreement Template
Create a binding contract for your house rental business by utilizing this professionally drafted house rental agreement template. This template features suggestive headings and content which you can use to your advantage. This premium template is available in Google Docs, MS Word, and Pages file formats.
2. Rental Agreement or Residential Agreement Template
With this rental agreement template, you can clearly define and state the rights and responsibilities of both the landlord and the tenant. Moreover, this template allows you to write down the nature and term of the lease, condition of the premises, renewal and change of terms, etc. It is fully customizable to best suit your needs. Download now!
3. Residential Rental Agreement Template
If you are a property owner and you're planning to rent out your property, it is important to have a document that would specify a legal arrangement between you and the lessee. This residential rental agreement will help you write a rental agreement more easily. This template includes a ready to use content for your convenience. Get yours now!
4. Standard House Rental Agreement Template
Establish a clear relationship between the tenant and the landlord by creating legal document with the help of this industry-compliant house rental agreement template. Simply insert the necessary details and you're done. Instantly download this file in MS Word and Pages formats.
5. Rental Agreement Format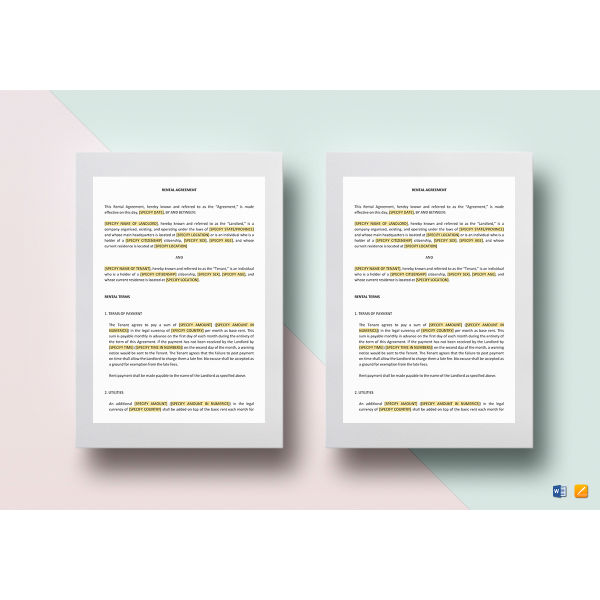 Set forth the rights and responsibilities of the lessor and the lessee with this six-paged rental agreement format. This template features standard business fonts to maintain the formality of the document. Also, it is printable in A4 and US paper sizes. Download this template now for a hassle-free contract writing.
6. Rental Agreement Template
Looking for a template that would help you create a legally binding document for your house rental business? Then this comprehensive rental agreement is for you. It features a professionally prepared content for you to make use of. Download now and close the deal at once!
7. Free House Rental Agreement Letter
In addition to the house rental agreement, you can also write a letter that would help you settle the details of our house rental. This agreement letter template will assist you in writing a professionally-formatted letter without difficulty. It is available in Google Docs, MS Word, and Pages file formats. Download this free template today!
8. Free Rental Agreement Letter
Make a letter to supplement your house rental contract with the help of this rental agreement letter template. By having this template, you can finalize and clarify the details of your agreement. You just have to input some details like the lessor and the lessee's name and contact details and it's all done! And it's free! Secure a copy now!
9. Free Simple Rental Agreement Letter
Use this simple rental agreement letter template as your guide in making a residency confirmatory letter which will be sent to your tenant. This template allows you to confirm some details like the rental term, fee, and policies. It is downloadable in several file formats such as Google Docs, MS Word, and Pages.
10. Residential Lease Agreement Template
This residential lease agreement template has a ready-made content which includes all the terms and conditions for renting a premise. This PDF file is free to download, get yours today!
11. Month-to-Month Rental Agreement Template
With this rental agreement template, you create a legal document that would settle an agreement with a tenant to rent your dwelling on a monthly basis. This will help you create a mutually beneficial relationship between you and your tenant and avoid misunderstandings in the long run.
More in Agreements