Agreements
11+ HIPAA Confidentiality Agreement Templates – PDF, DOC
18 years ago, the manufacturing sector trumped health care by 7 million employees. Then came the Great Recession of 2008 and there were 2.4 million more workers filling out jobs for retail than the healthcare industry. But the latter was just waiting, ready for what experts believe as a milestone, because fast forward nearly two decades, the healthcare industry became one of the fastest-growing industries in the United States. You may also see agreement templates.
HIPAA Confidentiality Agreement Template
Physician HIPAA Agreement Template
mclaren.org
Simple HIPAA Confidentiality Agreement
ejgh.org
2017 was a defining year for the medical profession. While it was inevitable, nobody believed that health care would surpass both the manufacturing and retail sectors as one of the fastest-growing industries, providing jobs to millions of Americans as it became obvious the gap between the graying and the young and agile grew further apart. You may also see simple confidentiality agreements.
HIPAA Patient Confidentiality Form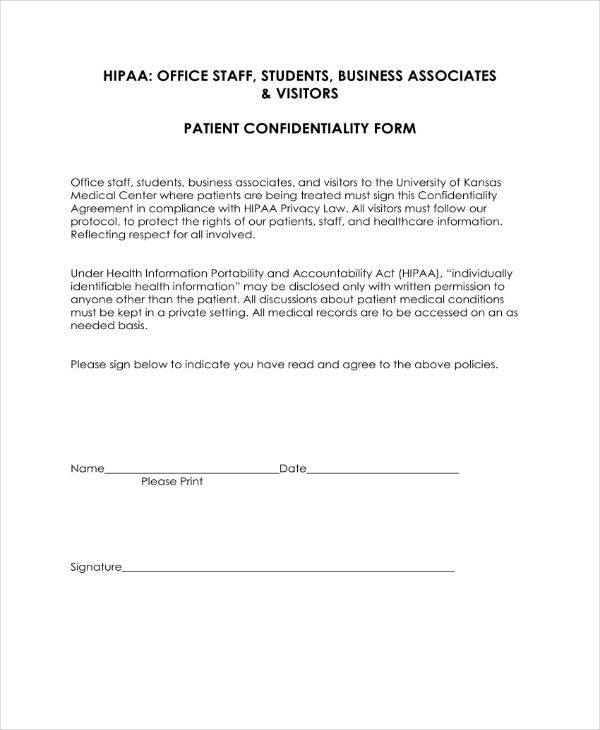 kumc.edu
It meant more care for the retiring population and more jobs for the millennials who wanted a career in the healthcare industry, be it as physicians or ever as a member of public and private practice's non-medical staff, as well as third-party healthcare insurance providers.
The United States Healthcare System
The aging of the boomers' generation, a generation which always had an outsize presence compared to other generations, especially in the United States and the equally unstoppable increase in medical spending since its 4.3 percent growth in 2016, reaching $3.3 trillion or $10,348 per person, made it obvious that healthcare jobs would eventually take over a large part of the economy. You may also see personal confidentiality agreements.
As a share of the nation's Gross Domestic Product, health spending accounted for 17.9 percent for the past two years. One can also argue that when it comes to seeking treatment, despite the political partisan controversy that surrounded health care before and after the recent elections, Americans still have better access to medical attention than people in both Western and developing countries. You may also see sample data confidentiality agreements.
With those figures and with the abundance of jobs available right now in health care, it is both a challenge and an advantage for medical practitioners to ensure that their patients, their clients receive the care and treatment they deserve, which isn't limited to curing or treating illnesses. The job of a physician, including his or her practice's non-medical staff, goes beyond check-ups, follow up treatment and medication. Protecting a patient's private information is also one of the strongholds of medical practice, which sounds pretty much a given but you wouldn't believe how it gets treated lightly, especially when the wish to know is too strong. You may also see human resources confidentiality agreements.
Patient Confidentiality
Patient confidentiality is the foundation of the bond of trust between an individual and a doctor. Knowing that your confidential or personal information will remain confidential would make it easier for you to disclose your medical history and any relevant information. It would make it easier for you to seek treatment when you trust that your doctor isn't going to share anything about your health, history, illnesses, results, and findings of your tests and treatment or personal habits with others.
It means you would more likely want to be completely honest and for a doctor, that's one of the most important things since it helps them identify better what the best treatment for you would be. Moreover, patient confidentiality isn't an option to be had. It's what the law dictates, and any form of violation could mean serious consequences under the Health Insurance Portability and Accountability Act or HIPAA regulations. You may also see a mutual confidentiality agreement.
HIPAA Non-Employee Confidentiality Agreement
cabellhuntington.org
HIPAA and Patient Confidentiality Agreement
ghs.org
HIPAA Employee Security and Confidentiality Agreement
nau.edu
Volunteer HIPAA Confidentiality Agreement
washoecounty.us
HIPAA Employee Confidentiality Statement
co.wood.oh.us
What is HIPAA?
The Health Insurance Portability and Accountability Act (HIPAA) considers and defines your medical records and other health information you provide to healthcare professionals and facilities, as well as insurers as privileged information. Without your consent, they cannot share it, unless the safety and welfare of others are at stake in which case, exceptions are provided but rarely so.
Patient confidentiality is and should remain at the heart of the American Healthcare system because protecting a patient's medical records isn't just about responsibilities, it's also about moral and ethical standards. Also, the stakeholders of a 3-trillion dollar industry deserve nothing less.
Compliance
Organizations which deal with protected health information (PHI) have to have physical, network, and process security measures in place and follow them to ensure HIPAA Compliance. Any entity providing treatment services, payment, and operations in healthcare and business associates, that is, anyone who can access a patient's medical records and information, be providing them support in care, treatment, payment, or operations must always meet HIPAA Compliance. Same goes for subcontractors and other entities related to health care. You may also see the sample mutual confidentiality agreement.
Why is it Important?
1. HIPAA lets you decide who can speak for you. During emergencies or when you are unable to communicate, it is crucial that only someone you trust represent you. Some organizations such as healthcare insurance providers have an inaccurate understanding of this act and they may tell you that you're only limited to one person representing you but that's incorrect. You may designate as many people as you would like to serve as your voice when you can't speak for yourself. You may also see real estate confidentiality agreements.
2. Above all, HIPAA is meant to protect patients and their confidentiality. Every healthcare or medical institution is required by law to have a department for compliance so if you're suspecting there's an issue with compliance or a breach of confidential data, this office is where you need to get in touch and settle your issues with. You may also see medical confidentiality agreements.
3. Under HIPAA, everyone is provided complete access to a copy of their medical and personal records with the institution. This is a given right that no institution can argue or contest, and the only loophole to this is that the law allows entities to charge for them so it gives them the right to set unreasonable prices. Therefore, you should ask for a copy. You may also see non-disclosure and confidentiality agreements.
4. All healthcare institutions and companies which keeps, uses, maintains or transcribes patient health information are required to do it in accordance with the regulations governed by HIPAA law. When institutions comply completely, HIPAA regulations not only ensures the privacy of records, it also reduces the chances of any fraudulent activity and improves record-keeping systems while saving providers billions of dollars every year. You may also see business confidentiality agreements.
Whenever you sign up for a new health care provider or seek treatment at a hospital, a member of the staff gives you a form to sign indicating that it is your understanding that the office or the institution adheres to HIPAA rules. You would also be signing an agreement form which allows communication with other medical professionals regarding your health or condition. If you don't see any paperwork with these terms, something's wrong with the practice you're trying to avail services from. You may also see volunteer confidentiality agreements.
Since HIPAA, originally known as the Kennedy-Kassebaum Bill as a set of regulations that became law in 1996, took effect, it paved the way for a number of important benefits for the American healthcare system and made sure that privileged, confidential patient records are shared and kept securely. The law allowed standards to be established for record keeping and documenting medical data and transactions made and stored electronically made sure everyone has a uniformed hymn sheet signed. You may also see sample employee confidentiality agreement templates.
Since all entities covered by HIPAA must use the same sets in coding and nationally recognized data identifiers, this makes it easier for transferring electronic health information and records between health care providers, insurance plans, and other organizations. You may also see patient confidentiality agreements.
Other than that, getting copies of health records for better treatment and care also helps individuals when they go to another health care provider because information can be transcribed easily and a patient doesn't have to take the same laboratory tests. New healthcare providers would be able to acquire the patient's complete medical history to let them know. Before the HIPAA Privacy Rule, healthcare entities didn't have requirements or process to release copies of patient's records and information. You may also see free confidentiality agreements.
HIPAA Confidentiality Agreement Form
info.wartburg.edu
HIPAA Confidentiality Agreement Example
xavier.edu
HIPAA Compliance Agreement Sample
onslow.org
Signing a HIPAA agreement means you understand the primary purpose of the act to help you carry your health insurance and take advantage of medical services available to you from one company to the next. Only HIPAA streamlines the passing of medical records from one health organization to another. Furthermore, it developed a system to recognize and enforce the patients' right to protect the confidentiality of their medical records and rightfully so. You may also see legal confidentiality agreements.
Although understanding it can require effort, for a patient, it creates and establishes an added sense of security which is very important in a time where we're always concerned about privacy and security. By being familiar with HIPAA, people can better understand the extent to which it can benefit their health, especially when they seek care and treatment. You may also see vendor confidentiality agreements.
More in Agreements