Assessment Templates
22 Best Assessment Templates
For some, they consider needs assessment processes as irrelevant and merely theoretical. However, little do they know that needs assessment is more than just a mere gathering of data or documentation. It sets different objectives and come up with strategies for the betterment and progress of the organization or business.
The type and nature of needs assessment activities that organizations may adopt depends on their goals and context. Furthermore, assessment strategies truly vary because each organization or business face different sets of challenges and opportunities every single day. The commonly used assessment strategies are surveys, focus group discussions, and evaluations, and more.
Application Assessment
Job Application
wtamu.edu
Application of Risk Assessment
icheme.org
Business Assessment Templates
Business Analyst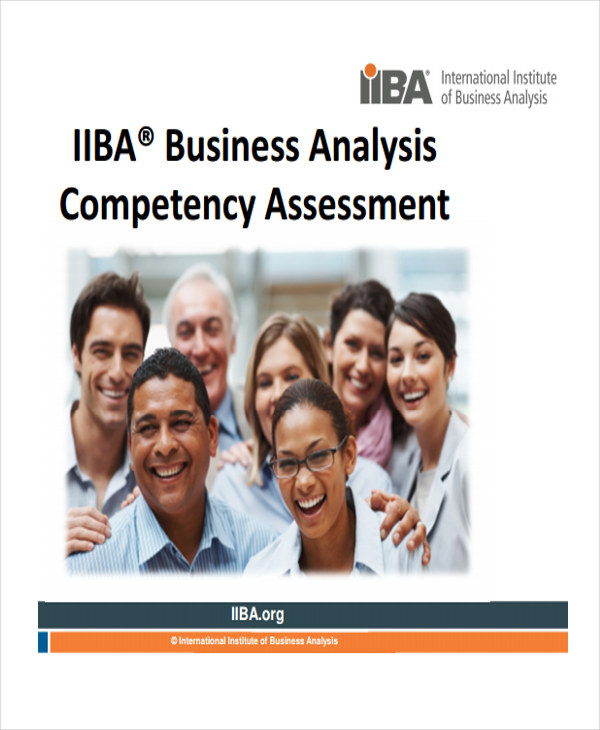 iiba.org
Risk Assessment for Small Business
gov.pe.ca
An Introduction to Effective Performance Assessment Tasks
Performance assessment is a type of assessment process that evaluates the performance of students or certain groups of individuals by providing them with a list of tasks that they should perform and comply with. This type of assessment goes hand in hand with skills assessment templates and competency assessment templates.
In line with this, here are 3 important strategies that you may use to make your performance assessment efficient and effective:
Provide substantial content. As you may observe from free assessment template samples, the context of the assessment must be well established. Your performance assessment must be based on a clear context.
Incorporate thinking processes. The assessment must encourage the applicants to use their critical thinking skills. They should apply the knowledge and skills that they've learned from the lessons as in the case of students.
Clear and concrete performance indicators. Like any other assessment sample, indicators or criteria are very important in any assessment scheme. Indicators are used in processing the data results gathered through the use of assessment strategies.
These are just some significant points that you should take note in dealing with performance assessments may it be in an academic setting or employment arrangement.
Competency Assessment
Employee Competency
uncw.edu
Staff Competency
harrogateandruraldistrictccg.nhs.uk
Assessment for Leadership Competency
workitect.com
Health Assessment
Health and Safety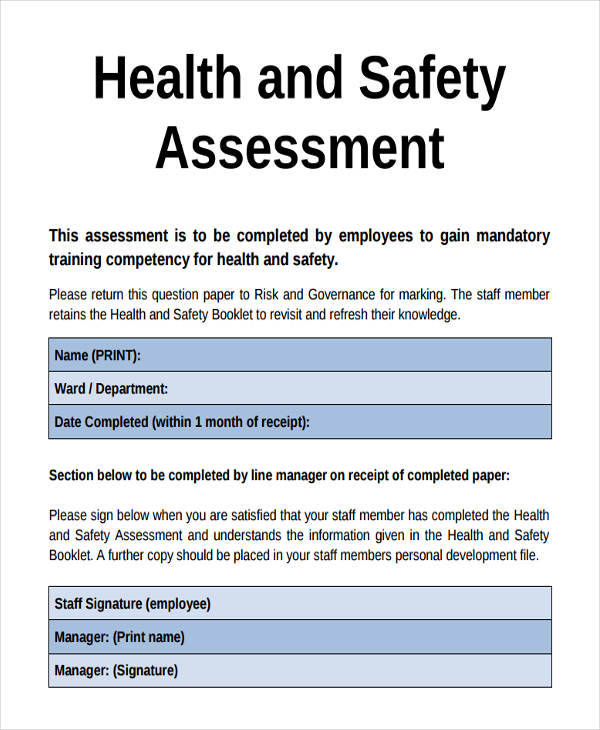 jpaget.nhs.uk
Assessment of Behavioral Health
beaconhealthoptions.com
Project Assessment Template
Software Project
proceedings.informingscience.org
Common Forms of Assessment Templates
We've provided you with a variety of assessment formats and templates. Choose the template that best suits the nature and standards of your work.
Job Application Assessment Templates – If you're looking for job application assessment forms, these templates are perfect for you. We all know that every job application process has their own share of flaws and downturns. This is where job application assessments will work their magic. These can help hiring managers and recruiters streamline their assessment processes.
Business Assessment Templates – These type of assessment templates are used by entrepreneurs in foregrounding their strengths and weaknesses. By using them, you'll have a clear view on how you're business is doing and if you're still hitting your short and long term targets. Furthermore, the assessments are applicable to both large and small scale business enterprises and ventures.
Impact Assessment Templates – Impact assessment, as a process, is used by organizations and business arrangements in identifying the future consequences of a certain course of action or proposed plan. These are mostly used in the areas of disaster management, policy-making, business projects and planning, and many more.
Health Assessment Templates – Because each individual has his or her subjective health needs, health needs assessment processes are needed. The assessment results are used by health professionals and practitioners in coming up with a sound and comprehensive health plan for individuals.
Project Assessment Templates – These templates are mostly used by researchers from independent agencies that are availed by project proponents to assess the progress and condition of certain projects. The assessment aims to communicate both the positive and negative points of a project. Moreover, the assessment templates in Word and PDF provided are great tools and references.
Security Assessment Templates – Every organization and business faces varying security risks. These type of assessment is performed to evaluate the security-related status and condition of a databases and organizations.
Security Assessment
Sample Building Security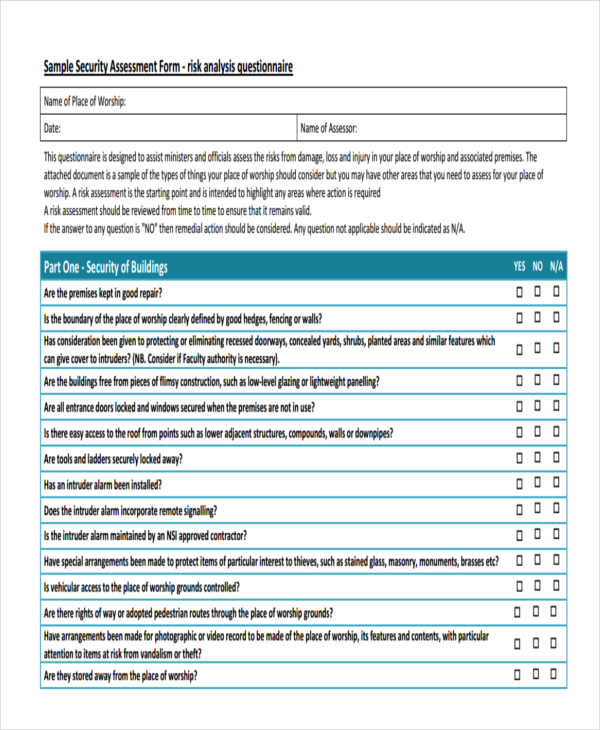 spow.co.uk
Skills Assessment
Assessment for Sales Skills
hbrfrance.fr
Personal Skills Self-Assessment
sheffield.ac.uk
Career Planning Skills
deakin.edu.au
Training Assessment Templates
Pre-Training Assessment
weahsn.net
Training Post Assessment
urologyuk.co.uk
Technology Assessment
Equality Impact Assessment
scas.nhs.uk
Key Features of Risk Assessment Forms
Risk assessment is one of the assessment procedures that are mandated and governed by laws and policies. Most countries have prevailing regulations that embody the importance and significance of risk assessment methods.
Like security assessment templates, risk assessment identifies risks and hazards in order to come up with strategies and plans that can improve the level of resilience of a certain business or organization. Consider the following points:
Identification and hazards and risks. Risk assessment procedures always start with risk identification. In relation to risk assessments, project assessment templates also deal with hazard identification and issue spotting. Because projects assessments are done in order to know the issues and concerns that surrounds the implementation of the project.
Risk evaluation. After knowing the risks and how it will affect a certain population, there is a need to identify possible risk management plans and solutions. Some organizations build networks and collaborate with other entities to minimize or remove the risk. Network assessment templates are also used to evaluate and assess the efficacy of a network with regard to handling certain risks.
Document your findings and plan of action – Documentation is an important element of any assessment processes. It solidifies the execution of plans and programs.
Audit Assessment
Internal Audit
osfi-bsif.gc.ca
Audit Assessment in PDF
pwc.ch
Fitness Assessment Templates
Basic Training Physical Fitness
ohioattorneygeneral.gov
Personal Training Fitness
laurierathletics.com
Candidate Fitness
yoho.house.gov
Assessment Process: Tips and Strategies
Assessment is both considered a process and a form of documentation. As a process, you need to adopt holistic approaches for you to come up with reliable results. As a documentation, you need to record assessment records and results in a professional and engaging manner. Refer to the following points:
Plan the dynamics of your assessment. The efficacy of assessment processes will depend on the assessment methods in place. The proponents of the assessment must plan the operations of the assessment as well as the required materials.
Clearly designate roles and responsibilities. Most assessment processes are carried by groups or teams unless you're using self-assessment templates. Clear designation of responsibilities can help avoid overlapping of functions and ensures that every aspect of the assessment is taken care of.
Come up with comprehensive and well-researched indicators. Indicators and criteria are one of the most important elements of an assessment. They are the basis for the carrying out of analytical procedures and the solidification of solutions and plans.
These are some tips that you may consider in making your assessment forms and reports. In the process of using the templates, you will encounter more tips and strategies in dealing and executing assessment plans.