Assessment Templates
9+ Sample Needs Assessment Templates
Needs assessment is defined as the formal process of identifying and evaluation the needs of an organization or a defined group of people, such as a company or business. When we say identification of needs, it refers to the process of describing the problems associated with the group or organization and the possible solutions to address these problems.
Other institutions describe this as the gap between the "what is" and what should be." It refers to the interval between the ideal and real circumstances that is both acknowledged by the company. A needs assessment might or might not include a Skills Assessment and focuses on the future, as its purpose is to come up with what should be done, rather than what was done.
Training Needs Assessment Template
ehs.ucsb.edu
Business Needs Assessment Template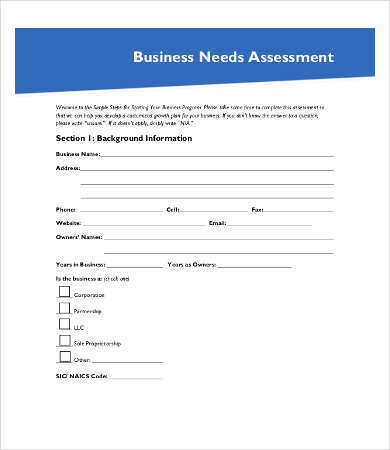 mcedp.org
Nursing Needs Assessment Sample
wales.nhs.uk
Community Needs Assessment Template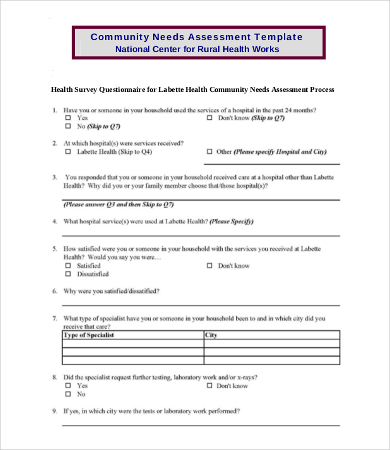 naco.org
Social Work Needs Assessment Sample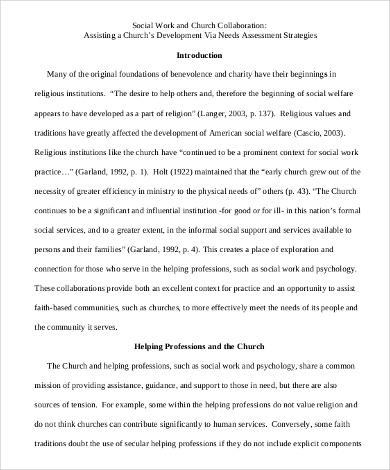 nacsw.org
Different Types of Needs Assessment
A lot of needs assessments can be used for different purposes such as the following:
Organizational assessment. This includes an assessment of the organization's strategies, goals, and objectives in relation to the needs of the business and its workforce. This is a process done to identify what the organization needs to accomplish its goals.
Person assessment. An assessment to people such as employees and management including the customers paying for the product or service. It helps identify whether changes to hierarchies and procedures are required. This can also be done with a Self-Assessment.
Work or task assessment. This is an assessment of the job to specify if the main duties and skill level of the workers matches together. This will help ensure that the content of the job is relevant to the worker's skill level.
Performance assessment. This assessment is performed to determine whether employees are performing up to the established standards or below expectations. It will help decide on actions to be done to improve their performance.
Educational Needs Assessment Template
janssentherapeutics-grants.com
First Aid Needs Assessment Template
firstaidtrainingcooperative.co.uk
Needs Assessment Sample for Teachers
scsk12.org
First Aid Needs Assessment Template for Schools
triangulartraining.com
Needs Assessment Sample for Nonprofits
cdn.volunteermatch.org
Areas that Needs a Needs Assessment
Workforce organization. A needs assessment examines the overall efficiency of a company. It helps to determine if redundant positions should be eliminated and poorly performing departments should be merged into existing ones.
Business direction. When the industry in which your company belongs to gets overcrowded, a needs assessment will help you avoid alienating existing customers and gain new ones during a change in business direction.
Production capabilities. To close the gap with larger competitors, companies may need to consider outsourcing their labor and stop relying on domestic human resources. A needs assessment will help identify these factors.
Market potential. A needs assessment helps you craft better products that have fewer competitors but a broader appeal. It allows any business to produce products that are not yet present in the overly saturated market.
For other specific assessments that you need, such as Project Assessment, check out the other articles on this website and find what you are looking for.