Assessment Templates
20 Needs Assessment Form Templates
Needs assessment is a logical and systematic procedure that evaluates and determines the needs of a particular individual or group of people, and ultimately come up with recommendations to meet such needs.
There innate complexities that surround the process of needs assessment. To start, needs assessment forms are needed in order to conduct the actual assessment itself. Examples of needs assessment strategies or methodologies that make use of needs assessment form templates are focus group discussions, surveys, community meetings, and many more. To help you put together all the elements of your needs assessment form, you can refer to our set of needs assessment form templates.
Training Needs Assessment
Safety Training Needs Assessment
safety.uncc.edu
Pre-Training Assessment
anglo-continental.com
Annual Training Needs Assessment
tamhsc.edu
All You Need to Know About Needs Assessment
Before one can fully understand how a needs assessment form works, the dynamics and characteristics of a need assessment, as a process, must be properly conveyed. For starters, you can refer to the following points below:
Focus on outcomes. Needs assessment is a process that aim to unravel or evaluation the results or outcome of a certain program, policy, or plan of action. In a needs assessment template, you'll discover that assessment objectives aim to foreground concerns or feedback from targeted sample population or even communities.
Comprise of different stages. As a process, needs assessment is a holistic endeavor. From the gathering of relevant information to the proposal of resolutions and recommendations.
Involve indicators and criteria. Needs assessment always adopts criteria or indicators to guide the analysis and processing of the gathered data and records. Risk assessment templates, for instance, contain indicators that are in line with the overarching objectives of the assessment.
Aim for development. Needs assessment is not a mere documentation process. The results must be channeled to proper authorities. The recommendations will improve the procedures, processes, policies, and even the standard of living of a certain community especially in cases of community needs assessment.
Financial Needs Assessment
Student Financial Need Assessment
music.utoronto.ca
Undergraduate Financial Assessment
guelphhumber.ca
Business Needs Assessment
peoplesbanknet.com
Popular Types of Needs Assessment Form Templates
Needs assessment forms are usually used during strategic planning, developmental research, community development, and many more. To know more about the types of needs assessment, refer to the samples below.
Training Needs Assessment Form Templates – For those organizations that provide different types of training programs, these templates can help you. Employers, non-governmental organizations, and even the government agencies can use them in consonance to their training plan. phases of stages. From the gathering of information and analysis until the making of the training plan.
Financial Needs Assessment Form Templates – These type of needs assessment process mostly involve student's or academic financial needs. The process centers on the resources of the students and its relationship with the academic costs and expenses. Does the resources of students meet the prevailing costs? The templates provided will give more details regarding this.
Client Needs Assessment Form Templates – In a business setting, the significance of meeting the needs of the clients cannot be understated. According to research, a well-satisfied client is not just an opportunity to make more profits but also a marketing strategy. By using these templates, you can ensure that you and your clients are on the same page and aiming for the same goal and vision.
Customer Needs Assessment Form Templates – Need assessment forms are also used in recommending performance-improvement solutions. In terms of customer service especially those in the service industry, they employees must be provided with personal and professional development training. In line with, needs assessment forms are used to determine the types of training needed and desired by employees. Employees are given individual self assessment templates that they can fill out.
Community Needs Assessment Templates – Communities are relatively different and distinct from one another because of the differences in culture, practices, geographical setting and issues that they faced in a daily basis. By using these template, you can obtain information that can help improve the education, security, health, and cultural aspects of the community.
Client Needs Assessment
Client Assessment Form
sgenable.sg
New Client Needs Assessment
sa.gov.au
Customer Needs Assessment
Customer Service Needs Assessment
brookdalecc.edu
Customer Training Needs Assessment
nea.gov.ph
Employee Needs Assessment
Employee Organizational Needs Assessment
abclifeliteracy.ca
New Employee Needs Assessment
apps.state.or.us
Individual Employee Needs Assessment
ehs.ucsb.edu
Housing Needs Assessment
Social Housing Needs Assessment
sdcc.ie
Housing Needs Assessment Report Form
sa.gov.au
Needs Assessment Process
Needs assessment process play a key role in any institution. To appreciate fully how the forms are utilized, you can refer to the simplified needs assessment process below.
Planning – For this phase, the proponents must set the context of the assessment. There should be plan, identification of concerns and issues, round-table discussions, exchange of ideas, finalizing the indicators and criteria that will be used for the assessment, and sort out the objectives and priorities.
Prepare your assessment materials – This is where needs assessment forms are need. The type of form would depend on the objectives of the project may it be for a threat assessment and IT risk assessment .
Gathering of data – In terms of gathering data, certain assessment methodologies are used such as focused group discussions, surveys, community meetings, fieldwork, and many more. You need to choose the method that will best suffice the objectives and nature of your assessment project.
Analysis of data – This is where the links and connections of the raw data gathered will be analyzed, examined, compared, and analyzed. The causes and trigger points for such needs will also form part of the discussion.
Make sound decisions and recommendations – These is where the proponents of the assessment project will propose action plans to realized the development goals.
Medical Needs Assessment
Medical Equipment Needs Assessment
humecha.com.au
Child Care Needs Assessment
Child Care Training Needs Assessment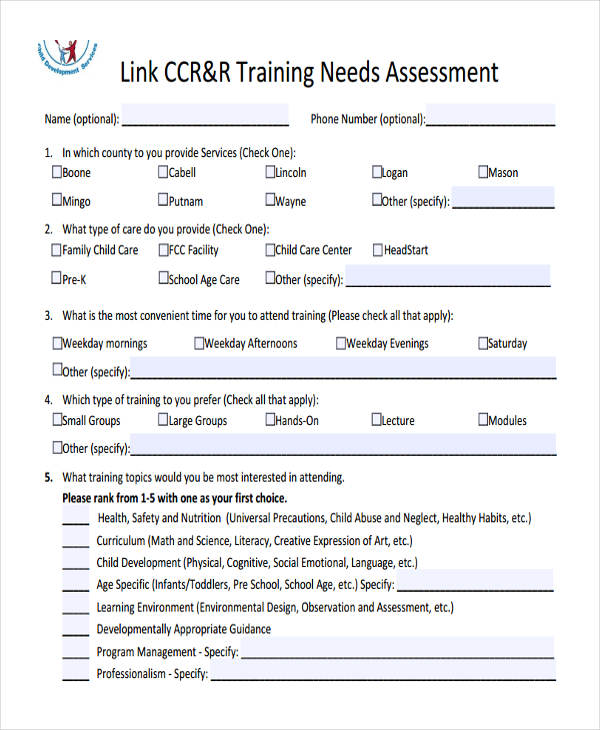 linkccrr.org
School Needs Assessment
Sample High School Student Needs Assessment
ilcommunityschools.org
Elementary School Needs Assessment
media.bethelsd.org
School Health Needs Assessment
bmchp.org
Tips in Creating Needs Assessment Forms
In dealing with needs assessment forms, you must apply a holistic approach. Here are some points that may help you improve your needs assessment form:
Know your audience. You have to consider the type of audience that you'll be dealing with. The language and structure of the form must be suitable to their context. The terms included must not be foreign to them. You may use technical terminologies as long as you exert enough efforts to explain the concept to the one answering the form.
Adopt a formal and professional format. There are a variety of templates that you can refer to. Avoid unnecessary designs. A good example would be an employee assessment template. In this assessment form, the HR officer must ensure that the content, structure and language of the form is professional and in accord with the standards espouse by the company.
Be specific. As much as possible, use specific and concrete statements. There should be no room for vague and ambiguous statements which can affect the reliability of assessment results.
Hence, assessment forms should not be taken for granted. They are simple processes that can foreground significant issues and concerns.