Brochures are an effective way to market products and services. Due to the competitive nature of automobile industry, marketing is becoming a major part of it. Many car businesses and brands are coming up with well-designed car brochures and catalogues for marketing.
Car Brochures and catalogues are an easy way to directly pass information to the audience and grab their attention. To grab the attention of the people, the design should be clear, informative, interesting, attractive and unique.You may also see Brochure Templates.
Auto Mechanic Tri-Fold Brochure Template
Auto Mechanic Bi-Fold Brochure Template
Automotive Tri-Fold Brochure Template
Free Automotive Brochure Template
Tri Fold Automotive Brochure
This tri fold automotive brochure is prefect for corporate purposes. The brochure is constructed in layers which can be edited with one click. The brochure is in CMYK print ready format and has a print dimension of 8.5×11 inch with 0.25 Bleeds.
Auto Repair Service Brochure
This is a PSD file with size of 8.5×11 inches 0.25 inches bleed. It is in ready to print format with 300dpi resolution and CMYK color mode. The file is easy to customize as per the requirement.
Vintage Automotive Sales Brochure
This is 1949 Studebaker sale brochure. This vintage brochure illustrates an excellent piece of literature. The brochure contains the colored car of the year. This brochure is of size 17 by 23 1/2 inches and has minor wear on fold creases.
Automotive Car Catalog Brochure
This catalog brochure is for multipurpose uses. This brochure has a completely professional look and is in print ready format. This is an A4 size brochure with 300dpi resolutions and CMYK color mode. The brochure is easily customizable and editable.
Consulting Automotive Brochure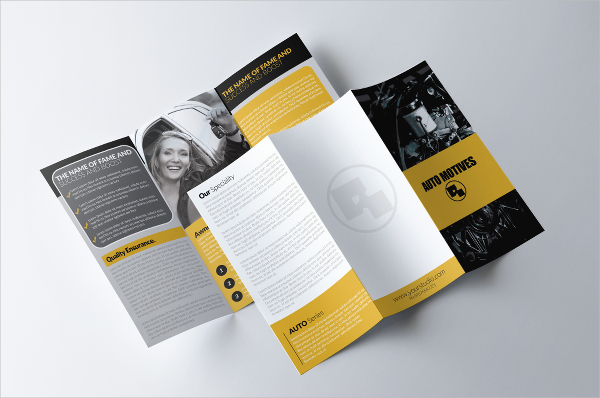 This Tri Fold Brochure is fully layered and has 300dpi resolutions. The size of the brochure is 8.27×11.69 inches with 0.25 bleeds. It is easy to customize and edit.
Automotive Minimal Brochure
This is a 16 page multipurpose brochure with facility to easily add more pages. The size of the brochure is 210×148 mm with 3mm bleed. The text is paragraph style and free font is used
Brand Automotive Features Brochure
This automotive brochure features car models and brands. The brochure has a luxurious and professional look and is great for representing any car brand or model. It is easily editable as per the requirement.
Vintage Automotive Brochures
This is a collection of Old Car Brochures from 70s. This a great item to hold for display purpose and for repurposing creation. Except one of Vega, all others are in good condition.
Automotive Sale Brochures
This is a bi-fold car sale brochure. This has 2 PSD files and has a print size of 220×220 mm. The PSD is well organized and fully layered. The brochure has 300dpi resolutions and CMYK color mode.
Auto Mechanic Brochure Template
This is a tri fold brochure for promoting auto mechanics. The brochure has a page size of 8.5×11 inches. It has customizable and easy to use page layouts and graphic files.
VIP Rent A Car Trifold Brochure
This is creative rent a car tri fold brochure. This has a fully editable Photoshop file with highly organized layers. This brochure has CMYK color mode and high quality 300dpi resolutions.
Editorial Automotive Brochures
This editorial design is perfect for automotive events. This design has a professional look to it. This brochure has wire text and photos. The design is editable as per the requirement.
Car Part Product Automobile Brochure
This is a 12 page automotive part catalog. The catalog has easy picture change and editable texts. It is of A4 size and is constructed in layers which is easily customizable.
Car Dealer and Services Trifold Brochure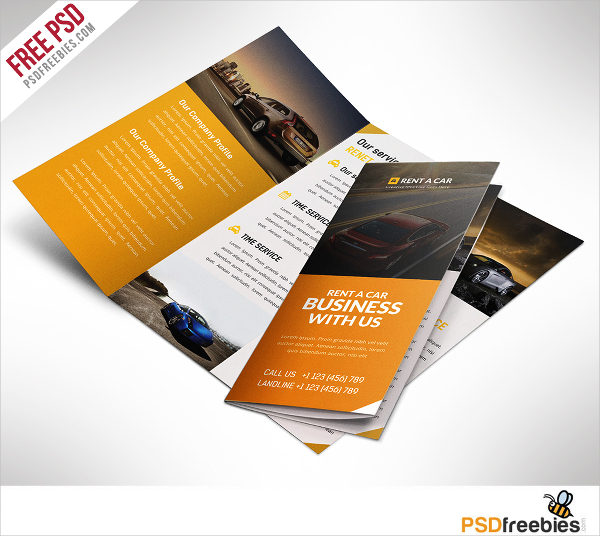 Auto Detailing Tri Fold Brochure Template
Car brochures and catalogues are a tending way for the automobile industry to directly connect with people and pass information to them about their products or services. These brochures should be uniquely designed and the information should be well-defined. These multipurpose car brochures can be used for marketing of any automobile products, services or events.