Forms
36 Application Form Samples
Nowadays, there are any number of forms that you might end up encountering, from proposal forms to application forms. In the case of application forms, you might want to use tools like application form templates to make your writing them more convenient, as they can serve as extremely useful shortcuts.
In any case, if you are in a position of some authority, it is very likely that you can find application templates useful. Such a position would need to produce such forms so as to make their basic operations function more smoothly, and would not refuse the help of such tools.
Passport Application Forms
Passport Renewal Application
eforms.state.gov
Application for New Passport
tongaconsul.com
Child General Passport Application
cic.gc.ca
What Is an Application Form?
As you can tell from application form examples, these forms are meant for applying for a variety of positions and authorization so as to secure them for yourself. Some characteristics of these forms include:
Gauging the eligibility of applicants in terms of backgrounds.
Determining a history related to what applicants are applying for.
Allowing applicants to state what specific intentions they have regarding the authority they are communicating with.
Letting applicants include all necessary information for identifying themselves so as to verify their identities.
How to Write an Application Form for a Job
If you were to make a job application template, you would have to perform certain actions in order to make sure that you had a form that could be used to apply for a job:
Include space for basic information like name and contact information.
Also insert space for other useful information such as social security number, tax number, etc.
Include questions to gauge the legality of applicants, such as whether they have eligibility to work in this country, or if they have a criminal record.
Have space to include applicants' professional background, such as previous employers, responsibilities, references, etc.
Job Application Forms
Blank Job Application
wpc.4728.edgecastcdn.net
Restaurant Job Application
riverfronthobart.com
Visa Application Forms
Application for Passport Visa
passportvisasexpress.com
Application for a Visitor Visa
border.gov.au
Entry Visa Application
ica.gov.sg
Rental Application Forms
Apartment Rental Application
mrlandlord.com
House Rental Application
biggerpockets.com
Tenant Application Form to Rental Property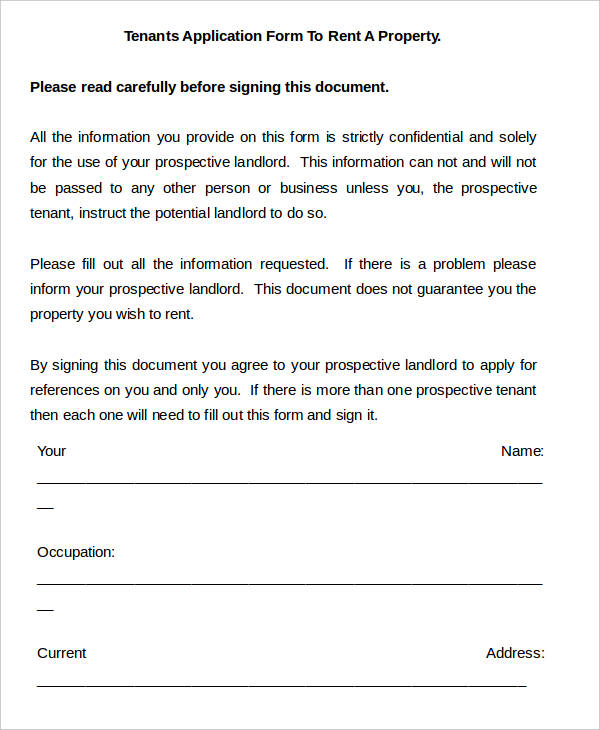 yale-estates.co.uk
Types of Application Forms
You may have noticed the variety of different application form templates here on this page. Being that there are so many possible things one can apply for, this should come as no surprise. While there may be a great number of things you can apply for, at least some of the most relevant ones include:
Job application forms, which are possibly the most simple type. These forms are used to express one's intentions to apply for a particular position in a company, and volunteer any necessary information necessary to show eligibility for that job, such as work experience and educational background.
Rental application forms, which would be needed to apply for leasing a property. Being that a rental agreement would be a reciprocal one between landlord and tenant, it is only sensible that there be an application form to verify the suitability of a potential tenant. This way, landlords can screen those intending to rent the property, and determine how fit they are to stay for any length of time.
Loan application forms, which would allow institutions like banks to determine the suitability of those who would want to borrow their money. There are quite a great many stringent requirements if one wanted to take out a loan, all of which would be covered by an application form, which would go some way to assuring a bank of the return of their investment.
College application forms, which prospective students would need to express some desire to attend the school of their choice. This also allows them to specify which program they wish to join, and allows them to apply for scholarships, if they should be qualified for those.
Visa application forms, as countries generally screen those who have any intentions of entering their territories. This allows countries to verify the intentions of those trying to enter, so as to maintain security, and take steps to ensure that only those with the proper authority are permitted within the country.
Credit Application Forms
Customer Credit Application & Agreement
medgluv.com
Credit Card Application
westpac.com.au
Application Form for Pension Credit
nidirect.gov.uk
Employment Application Form
Generic Employment Application
static1.squarespace.com
Housing Application Forms
Application for Public Housing Program
health.baltimorecity.gov
Housing Benefit Application
nihe.gov.uk
Housing Allowance Application for Home Owners
dpsa.gov.za
Leave Application Forms
Annual Leave Application
aimst.edu.my
Application for Earned Leave
csl.nic.in
Parental Leave Application
csu.edu.au
Why You Would Want an Application Form Sample
Sample forms like application for employment forms and business credit application forms can make for useful tools as they can give you certain advantages, such as:
Flexibility, as there are a great many form samples available here that you can use for a variety of purposes.
Customizable, as you should easily be able to change the details of any form sample for whatever specific purposes you have.
Ease of production, as you can produce these templates in whatever numbers after downloading once.
Who Can Use these Form Samples?
Being that there are so many kinds of form samples such as job application form templates and disability application forms, it follows that there are different people who could find them useful:
HR management, who would need such forms in order to facilitate recruitment of new employees, in the form of job application forms.
Civil servants, who would have a particular need for these samples so as to have simple, reliable templates for use in making any forms they may need.
Institutes, which includes schools and banks, who would have their own application forms for their own purposes that would allow newcomers to join with them.
License Application Forms
Application Form for a Driving License
ndls.ie
License Renewal Application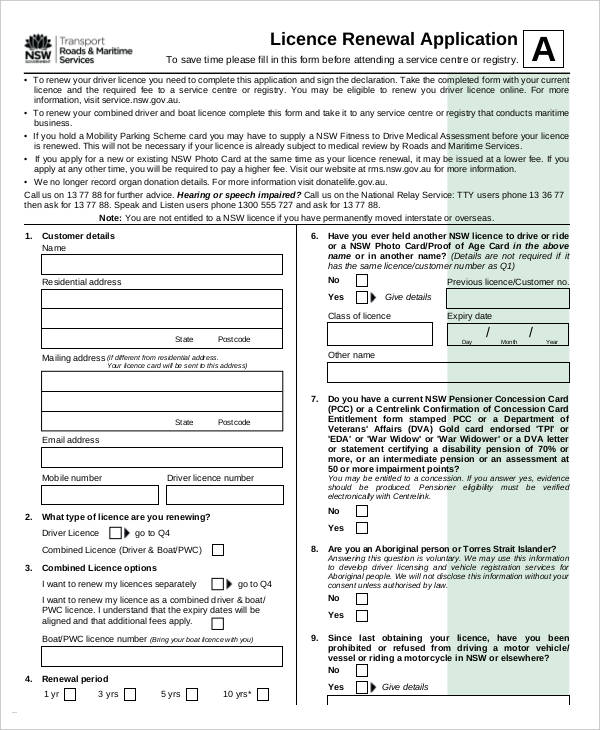 rms.nsw.gov.au
Application for Trade License
tg.meeseva.gov.in
Loan Application Forms
Application for Student Loan
newcastle.edu.au
Personal Loan Application
rbs.co.uk
Lease Application Forms
Application for Commercial Lease
weleaseaustin.com
Lease Extension
lbhf.gov.uk
Scholarship Application Forms
Minority Scholarship Program
fredlaw.com
Undergraduate Scholarship
une.edu.au
Doctoral Scholarship
victoria.ac.nz
Target Application Form
Target Store Recruitment Application
myjobapps.com
College Application Forms
College Application Fee Waiver Form
media.collegeboard.com
Universal College Application
universalcollegeapp.com
Apartment Application Forms
Apartment Lease Application
mygatewaycedars.com
General Apartment Application
morstan.com
***
Tips for Using Application Forms
There are some tips that can help you use your form samples more effectively. In general, these guidelines can guide how you use your different templates, not merely specific ones like HR application forms. In any case, some guidelines you might be interested in include:
Use the right template for your needs. There are a great many to choose from, and many of them were made for different purposes, so it is important to choose an appropriate one.
Make sure to include all the necessary fields. The form's purpose is to ensure that all the necessary information is collected, so it is important to make sure that all the fields are present.
Use more than one template. Your job may require the use of different forms, so it may be wise to make sure that you have a pool of forms to draw on in case you need them.
Double-check your formatting. This is meant to ensure that your forms retain the same formatting up to when you have them printed, which would make your use of the forms all the more professional.
In case you find yourself in need of different templates, you can always find them on this site, so you can be sure of finding whatever tools you may need.