When we speak of the term "management" in business, we often think of the activities associated with running a company, such as organizing, analyzing, and planning. Although managing a business is not an easy job, the US Department of Labor projected a seven (7) percent increase employment of management occupations from 2018 to 2028. This projection is way faster than the average, which will result in nearly 706 900 new jobs. Understandably, the new business startups and the expansion of the existing ones cause such rapid employment growth. Hence, it will require more business management workers to manage the operations, and so does a business management checklist template to manage it well. Check them out below and download any of them to utilize.
10+ Business Management Checklist – Google Docs, MS Word, Pages, MS Excel, Numbers, PDF
1. Business Checklist Template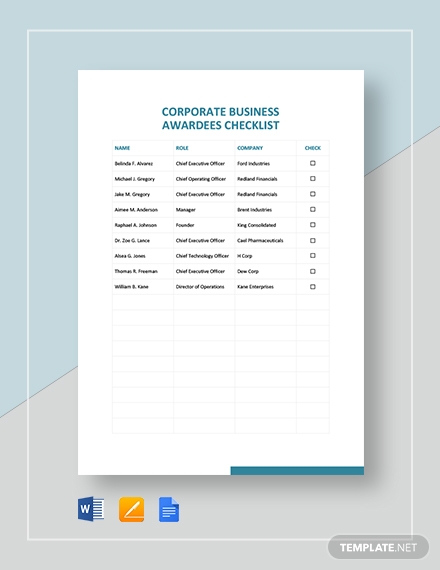 Manage your small business as quickly as possible with our ready-made Business Checklist Template. Start it off on the right foot as you download and edit this business checklist template in Google Docs, MS Word, and Apple Pages. Download it right now to get started.
2. Checklist Business Deductions Template
Make a checklist of business expenses that you considered deductible using this Checklist Business Deductions Template. Organize and list them to monitor the basic expenses necessary to run your business. The template is available in A4 and US print sizes, perfect for commercial as well as personal printing.
3. Marketing Checklist for Small Business Template
Are you on the hunt for a marketing checklist for your small business? This Marketing Checklist for Small Business Template, then, is what you need to download and utilize. Create a checklist for you to keep track of your current business situation with the use of this template. Downloadable and editable in Google Docs, MS Word, and Pages. Download now!
4. Business Evaluation Checklist Template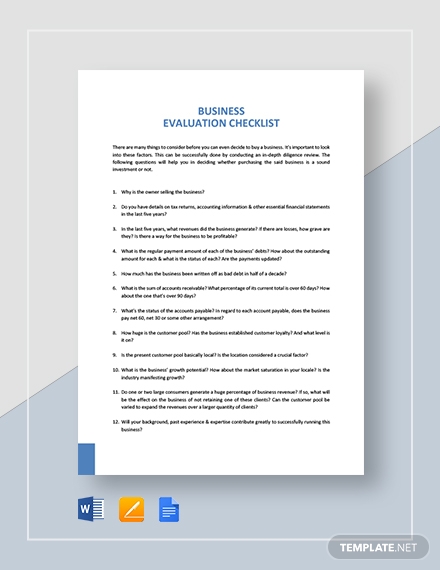 Utilize this extensive Business Evaluation Checklist Template to make sure you get all the answers you need before purchasing a business. With this template, it will be easy for you to assess the business if it is worth the risk or not. Download so that you can start your evaluation today!
5. Checklist Steps to Planning an Annual Meeting Template
Checklist Steps to Planning an Annual Meeting Template is a useful material to help you define your clear goal, select trust-worthy participants, decide the type of meeting, set the date & time of the meeting, and distribute the agenda to your participants. Make use of the content that is readily available for you to personalize. Download to your advantage.
6. Possible Marketing Strategies Checklist Template
Whether you are currently initiating a strategy program or trying to find a possible way to improve your existing program, the whole thought process can be taxing. This Possible Marketing Strategies Checklist Template will help you in the process of figuring out the marketing strategies you need. Download this template right now.
7. Management Audit Checklist Template
Our ready-made Management Audit Checklist Template is useful for a periodic auditing process. This management audit checklist template can help you identify problems and ensure to follow the established procedures. Using your personal computer or Mac device, it would be easy for you to edit and personalize in both MS Word and Apple Pages file formats. Download this template to get started!
8. Free Business Travel Itinerary Checklist Template
Use this Free Business Travel Itinerary Checklist Template to create business trip plans and itineraries as easy as pie. List down all the things you need to accomplish while you are on your business travel. Avoid leaving out the important tasks and comply with all the necessary duties before you go back home. Don't hesitate to download and utilize this template for free.
9. Free Checklist Small Business Legal Compliance Inventory Template
Create a set of questions to test whether your small business's products or services are legally-compliant with the use of this Free Checklist Small Business Legal Compliance Inventory Template. Use this type of query to avoid business legal infringement. Download and print in A4 and US letter sizes.
10. Checklist Sample for Young Entrepreneurs
Young entrepreneurs usually need a tool to test if they are ready enough to build and establish a business of their own. Checklist Sample for Young Entrepreneurs can be of great help in the process. Download this sample checklist in a portable document format (pdf) today to start-up!
11. Starting a Business Checklist Form
Start your business right with this Starting a Business Checklist Form. Easy to download this form in a portable document format (pdf). Get your hands on in this form now!
5 Steps in Making a Business Management Checklist
Managing a business, be it big or small, is a no-joke job. You are required to possess good planning and organizing skills for your business to survive and succeed. A few tips for a small business may help, but a step-by-step guide to making a business management checklist is quite an advantage, too. Follow the step-by-step guide below to help you with your growing successful business.
Step 1: Choose a Business Management Checklist Template
We need a tool for every battle in life. Businesses do not just require us to be good at managing our company, but also demand us to be resourceful. So, take whatever it is that would help us in running our business and use them to our advantage. In this case, a business management checklist template can be a tool to monitor and manage your business startups. Download any template available above and utilize it to help you manage every business transaction. Remember, this could be a start to achieving greatness and success. While it seems pretty hard to start something from scratch, a thousand miles usually begins with a single step. Take a risk and choose your business management checklist template.
Step 2: Use the Template in Getting Organized & in Keeping Detailed Records
This step requires you to use the tool to get organized and keep detailed records of your business. These are the two things you need to keep in mind to be successful in the industry. For one, getting organized asks you to create a to-do list every day. It ensures you to stay in track, leaving out no essential tasks that are vital to the survival of your business. Second, you need to document where the company stands, what are the potential challenges, and what are the strategies you need to face and overcome those challenges. All these things demand you to make and keep the detailed records of everything that you do. And a well-layout business management checklist can be of great help in doing those things.
Step 3: Analyze and Understand Your Competitors
Business is all about competition. While it may sound like a bad thing, but competition in the market breeds the best results. Study and learn from your competitors. Determine your company's competitive advantage. From there, take and utilize whatever it is that you get to make more profits.
Step 4: Be Creative & Consistent
Creativity and consistency are essential to improve your business and make it stand out from the competitors. It pays better to recognize that you don't know everything, and there's still room for your business to grow and develop. While creativity helps you to delve into new approaches to your business, consistency creates long-term positive habits that will help you make more money.
Step 5: Establish a Good Training Program for Newly Hired Employees
Establish an excellent training program for newly hired workers, a structure that would help them understand your larger goals for your business. Because even if you make the smartest hires in the world, they still need time to learn the ins and outs and understand your business's expectations. They need more time to put the puzzle in looking at how the small pieces add up to your broader vision. You cannot expect them to hit the ground running on day one, and you should not expect them to. In short, they're not going to acclimate to and understand your business right away. You have to train them well to do their jobs. You can choose from our wide variety of plan templates to put together a training plan.
Take note that when someone feels more competent in his job, he feels more and more empowered and proud of what he is doing.