Every class teacher has the responsibility to compile school reports for each of the students at the termination of every term. The school report card features how the student has fared in his term, the marks scored, areas to be improved upon followed by comments of the class teacher.
Primary School Report Template
Editable School Incident Report Template
Editable Report Template Download
Progress Report Template
Trip Report Template
 Year End Report Template
Weekly Status Report Template
Training Report Template
Simple Annual Report Template in iPages
Annual Expense Report Word Template
Weekly Activity Report Template to Print
Preschool Report Card Template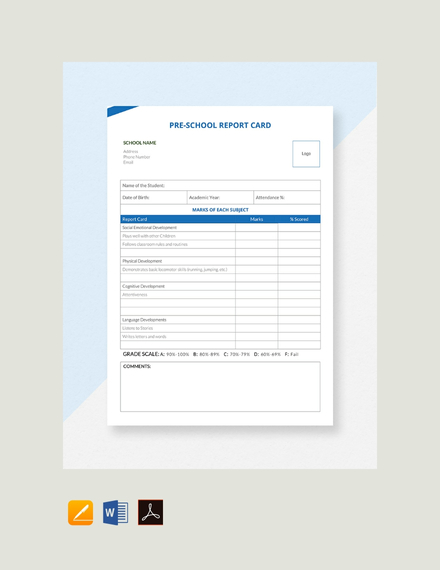 Free School Progress Report Card
Free Elementary School Report Card Template
Free School Report Card Template
Sample School Report Template in Word
nicurriculum.org.uk
Primary School Report Template
education.vic.gov.au
If you have a packed class, creating School Report for each of the student
Gets really cumbersome for you. Moreover, if this is your first time as a class teacher, you might not be aware of the right framework to compile a proper school report. But not to fret any more as there are school report templates for you today. A school report is used as an indicator of a student's performance in class. There are several parameters specified in a report to adjudge a student's character, behavior and study-skills. This particular school report template is prepped with all the elements which are required in a school report. You may also see Daily Construction Report Templates. A readymade free school report format makes your job so much easier and you can use the same template for each of your students. There is no need to compile school reports for each of your student's right from the scratch. You will find many sites online that offer free download of these school report templates. We have collected some sample organizational chart templates, hope these templates will help you.