Are you just back from a business trip and now need to present a business project status report to your office management? If yes, you can check out and download a report template from our collection of well-designed templates. These report templates talk about the expenses carried during the trip, any potential activity was taken by you during the travel and the problems you have faced.
Business Trip Report Template
We highly recommend you to use our instantly printable "Business Trip Report template" as it allows you to easily account for all expenses involved for any trip. This fully customizable Word report template ensures that you stay up to date on information relating to the transportation, fares, lodging, meals, calls, and other miscellaneous items you may require while on a trip. Organize your trip better and keep to your planned budget while using this amazing template.
Simple Business Trip Report Template
Make use of our effective and professionally-designed "Simple Business Trip Report" template as it allows one to keep track of details of expenses during business trips. This sample report template is ready-made is very convenient to use and can be opened in the available file format of your choice. It is also well-researched, and industry compliant, thereby useful for companies with employees who travel to attend business-related gatherings, conferences, or seminars. Customize this as per your liking before printing or sending via email.
Business Trip Summary Report Template
Be able to keep an account of your business travel details such as expenses, responsibilities, and rewards by downloading our impressively designed "Business Trip Summary Report" template. Using this, you can create a comprehensive report that makes use of organized parts. This customizable sample report is compatible with any file formats available.
Create a Business Trip Report in 5 Steps
Step 1: Open a New File
Trip reports are a necessary follow-up of every business tour taken by an employee and are surely a vital aspect of your professional responsibilities. To create one, firstly open a new document in any of the file formats such as MS Word, Google Docs, Pages, or any other format that you are comfortable using.
Step 2: Create Title Page
Next, create a title page. Mention the name of the report along with the name of your company and project name towards the center of the document.
Step 3: Insert a Table
Now, insert a tabular column in the next fresh page. You can insert a table depending on the context that is to be entered. This will ensure that all the information is distributed in an organized and neat manner in the business report.
Step 4: Enter Basic Trip Details
After the table is introduced in the document, you may enter basic details of the trip such as the project or trip name, participants, number of days, start date, end date, and date of submission.
Step 5: Present Trip Overview
Once the basic details are entered, you may go on and present the overview of the trip by including details such as the accommodations, purpose of travel, highlights of the trip, follow-up actions, and additional comments.
Sales Business Trip Report Template
Sales Trip Report Template
Conference Trip Report Template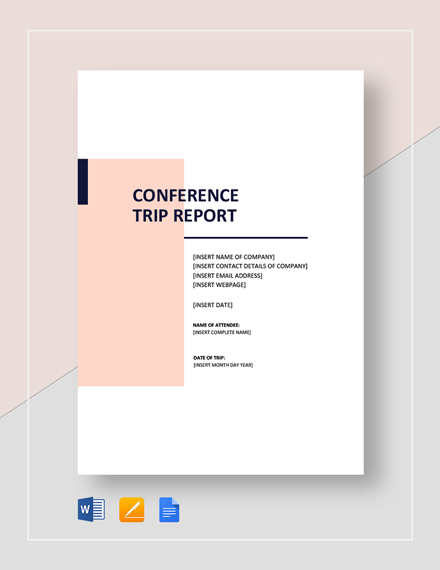 Trip Report Template
Microsoft Word Business Trip Report Template Download
Simple Conference Trip Report Template
Simple Travel Expense Report Template
Short Business Report Template
Free Field Trip Report Template
Example Trip Report Template Download
lakdasun.org
Trip Report Template Free Download
Free Download Trip Report Template
dor.state.nc.us
Conference Trip Report Template PDF Format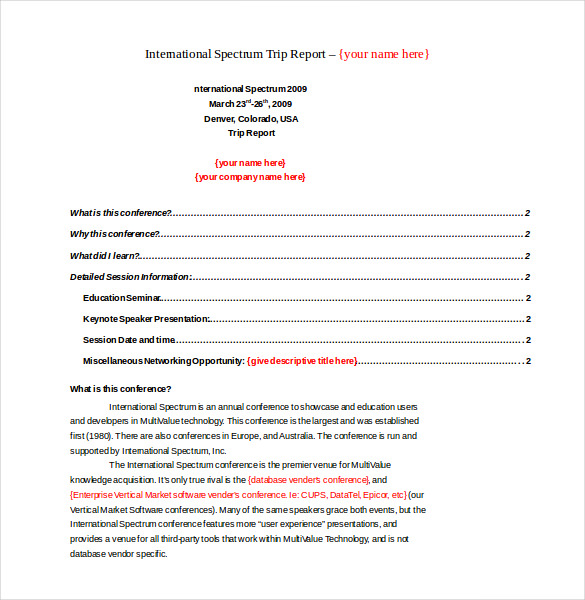 intl-spectrum.com
Individual Trip Report Template Download
dol.wa.gov
Free Trip Report Template Download
bu.edu
Sample Trip Report Template Download
ajku.edu.pk
Our trip report templates come up with readymade formats of a standard trip report so that you don't have to create the report from scratch. These above-shown templates would be highly useful for as many trips you take as an employee and would make the report making all the more convenient for you. You will also be able to save a lot more time with these readymade formats and as these templates follow a standard format- you can be sure of a proper report sample framework every time. Download and make use of these impressive templates now!