Report Templates
68+ Report Templates – PDF, Word, Pages, Excel
A report template is simply a document that helps in providing important information in a very structured layout. These generally help in giving details regarding instructions to help others create their reports. Report templates have multiple usages depending on the purpose like audit report, trip report, office report, sales report, one page report, creative report, nursing report, balanced scoreboard report, university report, etc. These modern report templates help in creating a simple report immediately according to the titles mentioned in them without expending much time and energy.
Report Outline Template
One can call an outline a "plan" or "blueprint" of sorts. Through the use of outlines, an individual is in a better position to improve upon the organization of thoughts, data, and other important details. Check incident report templates for more. It helps greatly in business to have a report outline template for various reasons, but among the best would be the fact that it makes things easier and saves a lot of time and money.
Training Report Template
A training report can help determine if the training program suits you and your employees in a way that will help in the growth of your business. It's important to have a training report which has the detailed events of the training to monitor your progress and determine any deficiency in the program. Create a comprehensive training report with the help of the above template. It has well-written content that is easily editable by anyone at all. This report template will evaluate if the training program met its objectives and goals.
Post Training Report Template
Post-training, you need to keep a check on your employees and whether or not they are using the information they have learned in the training. Evaluate your training progress with this useful and simple report template for post-training. Know if the training program is suitable for you and keep track of the changes after your training. Utilize this ready-to-use template should you need a guide to draft your report, or you can even use this as your own and be efficient with your time.
How to Create a Report in 5 Steps
Step 1: Reasons For the Report
The first step in creating a report would be to know why you are creating one in the first place. This means you should be familiar with all the details about your company, the goals, objectives, etc. Concisely consider what you are and do good market research about where you stand, etc. so that it would be easier for you to create a report.
Step 2: Target Audience
Next, know who your potential audience is. You can also check report samples to understand better how to write a report for your organization. This would make it easier for you to draft your mind, keeping in mind your audience's needs and necessities.
Step 3: Executive Summary
An executive summary would be to summarize all the points that make the report unique and easily understandable to others. It is a brief description of all the contents that are present in the report. This is mainly to give the others an idea of what the report is about.
Step 4: Conclusion
Once you are done mentioning all the possible details in the report example, the next step would be to make an impactable conclusion, and this conclusion should relate to all the details you mentioned in the report briefly.
Step 5: Review and Print
After that, review all the sides equally and make any changes if needed in the given report document before you finalize the report. Print once everything is perfect.
Employee Training Report Template
Reports are documents designed to provide important information in a very structured manner. There can be different types of reports depending on your needs such as audit reports and sales reports. So, get these report templates in Microsoft Word. Edit and customize this template in any way you like.
Shift Report Template
A shift report is to be used when managers and supervisors want to monitor and keep track of the employee's shifts over some time. Making such reports can be tough, so it would be easier for you to download and make one, instead of making it right from the bottom up. Such report examples help in improving the communication between coworkers and team members and also help endure proper execution, control, and oversight of any task, project, or assignment. All you have to do is download this template, edit it the way that suits you best.
Financial Audit Report Template
Nursing Report Sheet Template
Audit Report Template in MS Word
An audit report is a report that is written by an auditor about the financial statements of a company/organization so that it is easily understood by all of the audits team. Audit reports can be terrifying, but with this template, you won't have to worry much about it. Just download the template and edit it the way that suits you best. Also, report templates in Word would be of great help to create a good report.
Workplace Investigation Report Template
Investigating a workplace is quite an overwhelming task. But, it is very important as this way, you will be able to understand what to do and what not to do. Set and create standards at work using this investigation report for the workplace.
Easy to Print Training Report Template
Training plays an important role in any job, regardless of the field and industry. This is where the new hires will know more about your company and what is it that you do. Convey the results of your training with this training report template in PDF. It is easily editable, can be customized and printed anytime, anywhere.
Free Book Report Template
One Page University Report Template
Fiction Book Creative Report

scarsdaleschools.k12.ny.us
Incident Report Template
An incident report template carries great importance as it will help to record events for further investigation. These are very important for the police to relay the incidents that have occurred. These are available in Word and Excel format. Incident reports can be of different types like employee incidents, client incidents, hospital incidents, and many other such reports.
Incident Report Form Template
General Incident Report Template
Workplace Incident Report
Client Progress Report Templates
Data Analysis Report Template
Incident Report Form

mtc.edu
Expense Report Template
The expense report template is a document that helps to keep the expenses recorded in an organized manner. These are indeed very helpful for blooming organizations or small entrepreneurs. These templates can be easily customized as per requirements. You can add such information as company name, address, and so on.
Simple Expense Report Template MS Word
Business Expense Report Template
Expense Reimbursement Request

ofzenandcomputing.com
Report Card Template
A report card template will have all the marks recorded in them. These are helpful in academic prospects. These will contain various columns for various subjects and the marks mentioned beside each of them. There will be a remarks panel stated at the bottom as well.
Formal Report Template in Google docs
Free Simple Report Card Template
Student Report Card Template PDF

education.vic.gov.au
Status Report Template
A status report template generally helps to represent the progress of a particular project that is under construction. Status reports are genuinely short and crisp. There can be daily, weekly, or monthly status updates. Depending on your project choose a suitable format. The status must be short, yet carry all the necessary information.
Weekly Status Report Word Template
Blank Weekly Project Status Report
Weekly Office Status Report Template

northwestern.edu
Progress Report Template
The progress report template is generally a field report providing information in a quarterly or half-yearly manner. These are generally used for industrial projects to make the company know about the progress of any project or if there has been an issue in the process so far or any other such notifications.
Progress Report Template
Weekly Progress Report Template
Business Project Progress Report

innovation.ca
Lab Report Template
A lab report is generally associated with the science field which helps in providing details regarding an experiment. It will give a brief on the event, then state the problem, give a detailed account of the hypothesis, the materials used, and then the procedure is undertaken for the experiment. At last, the result along with a conclusion is stated.
Free Lab Report Templates

sciencewithmrjones.com
Annual Report Template
An annual report template will contain information regarding all the projects undertaken during the tenure of the year. It will contain every minute detail, expenditure, profit, loss, and other similar details. These templates can be easily customized according to your will and also has multiple features like grid view, slide view, etc.
Annual Financial Report Template
Annual Expense Report Template
Basic Annual Report

blm.gov
Police Report Template
With loads of features, the police report template is just ideal to use for recording offenses along with the date of the incident, the accused, the victim, and so on. These templates are available in Excel format with separate panels for different issues to keep things organized.
Free Police Report Template
After Action Report Template
An after action report template is a document that helps to write down the scenario following an action undertaken. It will contain several subtitles like what action was implemented, what have been the consequences, and so on. These templates can be easily edited for use. The template is customized for better results.
Simple After Action Report Template
Sample After Action Report

au.af.mil
Weekly Status Report Template
The weekly status report template is a simple document that helps to keep an organization updated about its progress and the events associated with it. These weekly report templates are easily accessible and are available in word and excel format. For better results, it has several panels for tracking the weekly records.
Simple Weekly Sales Activity Report Template
Generic Weekly Status Report
Project Management Weekly Status Report Template
Weekly Status Report Template Doc

northwestern.edu
Business Report Template
Any form of business needs to keep a check on their work and their progress after regular intervals. A business report template is a template that keeps the work done by the organization in the document. These documents help in the future in a case of urgency. This report will also consider the gain as well as loss of several contracts.
Business Report Template
New Business Project Report Template
Business Call Report Template
Humber Business Report

humber.ca
Trip Report Template
While on a trip, everybody enjoys but it is essential to acknowledge every expenditure. The trip report template is essential for employers as well as for those who have gone on vacations. These templates are customizable and help in tracking every expense. It is indeed very essential for business trips.
Business Trip Report Template
Printable Trip Report Template
Modern Trip Report Format

mccslejeune-newriver.com
Weekly Report Template
A weekly report template is a great tool for small business organizations. The weekly report helps in keeping every minute event that has occurred in the week in a written document. These templates help in saving time and energy as they contain all the necessary headings and one just needs to fill them up.
Example Weekly Report

blm.gov
Accident Report Template
An accident is an event that requires every minute detail to be recorded. Such details help in further investigation and for other important purposes. These easy-to-download templates are available in word format whereby the date, place of accident, victims, number of victims, name of the accused, the status of injury, etc can be recorded in detail.
Accident Incident Investigation Report Template
Accident/Incident Report Form

commerce.wa.gov.au
Project Report Template
The project report template is available in an excel sheet where the company name, client, project details, and progress reports are mentioned. These templates are helpful in the industrial and business world where there is a need for keeping every movement on the project well documented. These templates can be customized by the user accordingly.
Project Status Report Template
Project Handover Report Template
Format for Preparation of Project Report

annauniv.edu
Daily Report Template
To keep things easy and clean, a daily report template can be used by organizations. These reports give detailed accounts of everyday movement thus updating the organization with each day's work and expenditure. These reports can be easily obtained through these samples without much effort.
Construction Management Report Template
Daily Construction Report Template in iPages
Daily Progress Report Card
Daily Situation/Shift Report

ncagr.gov
Home School Report Card Template
The home school report template is a document that allows recording the marks of the individual pupil in the paper. These are sort of report cards that are distributed to students on the result day. This template is easy to download and is available in excel format. These templates will contain every necessary remark on student activity as well.
Incident Report Template
Free Home School Report Card
Free Home School Report Card Template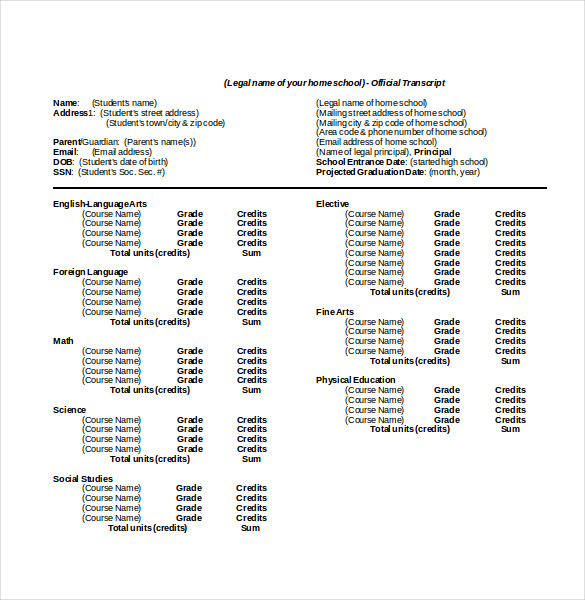 homeschoolreporting.com
Sales Report Template
The sales report template is generally of much importance to the commercial world where there is a need to record the number of the commodity sold and how much profit is earned through such sales. These easily customizable templates also contain salient features about the commodities and also other services provided are mentioned.
Monthly Sales Management Report Template
Annual Sales Report Template
Sales Activity Report Sample
Monthly Sales Report Layout

businessballs.com
Monthly Report Template
The monthly sales report template is generally of much importance to the commercial world where there is a need to record the number of the commodity sold and how much profit is earned through such sales. These easily customizable monthly report templates also contain salient features about the commodities and also other services provided are mentioned.
Monthly Expense Report Template
Monthly Sales Activity Report
Executive Summary Monthly Business Report

at.govt.nz
Reports act as a summary of any situation and they help one understand what has happened briefly. They are concise, giving the reader the right point, instead of beating around the bush. It generally helps in analyzing a situation and finding solutions to those problems. The reports consist of the introduction, body, and conclusion. You can also check report templates in PDF for more. They also demand action from the reader. Remember to keep your audience in mind while writing a report, as they have to be able to understand what you are trying to say easily.
General FAQs