Life is full of cliches, and this is one of them. You get to meet a lot of people in your life's journey. Some stay with you till the end, while others sadly leave. Although not everyone who leaves left for a bad reason. Sometimes, they just want to take a different path than yours. You may also see flyer samples.
It's an inevitable part of life that one must go through even though it's utterly painful. So, to make this beautifully painful departure go down in your life's history, throw a going away party surrounded by the people you love and care for. You may also see cocktail party flyers.
Farewell Party Flyer Template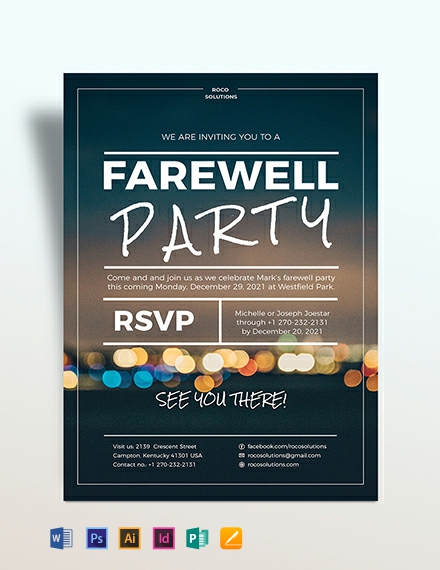 You have a lot of things to prepare for the going away party, like the venue, food, and the flyer or invitation to send to the guests to inform them about it. In a flyer, the design and content should work in hand in hand for it to properly fulfill its purpose.
The design of the flyer depends on what kind of theme you want to go for the event. If you don't have any idea on what design to go for, you can take a look at the list of designs and templates that we collected for you. These are downloadable templates that you can use to customize and print for your going away flyer. Why don't you check them out?
Clean Going Away Party Flyer Template
Simple Going Away Party Flyer Template
What to Do for the Going Away Party
Whether you are the one holding the party or you are doing it for a friend, there are a few tips that you need to take note of to attain a perfect going away party. You may also see party flyer templates.
1. Choose a Date
Most people choose the date for the party depending on the date of their departure. Sometimes, they set it as close as possible to the departure date while others choose to set it in long before. But, this will also depend on what your moving plans are. If you are the type who tries to avoid last-minute preparations and packing, pick an earlier date. This will give you enough time to prepare for the moving and the party. You may also see sample party flyers.
2. Create the Guest List
For some people, they don't care if the guest list is as long as the tallest man in the world as long as everyone is invited. But for others who have a limited budget for the party, it would be tough for them to narrow down the people to be included in the list. In this case, make sure that the ones that you will invite are those that have stayed with you until now.
You want this event to be as special as it can be, so surround yourself with people you love and who loves you. Also, review your guest list more than twice to make sure that everyone that you wanted to come is in it so you can finalize the number of invitations you are going to make. You may also see carnival party flyers.
3. Decide for the Venue
Whether you are throwing yourself the going away party or you are doing this for your friend, make it extra special by choosing your (or your friend's) favorite place to set for it. Make a lot of memories and take pictures with your favorite place as the backdrop as you mingle with your family and friends.
Once the pictures are stored in your computer or are printed, you can fondly look at each of them and recall the fun time you have had with the people you love. You may also see party flyer designs.
To give you another option for the venue, you can choose a place that's accessible to most, if not all of the guests. It would be convenient for the guests if the venue can be easily navigated through. Another option you can consider is a venue that is familiar to everyone.
It will take less time for the guests to figure out how to get there. The list of options can go on as long as it can. But, to simplify things, just choose the venue that you would love to make special memories at. It doesn't matter where it is as long as the people that you want to say goodbye to are there with you. You may also see anniversary party flyers.
 4. Send the Invitation in Advance
The people on the guest list may already have commitments prior to the date of your party, so it would be best if you send the invitations early. This will help the guests adjust their schedule and make time to say goodbye to you in the party. To make things easy, you can create a private event in one of your social media accounts to act as a "save the date" until you send out the invitation cards.
Cute Going Away Party Flyer Template
Creative Going Away Party Flyer Template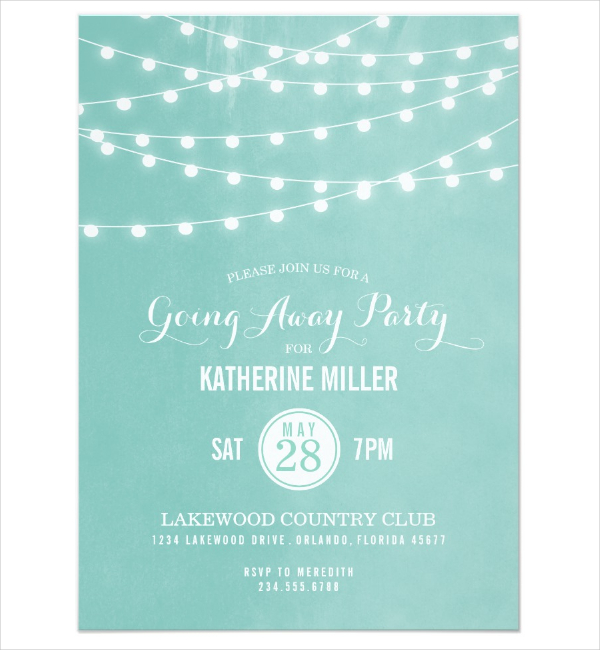 Rustic Going Away Party Flyer Template
Soldier Going Away Party Flyer Template
DIY Going Away Party Flyer Template
Going Away Farewell Party Flyer Template
5. Visit the Dollar Store
All your things are probably packed days before the date for your going away party. So to make things easier for you to clean up after, visit the dollar store and buy plastic cups and cutlery, paper plate, and napkins, and plastic bowls to serve the food on. You can just throw everything in the garbage bag so you (or your friends) won't have to clean dishes after. Oh, and prepare tissues. You'll be needing them when you make your speech later. You may also see word party flyer templates.
6. Include Local Stuff
You'll be gone for a long time or you might never be coming back at all. So give yourself the last moment of savoring the local treats by including them in the food that you serve. Look for them in the local markets and stores, those that are easy to find. To widen the search for these local delicacies, ask for your friends to help you out. You may also see retro party flyers.
7. Make a Speech
This won't be proper going away party if there's no speech from the one who's going away. Make a speech that tells how you are going to miss seeing the faces of everyone in the room; that you'll be keeping all the memories that you've made together and that you'll definitely find time to talk to them from time to time. It's not a goodbye but a see you again soon. When you deliver our speech, make sure that you have a few sheets of tissue or a handkerchief with you. It's going to be a rollercoaster of emotions. You may also see summer party flyers.
8. Give Useful Favors
If you have extra money to provide for favors, buy ones that are cheap but useful. Or, instead, you can give the guests your business card with your contact details and your new address. It would be easier for them to visit you knowing this kind of information.
9. Prepare for Tears
Even after the speech, there will still be tears rolling down everybody's faces. This is a special party that allows you to see all your loved ones for one last time before moving on to the next stage of your life. There is no guarantee that you will be able to visit them again, or if you'll be able to constantly keep in contact with them. Make this party the best one by spending the entire time talking to each guest. Make them feel that they are important and that you'll always keep them in your hearts. You may also see drink party flyers.
10. Save the Best for Last
It's time to say goodbye – for now. This is the part of the party that you'll be saying your goodbyes while you hug them one by one. Tears will continue flowing as you take a final look at each of them. Hug them tight, feel their warmth, and intently listen to their voices. Put on your best smile despite the tears. You would want to paint their expressions in your mind so you can bring them with you wherever you may be going to.
And to immortalize this special moment, take a picture with everyone, be it a picture with each of them or one with the group. Do countless poses, take a lot of photos until the camera prompts you that the memory card is full. These photos are what will remain after you leave everything behind; make sure they're worth it. You may also see club party flyers.
BBQ Going Away Party Flyer Template
Elegant Going Away Party Flyer Template
Floral Going Away Party Flyer Template
Dark Going Away Party Flyer Template
Going Away Party Flyer Template
It's Time to Say Goodbye
It's difficult to say goodbye to the people you love, especially that they were with you through your highs and lows. But, it's never really goodbye; it's just a see you soon. This is only a temporary thing as you will surely see other again soon.
Thankfully, mankind was smart enough to make things easier for us now. With the help of technology, you can easily communicate each other through video calls or chats. But, if you really want to see each other personally, make sure that you have given them your new address even if you will be moving to a new country. They might be visiting there one day and it would be nice to see their faces once again. You may also see music party flyers.
This party is nothing short of emotional, so make sure that you are emotionally and mentally prepared for your speech and maybe some of their personal messages for you. It's going to be a long time since you will be seeing each other again, so make sure that you spend quality time with everyone in the party.
Say what you want to say, be it regrets, apologies, jokes, and even confessions. Make this party go down in your life's history. Take pictures to capture every happy and emotional moment in this party. Hug everyone. Kiss their cheeks (or lips). Hold their hands. Feel them as much as you can before your departure. Memorize their faces and imprint them in your mind. Remember them. Always.
We hope we have helped you in choosing the right design for the going away party flyer. The templates that are on the list cater to different themes, so choose the one that you think will perfectly fit the vibe of your departure. And, to make it more impactful, put some of your touches on it. Wherever you may be going, we hope you have a safe travel and may good luck on your life's new journey!