Flyer
31+ Kids Flyer Designs & Templates – PSD, AI
They say kids should go out and play, but with the rapid growth of technology and the rise of social media, kids are doing the exact opposite these days. Instead, kids stay in and choose to face different screens for gaming satisfaction and lock themselves in virtual worlds and avoid the real one that is right in front of them.You may also see Creative Flyers.
Kids should engage with other kids in non-virtual activities. Also, kids should enjoy their youth as much as they can and go out and explore, as opposed to just being stationary and being locked into virtual fantasies. You can also Kids Flyers in Indesign.
Summer Kid's School Flyer Template
Kids Flyer Template
Kids Happy Birthday Flyer Template
Kid's Care Advertising Flyer Template
Kids Activities Flyer Template
While most parents are fine with the idea of confining their children with their gadgets, some struggle to keep theirs going and moving. Thus, it is important to create ample opportunities to organize events or activities that cater specifically to children. Such events will foster the needs of different children. It teaches them to learn as they play. It will let them experience their youth in a more well-rounded way. You can also see more on Minimalist Flyers.
If you are someone who is passionate about children and if you want to help them in any way that you can, you should brainstorm for an idea that will allow you to do so. If you've already thought of one, you should promote that idea or event. Here are a set of sample flyers that will help make your event possible. You may also like Event Planner Flyers.
Baseball Stage For Kids Flyer Template
Kids School Flyer Template
Kids Club Flyer Template
Kids Summer Fest Flyer Template
Kids Dance Class Audition Flyer Template
Kid Birthday Event Flyer Template
Kids Carnival Flyer Creative Template
Kid's Care Flyer Template
Kid's Birthday Party Flyer Template
Kid's Day Care Flyer Template
Kid's Care Center Flyer Template
Kids Summer Camp Flyer Template
Kids Block Party Flyer
Kids Art Exhibition Flyer
Free Simple Fun Kids Boot Camp Flyer
Kids Summer Music Camp Flyer
Free Kids Party Flyer Template
Free Kids Summer Camp Flyer Design
What kind of events or activities can you organize for kids?
There are so many things you can come up with, depending on how practical it is for the kids or with how creative you can get. Just make sure that the objective to provide a recreational learning avenue for kids is there. But, if you are at a loss for ideas, here are some activities you can take inspiration from. You can also alter the theme to your liking. You may also see student flyers.
1. Summer camps
A tradition that is common in the US are organized sample programs that set to educate, inspire, and entertain kids of different backgrounds. Summer camps, from its name, usually take place during the summer season and is set in a wooded area with lakes and rivers nearby. You can also see more on Summer Camp Flyers.
This event is catered for children between the ages of six to sixteen, thus making it a perfect event for kids to attend to during their summer vacation. Summer camps enable kids to learn new skills through different activities. There are sports, drama, cooking, arts and crafts, circus, and even scuba diving. You can also see more on Food Sale Flyers.
It also lets them meet new people of different backgrounds. The very purpose of a summer camp is to provide solace for kids who think of their summer as boring. With summer camps, not only do they get to entertain themselves but they also get to learn new things. You can also see more on Sports Camp Flyers.
Summer camps also come in different forms that cater to specific needs of children. There are faith camps, special needs camps, sports-based camps and not-for-profit camps to name a few. Although, different in nature they all share the same objective and that is to make each kid's summer the best they've ever had. You may also like High School Flyers.
2. Funfairs
As simply defined, it is a fair that consists of rides, sideshows, and other amusements. The funfair is a simpler variation of an amusement park or carnival. It comes in two different types: traveling and permanent. Travelling carnivals or funfairs denote the idea that it does not stay in one place. You can also see more on Discount Flyers.
It travels. As opposed to a permanent amusement park which is set in a specific location where people can easily visit (i.e Disneyland, Universal Studios, Legoland, etc.). Although funfairs come in different settings, its concepts are pretty much the same: to provide rides, to amuse, food vendors, merchandises, games of chance, thrill acts, and even animal acts. You can also see more on Meditation Flyers.
Funfairs are perfect for kids as this is truly where they can revel in their youth and just celebrate and have fun. Adults can also join in on the fun of funfairs as it brings out the kid in them. You may also see School Flyers.
Kids Camp Flyer Competition
Daycare Kids Carnival Flyer Program
Kids Halloween Party Flyer Template
Free Easter Flyer for Kids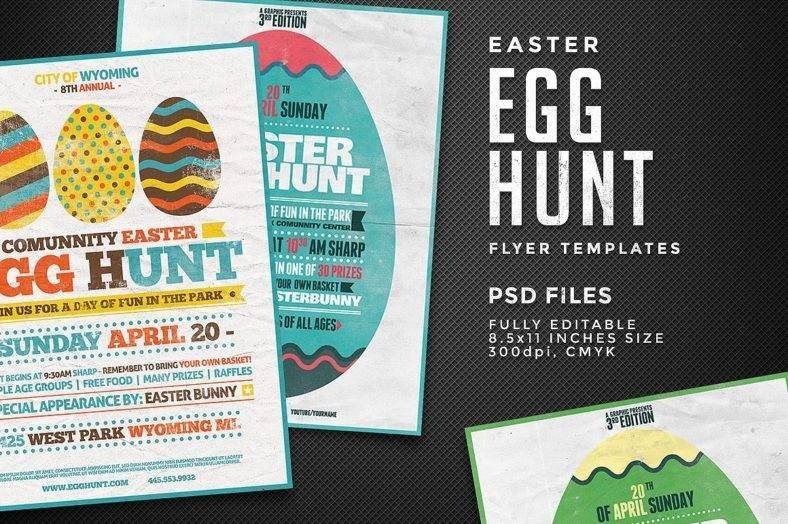 3. Holiday Events
These events vary from month to month and culture to culture, but it underlies one thing and that is to give children an avenue to have fun. You can maybe organize events such as an Easter Egg Hunt or Trick or Treat to name a few, each of which offers a different kind of experience for kids. You can also see more on Easter Flyers.
Easter actually offers a multitude of events for kids that you can organize, one of which is the egg hunting which requires kids to hunt for hidden Easter eggs in a certain place. Options are also available for those who enjoy arts and crafts as the Easter holiday can allow you to organize an Easter egg decorating event, wherein kids are asked to design their very own Easter egg. You can also see more on Holiday Flyers.
While Halloween, on the other hand, gives the kids the freedom to dress up as their favorite character, be it a princess, a superhero, a cartoon character— it could just be anyone or anything in particular. Halloween also lets kids go trick or treating, as it has been a tradition, so consider that when you do opt for holiday events. You can also see more on Winter Flyers.
4. Parties
There are tons of different varieties of parties that kids can attend. There are pool parties, costume parties, and dance parties to name a few. A party is a social event that allows you to mingle with other people. So when you decide to do a party for kids, it gives them the chance to hang out with their friends or meet other kids in their city.
Pool parties are most popular with kids, as most love to frolic in the pool and bask under the sun and just play splash with each other, so this may be an ideal choice for a communal kids party. Costume parties, on the other hand, are pretty much similar to that of the Halloween wherein they get to dress up as their favorite character.
The beauty with costume parties though, is you get to set up a theme, for example, a pirate-themed costume party or a princes and princesses costume party, whatever the theme is it gives the kids an opportunity to have fun and dress up. You can also see more on Fashion Event Flyers.
5. Charitable events
It may be too serious for a kids event, but it is great to impose the importance of giving at such a young age. Charitable events like a toy drive may be an ideal option for an event, this is where more fortunate kids get to donate toys, brand new or pre-loved, to less fortunate children. You can also see more on Back-to-School Flyers.
This way, not only are you giving them the chance to meet other kids, you are also instilling a valuable lesson in them that they can carry on until they grow old. You may also see summer camp flyer in pdf templates.
Kids Art Festival Flyer Grand Opening
Toy Drive Flyer Templates
Princess Kids Party Flyer
Why should you use flyers to promote your event to the kids and their parents?
Considering the fact that we live in an age of technology, it is common between events organizers to resort to social media to help them with their promotional needs. That could help, but it could also not. Taking into account the number of people who use social media and the number of businesses that use social media, it is inevitable that your promotion might be left unnoticed. You can also see more on Golf Flyers.
It is true that social media is an effective tool or medium to use for advertising or promoting, but there lies a great uncertainty with it. Uncertain on whether your ad will be noticed or received by those people you are targeting. You may also see Real Estate Promotion Flyers.
Unlike going for a more traditional approach, wherein you personally give out your promotional mediums yourself, there is a greater chance of relaying your message to the people. This is pretty much how sample basic flyers work. It asks to be given out manually to people and the assurance of whether it reached your targeted people is there. Flyers give you the assurance that social media cannot. You may also see Online Store Flyers.
Aside from the assurance it gives, there are other things you can benefit from using flyers for your event's promotional needs. Flyers can let you bond (even for a brief moment) with your prospective client. With that, it lets them directly inquire about the said event and in turn getting a direct response from you. Also, modern flyers are a lot cheaper than advertising digitally.
There is a gulf between the two in terms of price points. Thus, making flyers a better option. Most importantly, flyers are a physical, tangible medium for promotion. With a flyer, it can be seen, brought, or read anywhere as it is a tangible object that your target customers can bring with them.
Contrary to going digital wherein your promotion has to depend on internet connection or technology in order to be seen. What if there is an electricity outage or an internet outage? Then your digital advertisement will not be as effective as you thought it would be. You may also see daycare flyer templates.
Kids Holiday Flyer Template
Kids Party Flyer Template
Kids want to enjoy as much as they can. It is important to provide these little humans an array of options to choose from to fully enjoy their youth. Indeed, there is a lot you can do. There is a lot that can be organized. You can also see more on Automotive Flyers.
It is a matter of what concept should you go for. To effectively promote your event to these targeted people, opt for the more traditional approach to be assured with the certainty of getting your message out there. You may also see Chinese New Year Flyers.
If you found this article helpful, do not forget to bookmark this page for future reference and share this with other events organizer seeking the best kids cool flyers. You may also like Interior Design Flyers.
More in Flyer