Drafting and finalizing catering contracts can be a stressful endeavor for some, especially when you are juggling a lot of responsibilities on your hands. You will have less time formatting the perfect contract.
In order to reduce your stress, we've provided you with an array of well-researched, high-quality, and updated catering contracts that will ensure the security and protection, not just for you as a proprietor but also to your clients. Say good-bye to your worries, see our collection below, and download one of our sample catering contract templates.
Catering Contract Example Template
Restaurant Catering Contract Example Template
Catering Contract Agreement Template
Catering Contract Template
Service Contract Template
Wedding Planner Contrac Template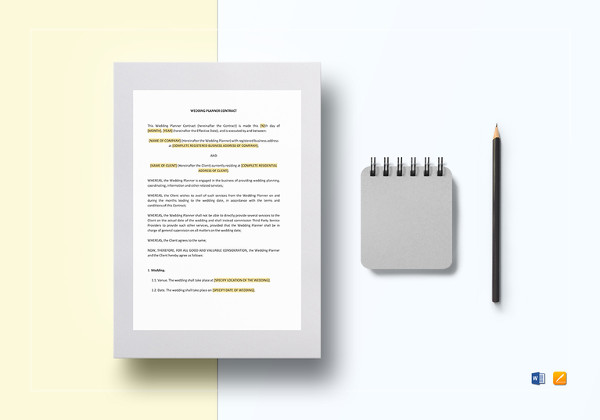 Business Contract Template
Food Catering Contract Template
Wedding Catering Contract
Standard Catering Contract
Blank Catering Contract
Catering Services Contract
A Way to Maintaining Right Relationships
According to research, catering is one of the most flexible of all food-service businesses. It caters almost all kinds of celebrations, from the cradle to the grave. Despite its flexibility, it also demands most of your time in terms of management, human resource, food preparation, food service, customer service, and the like.
Because they are exposed to any types of dealings, catering contracts are legally essential and significant. It is an agreement between the caterer and the client on the terms and conditions they adopt for a specific catering job.
Some catering contracts are made by both parties, but it can also be made by one party provided that the other reads, check, and ensures that they agree to all the terms and conditions included.
What We Offer
Our templates are available to download for free, and they come in PDF, .doc, and .docx formats, so editing these templates should be as easy as downloading them. Here are some of our catering contract templates that you can download:
Wedding Catering Contract
Standard Catering Contract
Catering Contracts for Birthday Parties
Catering Contracts for events
Catering Contracts for Schools
Banquet and Catering Contract Sample
Indeed, it is important for you to choose the right contract template because the contract will be the document that will govern the transaction between the contracting parties.
If you wish to change the stipulations (with prior notice, of course) within the contract with the catering service, check our collection of contract amendment templates to help you get started. However, as a client of the catering service, if you see it fits within the investment portfolio you are building, our business contract templates should help you define the business relationship you and your potential investment could enter in to.
Catering Contract for Birthday Party
Catering Contract for Events
Catering Contract for Schools
Outside Catering Contract Sample
Banquet & Catering Contract Sample
Formulating an Effective Contract
Catering contracts are deemed to be legally relevant—all contracts, for that matter. It is defined by legal dictionaries as "an agreement between the client and the caterer to provide catering services." The contract will spell out relevant terms and conditions for both parties to abide. Here are most, if not all, of the terms the two parties essentially agree on:
Client's details
Venue/Type of Function
Food Supply
Types of dishes
Fees
Date / Time of the event
Expections that are not contrary to law
Rights and Obligations of Parties
As contracting parties, you are free to add other provisions, such as terms for cancellation, as long as they are not contrary to your laws, morals, public policy, and customs.
A well-written catering contract are those that are specific. One should avoid drafting broad provisions because it will be subject to multiple interpretations. Always ensure that your contract's provisions are
clear and specific,
agreed by the parties,
not contrary to law, and
within reasonable standards.
The list is not exclusive, and you can always develop more standards that would best serve your interests. The tips above are not just applicable to catering contracts but also to other contracts such as investment contracts. What are you waiting for? Check out and download our contract templates.