It is always better to work with the best available interior designer in your locality since there are so many in the job market. Interior design is somewhat a short time job, and it could be a long-term one hence the need for a contract. The contract needs to be legally binding, and as such, it has to be written carefully. Contract templates will help you create the perfect contract so that the job can run smoothly.
Interior Designer Contract Template
Want to make your house look more attractive with a new look? Then contact the best interior designer in town and finalize your deal with the help of this contract template. Contracts are legally bound documents, so there would be no disputes not attended while doing business with each other. Contract termination templates will help you create a document accordingly, in case you want to terminate the contract with your client.
Basic Interior Designer Contract Template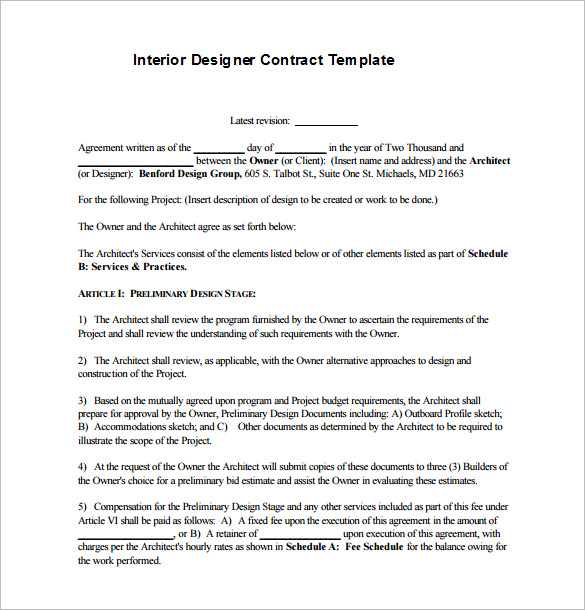 benford.us
These templates feature high-quality design layout, and once you download them, the only thing you have to do is to clearly write down your contract agreement terms. Loan contracts will make you understand what ll should be involved in a contract.
Roofing Contract Template
Professional designers should never accept a verbal contract, and as such, creating a free interior designer contract becomes necessary. Since verbal contracts can be deceiving, it is better you have a written one ready, always. It is highly likely that you may never have the time to write the contract from the ground up really. So, use these contract templates in PDF to design the right contract for your business.
Residential Interior Designer Contract Template
contract-template.org
If you have wondered whether there is a better way to get the layout done within the shortest time possible, the blank contract template is the right solution for you. This sample contract template deals with all the possible information for the job to be done in the best of its abilities.
Steps to Create an Interior Designing Contract
Step 1: Basics of Your Contract
The first thing you need to keep in mind while making your contracts is that you need to know the basics of why you are creating the contract in the first place. For this, you need to describe what is that you do and what can you provide as a service to your clients. Verbal contracts can be deceiving sometimes, so always have a written contract ready, in case there are any disputes that might arise while you are working.
Step 2: Details
The next step would be to explain the details of the work your client has asked you to do. Firstly, identify who the parties are, give their details and any relevant information that you should mention. Give a detailed schedule on what you are going to do and when is it going to be done by. Remember to add every minute detail possible because you wouldn't want to fall into any kind of trouble later on for not informing the client about something.
Step 3: Resources Needed
The products and services you are offering should be clearly mentioned with the pricing for each of them. Take care of any licensed and permits you need to do so before you get the signature of the client. Keep the contract as simple and plain as you can. Keep it to the point, so that it is easily understandable to the client. Give a brief detail of all the services you are asked by the client to provide.
Step 4: Terms, Conditions, and Laws
It is rather important for you to state all the terms and conditions your company has that everyone should follow. Also, mention all the laws that you need to mention and that have to be present in the contract according to state laws. Mention the methods of payments you accept and that if there are any other methods the client would be comfortable in paying you through. The client's satisfaction with what the job you have done is very important.
Step 5: Review and Signatures
Once you have included all the necessary details in the contract, sit down with your client and have a discussion in case you need to change something in it. Make any changes that are needed to be made and finalize your contract. Leave spaces at the bottom for the signature of your client and yourself. SIgn it and done, your project contract for the job to be done is ready!
Restaurant Interior Design Contract Template
A restaurant's interiors play a major role in the ambiance of it too, as people would want to sit in a place that looks and feels good at the same time. They need a comfortable vibe, not just tasty food. Use this restaurant interior design template that will help you finalize the deal with the best designer in town so that your restaurant can have a unique outlook altogether. Therefore, it is only logical to get the very best designers to ensure that you get the most out of your buck. 
Service Contract Template
This six-page service contract will make your job easier, thanks to its instant download capability and highly customizable format. Using this template will make your work so much easier. Just simply edit the highlighted places in the document with what information you want to put in it and once you are done, take a print.
Renovation Contract Template
Renovations should always be done in the right way because if they are not, then it will make your interior designing business look bad and there will be many consequences too. Make that happen by using the business contract templates so that you can create the best contract for your business and make it flourish.
Plumbing Contract Template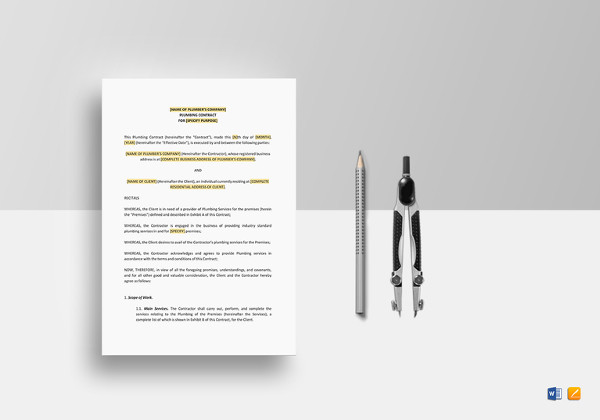 Interior Designer Contract Template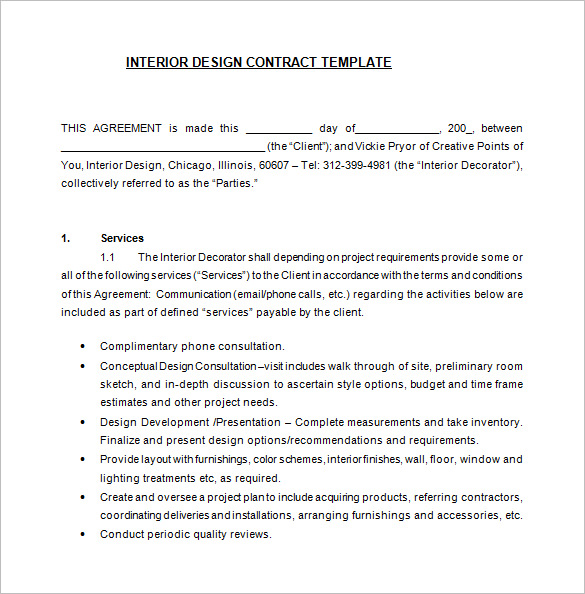 k.b5z.net
Interior Designer Contract Proposal Example
walkersmith.co.za
Sample Interior Design Contract Template
davisdesigninc.com
The interior designer proposal contract templates are available free for download on the internet, and you can get them from a single click of a button online once you land on the one that you believe is going to work well for you.