Contracts
15+ Rental Contract Templates – PDF, Google Docs, Word
A rental contract template will help you create a suitable agreement between you and the person or company in question within the least time possible. Use your blank rental contract template the right way and you will be surprised with the great results. To expand on this further, I will share with you five things info tips I feel your sample free to download, print and use investment contract template must no miss.
Basic Rental Contract Template
House Rental Contract Template
Rental Contract Templates
A rental contract is an agreement signed between a land property and a tenant. Generally, the property owner sets the terms and conditions of the contract that the tenant has to agree upon mutually. Both parties have signed the deal as acknowledging that the tenant has agreed to have possession of the property for the period mentioned in the agreement. It is a legal document in which the owner of the property and the tenant can both refer to in the future. And when there is any dispute regarding the property, both parties can use this agreement as their reference. If you are looking for ideas on how to write a Rental Contract, you can check out Rental Contract Templates.
Apartment Rental Contract Template
Gym Rental Contract Template
Simple Rental Agreement Contract Template
Rental Contract Amendment Template
Rental Contract Template Template PDF Format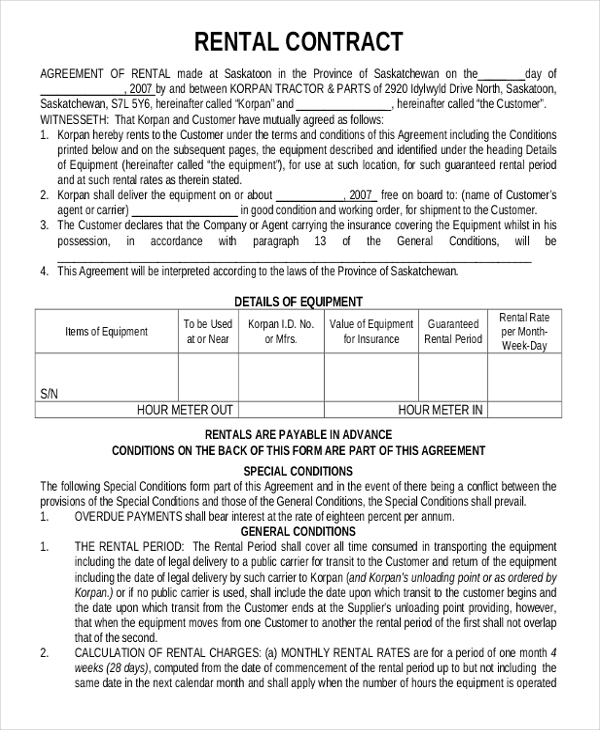 korpan.com
Residential Rental Contract Template
housing.af.mil
Facilities Rental Contact Template
shoreline.edu
Golf Contract Rental Contract Template
pclake.com
House Rental Contract Template in Word
Basic Residential Rental or Lease Agreement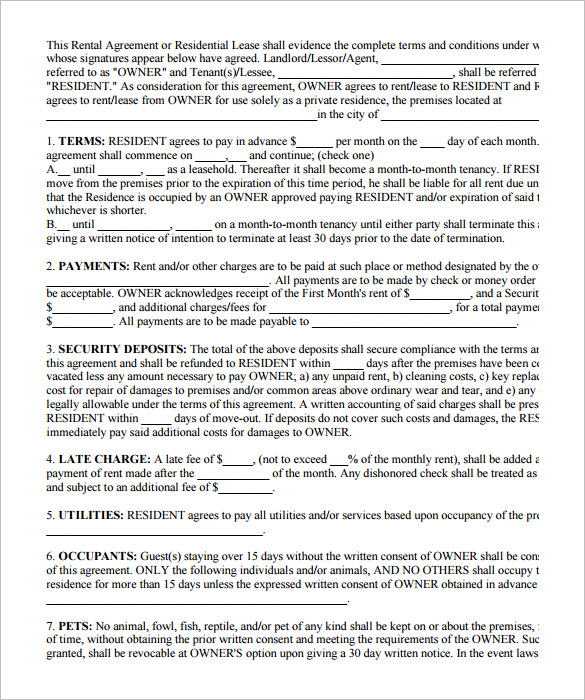 dca.ga.gov
Free Equipment Rent Contract Template
rentalbookingsoftware.com
General Tenancy Rent Agreement Template
House Rental Lease Contract Template
Simple Rental Contract Template in Word Free
biggerpockets.com
> Name of people you dealing with:
Addressing the person by their first name in your printable tenant loan template Example is a good move. In the end, this will enable you to track defaulters of the terms of the agreement with ease.
> Terms of agreement:
Outline your terms clearly. Be prepared to revise the contract from time to time and be fair and kind in your language. Make sure you use the simplest language in the world because you are going to be dealing with tenants whose level of education you are not aware sure about.
> Penalties:
Outline the penalties clearly. You and the tenant need to agree that should they default or go against the agreement, they should be ready to face the consequences.
> Grace periods:
Your agreement template should not miss a grace period. This applies where payment is a concern.
> Warnings:
Give warnings, friendly ones of course. This is some type of a grace period, and it will help the person in question stay on toes.