Forms
45 Basic Application Forms
Application forms are mostly associated with employment processes. However, a job application form is just one type of application form. The said forms are also applicable in making rental agreements, disclosures, academic forms, grant application forms, and many more. In the midst of all of these classifications, the common denominator would be the intention behind every application form.
The form conveys ones intention to join, avail, or apply to a certain organization, institution, or program for that matter. In line with this application forms are great avenues for recruiters and assessors to streamline their application processes to establish consistency and efficiency.
Rental Application Forms
Home Rental Application
mrlandlord.com
Residential Rental Property
scarce.com.au
Application to Rent Residential Premises
commerce.wa.gov.au
Common Features of a Job Application Form
Application forms are written by using a formal approach. They are formal documents that guides the interaction between two parties, namely the applicant and the ones that will be assessing the form. In line with this, job application forms are one of the frequently used type of application form. The common features are the following:
Basic personal details of the applicant –This will include your name, address, contact numbers, professional email address, and any other information that the employer deems it necessary provided that confidential and sensitive information are not included.
Employment history of the applicant – For employment application forms, the employment history serves as references for your potential employer in checking out if you're fit for job. Most of the time, you need to fill in the business names of your previous employers, the duration of service and your corresponding designation.
Educational history of the applicant – Job application form templates provide key ideas on how the academic background of the applicant is structured and outlined effectively in the application form.
Personal skills and references – Recruiters are interested on what the applicant can offer to the company aside from his or her work experiences. Furthermore, references are used for validation and background checking.
Job Application Forms
Application Form for Teacher Job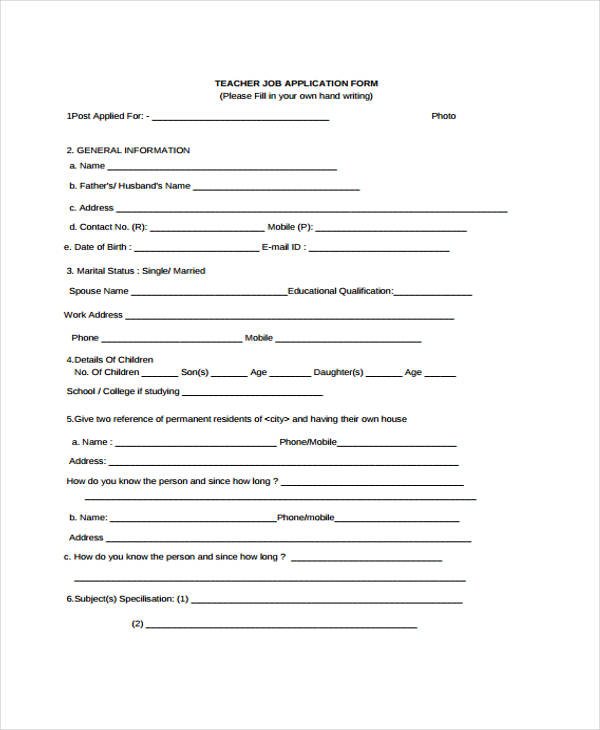 indiranationalschool.ac.in
Standard Job Application
cbs.ac.in
Sample Job Application
kmart.com.au
Employment Application Forms
Blank Employment Application
jobs.alaska.gov
Renewal of Employment Exchange Card
forms.gov.in
Generic Employment Application
dietertcenter.org
Credit Application Forms
Tax Credit Application
dat.maryland.gov
Credit Union Loan Application
galwaycreditunion.ie
Credit Card Application
hsbc.co.in
Types of Application Form Templates
Application forms are relevant and applicable in various fields of interest. Check out application forms templates work by referring to the set of templates below.
Rental Application Form Templates – Rental application forms are used by as a reference document in examining the basic personal background of the applicant tenant. For the former, the details inputted by the latter will serve as his basis in the course of deciding whether or not he or she will accept the applicant. The common components of such documents are the basic contact details of the applicant, rental or residence history, employment history, credit history, and many more depending on the preferences of the landlord and the nature of the object to be rented.
Credit Application Form Templates – In applying for a credit may it be for tax, loan, issuance of a credit card, or any other credit transactions, these forms are definitely. These form documents the personal details of the applicant, his or her credit standing or history, employment details, payment terms, and any other financial details that are necessary for the pursuance of a credit transaction.
Job Application Form Templates – A job application form is an example of a HR Application Form . It deals with human resource and recruitment. On the employers' end, screening and examining a number of applicants in a day can be time consuming and costly. That is why it is important for them to come up with a comprehensive job application that can suffice the requirements for the advertised job posts.
Disclosure Application Form Templates – These type of applications are confidential in nature because of the nature of the information disclosed. Each institution may adopt a disclosure application process to suit the security requirements of their transactions provided that they abide by the governing laws of their respective countries. If you want to explore more the dynamics of such forms, the templates can give you a boost.
Disclosure Application Forms
Sample Disclosure Application
supremehomecare.co.uk
Application for Disclosure Certificate
cushendungac.com
Standard/Enhanced Disclosure Application
belfastroyalacademy.com
Account Application Forms
Account Application Example
lmax.com
Application for Savings Account Transfer
bp.com
Account Opening Form
hdfcbank.com
Education Application Forms
Application for Education Concession
lakshadweep.nic.in
Application for Education Loan
hdfcbank.com
Education Scholarship Application
d3nr8uzk0yq0qe.cloudfront.net
Grant Application Forms
Funeral Grant Application
workandincome.govt.nz
Application of Community Grant
gla.ac.uk
Grant Application Example
sport.wales
Usage of Application Forms
Application forms are essentially required and needed in most transactions. In examining the relevance of such forms, the best way to unfold how relevant these forms are is to know the people who needs them.
Public sector or government agencies – Government bodies offer a variety of services to its people in order to uphold the welfare of the general public. However, they need to have to proper documentation to back up their programs. Application forms are used to record pertinent details to justify certain government-sponsored assistance or programs.
Employers – For the human resource arm of an employment setting, application for employment forms are pivotal in the streamlining their hiring processes. The moment an applicant fills out a job application form, the said act is considered as the marking point for the start of the application process. Furthermore, landlords and lessors use rental application forms in their own individual capacities in order to ensure that their properties are in the right and secure hands.
Private institutions and organizations – The private sector in general such as the business companies, corporations, and other business ventures would need application forms to ensure that they transact with individuals that are free from criminal or other unfavorable security records. Banks are also using business credit application forms in screening applicants for loan- related transactions.
Loan Application Forms
Business Loan Application
adityabirlafinance.com
Employee Loan Application
aksamity.com
Mortgage Loan Application
adityabirlafinance.com
Leave Application Forms
Application for Annual Leave
dlb.sa.edu.au
Application for Medical Leave
csl.nic.in
Casual Leave Application
dop.nic.in
Lease Application Forms
Application for Commercial Lease
stregis.ca
Lease to Own Application
smartchoiceproperties.net
Lease Purchase Application
dnrm.qld.gov.au
Payment Application Forms
Application for Exceptional Hardship Support Payment
dhs.vic.gov.au
Application for Final Payment
agap.cag.gov.in
Payment Plan Application
student.unsw.edu.au
Staff Application Forms
Staff Loan Fund Application
dartmouth.edu
Application Form for Medical Staff
wsbhospices.co.uk
Support Staff Application
northlincs.gov.uk
Tenant Application Forms
Residential Tenancy Application
sfon.ie
Commercial Tenant Application
westvillemall.co.za
Tenant Application Example
benlor.com.au
Volunteer Application Forms
Salvation Army Volunteer Application
centreofhope.ca
Volunteer Firefighter Application
thecounty.ca
Application for Volunteer Service
jfklibrary.org
What Tools to Use to Effectively Manage Your Application Form
Nowadays, automated application forms are favored by most organizations and businesses. Application forms are now available either online or offline. This is because application forms contain relevant information, using system generated forms are easy to store and update. Below are some suggested ways that you may consider:
MS Excel – This is a tool that can help you make your own application form such as in the case of an employee application forms. Data entry is made easy because of the form-making and editing features.
Google sheets – The good thing about using google sheets is that you can have an online copy of your form which makes it shareable and easy to access. In making a disability application form, for instance, google sheets is easy for the applicants to use because they can access them even if they are in their respective homes.
Indeed, application forms are more efficient if you take into account the convenience of the applicants. The functionality of your forms does not just depend on its content and structure, but also on its accessibility.