Forms
12+ Sample Consent Form Templates
Consent forms are essential to assure that all the functions that a person is to do is known either by a guardian or a parent. Also, it may be used for people of legal age to know the items that they are bound to follow especially on the things that a specific consent sample form states.
It is very important to read all the information that a specific consent simple form presents before signing so that no misunderstanding may occur in between the processes that are to take place. We can provide you with consent form sample templates and other Form Template samples which you may use for the purposes that they may serve.
GDPR Parental Sample Consent Form
GDPR Parental Consent Withdrawal Form
Free Sample Parental Consent Form Template
newyorkcares.org
Free Blank Youth Consent Form Template
audaciouschurch.com
Free Medical Consent Form Template
memorialohio.com
Free Sample Photo Consent Form Template
cpsport.org
Free Patient Consent Form Template
authorservices.wiley.com
Parental Consent Form
A parental consent basic form may be used for the following purposes:
It can be used as the document to prove that a parent or a guardian allows a child to attend specific school functions like field trips, exposure tours, and other sample programs where a child needs to leave the school premises.
It can also be for the simple programs and activities that a child wants to get involved in or a kid's participation for a specific event.
Should you want to get more samples of this specific consent layout form, you may download Parental Consent Form samples in the link provided.
Medical Consent Form
A medical consent modern form is needed for the following instances:
It can be for the family of a patient to allow the medical staff to do the needed operation of their family member.
It can also be used as a prescription which a patient may use to get the medication that he or she is required to have.
A medical consent form may also be used to allow an individual be the legal guardian of a patient in terms of medical processes that are needed to be done. You can also see more on Sample Form in Word Templates.
Other than our consent form simple templates, you may also download our Contract Form Template samples and use it as a reference should you be needing to create one of this document.
Free Research Consent Form Template
yorksj.ac.uk
Free Video Sample Consent Form Template
studyoverseas.gov.au
Free Psychology Consent Form Template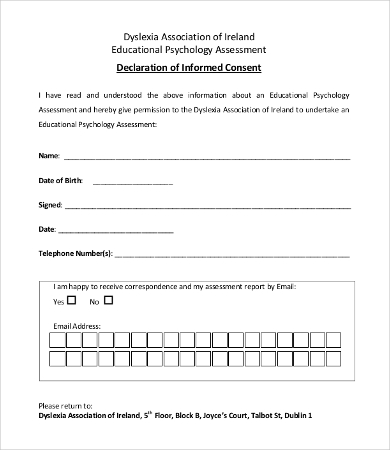 dyslexia.ie
Free Business Consent Form Template
taxwiz.org
Free Actor Consent Form Template
boaemmaobrien.files.wordpress.com
Photo Consent Form
A photo consent form is used for the following reasons:
If the photo of an attendee of an event will be used for the marketing purposes of the event organizers.
If there are functions that a photograph of a person may serve and the company needs the assurance from the person in the photograph that he or she allows his or her photo to be used for these specific functions. You can also see more on Consent Templates.
If an agreement is needed to be made that the photographs to be taken are already considered properties of the organizers and the company that hosted the event. You can also see more on Consent Agreements.
Research Consent Form
A research consent form includes the following information:
The name of the researchers who are to do the research study. You can also see more templates like Researcher Templates.
The title of the study to be done.
The processes that are needed to be done under the specific study.
The explanation of the functions of the study and why there is a need for a study to be conducted.
The assurance that the data to be gathered will only be used for the specific study.
The limits of the study and the right of the source to be sited in the research study.
There are other ways that a consent form may be used. It all depends on the function and purpose that it serves as to how it is going to look like. Other than our consent form standard templates, we can also provide you with downloadable Agreement Form templates.
More in Forms