Forms
FREE 10+ Nursery Registration Form Templates in PDF | MS Word
A nursery registration form is a document that contains a list of fields that a parent fills in with data for their children in order to get admission to the nursery class. It also allows capturing all the essential information for each child. Take a look at the nursery registration free forms templates provided here which might be beneficial for your use.
Table of Content
5 Steps to Make a Nursery Registration Form
Step 1: Include a Basic Introduction
Initiate with a basic introduction providing details about the nursery and when and where to submit it.
Step 2: Include Space For Child's Information
All personal details about the child must be collected in this section to know them better.
Step 3: Add a Section For Parents and Contact Information
This section is very important. All information about the child's parents is mentioned here along with their contact details so that if any kind of problem arises the authority can directly contact them without much trouble.
Step 4: Provide a Space For Questionnaires
Insert a space where you can put questions of any additional information about the child to know them better. This will help figure out the child well and he/she can cope up with the environment.
Step 5: Add an Agreement Section
Lastly, input terms and conditions to which the parents have to cooperate and agree mutually with the school authorities. This is where their signature is taken as a piece of evidence.
FREE 10+ Nursery Registration Form Templates in PDF | MS Word
1. Nursery Registration Form Template
stjohnchurch.org
A nursery registration form allows the staffs and authorities to gain details on the students who are joining their institutions. A well-constructed form is very essential since it is mandatory to note all the important elements which will define the child. We have provided such a template which you can refer to for your use. Download now.
2. Nursery Registration Form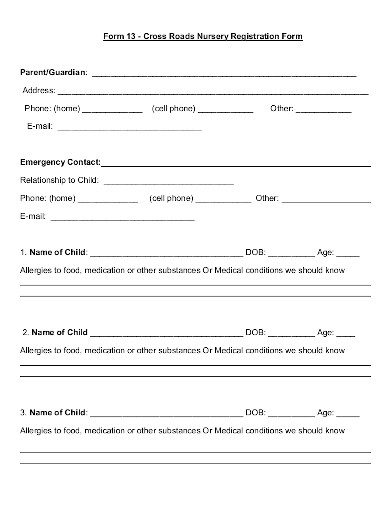 crossroadspresbyterian.com
Are you looking for the simple and most common nursery registration form? We have solved your problem. Check out this amazing sample which is ready made and is waiting to be downloaded. The form in pdf is customizable and very easy to use since it seeks all the basic information of a student.
3. Nursery School Registration Form
circlenurseryschool.org
A child must be 3 years to be enrolled in a nursery school. In order to get admission there, a parent needs to first fill-up the registration form providing all the details that are asked. Generally personal information about the child, parents contact details and choice of the session are there along with a few guidelines. If you want a professionalized form of that type then you must not waste your time and download the template given here. It will be surely very useful.
4. Church Nursery Registration Form Template
flcal.org
A church nursery registration form is necessary to be filled up and submitted back so that apart from getting information there is a mutual agreement between the parent and the authority. It gives the basic information of the child where the documents are recorded and used for further use. Check out this template to have an assurance of the perfect format which you can start using instantly.
5. Nursery Registration Form Example
holyredeemerparish.org
A fully furnished nursery registration form has been provided here which consists not only family information and child information but also an agreement section for the parents who wish to assist in staffing the nursery. Go through the sample once and if you consider it to be useful then download it instantly. You can customize it too.
6. Nursery Registration Form in PDF
thewaychurchal.com
Are you looking for a well-constructed nursery registration form that contains child details, rules and regulations, policy and medical information along with other necessities? Then we have solved your problem. You can download this file now and dive into the details which will surely help you in either making a new form or editing this itself. Take a look and begin this instant.
7. Children Nursery Registration Form Template
davieumc.com
The children nursery registration form generally seeks for all the essential information of the child. This is because the school needs to record the details and analyze so that they can create an environmentally friendly place for the children. We have given a sample of such basic and simple format which will be helpful for you since it contains all the required elements. Download and use the format now.
8. Nursery School Registration Form in PDF
communityns.org
Since a nursery school registration form is essential to enroll in school, it is important to create a well-constructed form which will give you all the necessary information you need of the child. To ease your task we have provided an easy and ready made template which you can use it and edit if required. Grab it now by downloading the sample. You will not be disappointed.
9. Nursery Registration Form in DOC
concordianc.org
A simple nursery registration form consists not only basic child's information but also seeks for details like allergies and medical problem and every little important thing which is important for the authorities to know. It is essential to record and know every information about the child before they allow them to enroll in their school. We have attached such a simple form template where certain guidelines along with the form are given and can also check forms in word. Check it out and download if it is useful.
10. Day Nursery Registration Form
bopeepsnursery.co.uk
Have you checked out this professional well-constructed nursery registration form? If not then check it out once. Not only it consists of forms for every section but also provides terms and conditions along with a questionnaire in the end. This is complete and properly designed form which you should download this instant. Also, it is in word file which will help you easily to edit and customize according to your want.
11. Nursery Child Registration Form
bovingtonnursery.co.uk
A nursery child registration form has been updated so that you can make use of the professionalized format for your school enrolling system. It is necessary to collect properly filled up forms from the parents for the safety of their child. Check it out once and if you find it useful download now.
More in Forms