An offer letter is a communication of willingness to hire. It is crucial for legal reasons clarity in the offer is essential. All offer letters contain certain essentials such as the job title and description, wage and company policies among others. This is how you can write an offer letter.
5 Steps to Write an Offer Letter
Step 1: Acquire a Company Letterhead
Acquire an official company letterhead with the logo of the company. All official communications should be made this way as you are sending an official company offer letter.
Step 2: Greetings and Offer
Start the letter with a small greeting such as "Dear _________" and let them know in a celebratory tone that you are pleased to offer them a position in your company. Make the job title or position very clear.
Step 3: Description of Job
In this part, you have to outline the duties expected of the candidate in the position he has been offered. You must also include specifics such as working hours, office address, etc.
Step 4:  Salary and Benefits
Let the candidate know how much they will be paid, when they will be paid and how they will be paid. You can also tell them about bonuses. Inform them about the benefits they can avail, such as insurance.
Step 5: Expiry Date
Let the candidate know that they will have to communicate their acceptance or refusal on or before a certain date. Give the candidate your contact information and let them know how and when they can reach you.
15+ Company Offer Letter Templates
1. Free Company Offer Letter Template
If you have to write a job offer letter but are not sure as to how, you can simply go for this free template. The template you will find are standardized and are of a high quality. This will save time and the embarrassment of making a mistake.
2. Free Internship Offer Letter From Company
When writing to offer an internship position, there are some additional nuances one must pay heed to as they are slightly different to job offer letters. This template can easily be edited and you can craft the perfect internship offer letter. This way all requirements will be met.
3. Free Company Internship Offer Letter to College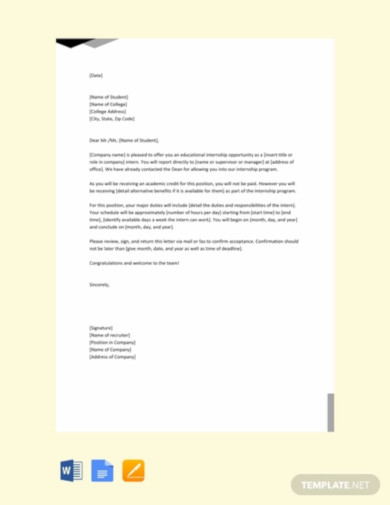 Sometimes colleges apply on behalf of students. Writing an offer letter to a college is different to writing to a student and it cannot be a simple offer letter. Hence, you can go for this offer letter template example and write an appropriate offer letter to the college.
4. Company Offer Letter for Employment
This is one of the most common offer letters that are used in the industry. They too however need to meet certain requirements for clarity. You can either follow the aforementioned steps or download sample offer letters from the internet. With this sample, you can write the perfect letter.
5. Company Internship Offer Letter Template
Internships are not highly regulated and standardized in any industry and hence, an offer letter for an internship must be very clear in outlining the responsibilities of the intern and also the rules that are to be followed. One can craft the perfect internship offer letter with this template.
6. Company Offer Letter Template
This is an offer letter template that is perfect for those companies which are large and get a high volume of applications. This being the case, the Human Resource Department can simply fill in the specifics of each individual and send it and thereby save a lot of time.
7. Sample Internship Offer Letter from Company
Some companies get a lot of applications for internships. They will have to accommodate both job applications and internship applications, which can be confusing. So they can just download this free editable letter template and fill it up and send them. This will streamline and ease the process for the company.
8. Company Offer Letter Example
This simple offer letter template can be used for standardized offer letters as a result of which the Human Resource Department can save a lot of time by just using this template instead of writing a new letter for every application. It is easy and saves a lot of time and efficient.
9. Company Internship Job Offer Letter
A company cannot spare the time to write a separate letter for every single application that it receives. It is time consuming and destroys efficiency. To solve this, one can just download this letter template in PDF for the internship offer and fill in the specifics as required by the situation.
10. Simple Company Offer Letter
If you are a smaller company, there are only a few things that you will have to mention in your offer letters, unlike bigger companies. Nonetheless, they need to be standardized and look professional. To achieve this, you can download this PDF template and save a lot of precious time.
11. Formal Company Offer Letter
A large company, unlike today's startups has a lot of formalities and procedures. They cannot simply welcome an applicant to the company. They must first outline the rules and policies. This is more formal and hence, requires a different letter sample template. This one will help make a formal offer letter.
12. Company Offer Letter Format Template
A company will have various positions, all of which will have different policies and requirements. Instead of editing one letter to suit all needs, you can download many offer letter sample templates which will be specific to that job or position. This is possible from this template, which is free.
13. Printable Company Offer Letter Template
Most companies have moved to email for communication purposes. So the templates they use do not focus on printing. But if you are one of the few companies who still use letters, you need a template which will accommodate for printing. This template will help you do just that.
14. Basic Company Offer Letter in PDF
Most companies use a basic format which is generally standardized through the whole industry. If you want to use this offer letter format, you can just go online and download it. This template can accommodate exports to PDF as well so you can send the letter in any format.
15. Standard Company Job Offer Letter in PDF
A lot of time and effort can be saved by using a largely standardized format for offer letters as opposed to writing back a letter to everyone. This is also easily understandable as everyone uses them. So to save both reputation and time, you can easily download this format.
16. Professional Company Offer Letter
A large, company cannot use the same letter format as smaller startups. They need to be more dignified and hence need a separate format of their own. This template will be best suited for larger professional companies to distinguish themselves.