Business
10+ Business Owner Policy Templates in Google Docs | PDF | Word | Pages
A business policy are what guides a company example to run and manage its business. It enables the owner to micromanage the internal and external transactions as well as to deliver the products or services. Also, it defines the breadth of such business policies and directs the necessary actions. The importance of business policy lies in the idea that it provides a standard that everyone in the company should follow. Therefore, a step-by-step guide and a list of policy templates are quite a need in drafting a good business policy. Avail any of the given policy-related templates below and follow the necessary steps provided for you to develop effective business policies.
Table of Content
10+ Business Owner Policy Templates in Google Docs | PDF | Word | Pages
1. Sample Company Policy Template
Utilize our ready-made Sample Company Policy Template to draft a good layout of a business company policy at your convenience. By using Google Docs, MS Word, Pages, and Editable PDF, this template is fully editable as well as 100% customizable anytime you need it. You only have to click the download button to start editing this template.
2. Attendance Policy Template
Get to layout an attendance policy for your business by making use of this Attendance Policy Template today. Edit with ease in Google Docs, MS Word, and Pages, and print it in A4 and US print sizes. It is perfect for commercial and personal printing. What are you waiting for? Download this template now!
3. Policy Manager Resume Template
If you're planning to apply for a policy manager position of a company, you can make use of this Policy Manager Resume Template. This resume template is easy to edit, so there's no problem changing the original content to more relevant details. Aside from that, it is already professionally-layout to save you from the hassle and stress of drafting one from scratch. So, make haste and grab it now!
5 Steps to Create a Business Owner Policy
Step 1: Justification
We create policies for a reason. In the history of simple legislation, existing business policies are either due to the behaviors that you want to regulate or improvements that need to implement. In creating one for your business company, you need first to identify the purpose of why a specific policy has to put into practice. For instance, the company wants to ensure the health and welfare of the workers while they are at work. And so, a particular policy involving employee's health and well-being must be present.
Step 2: Application
The next thing to keep in mind while you are drafting a particular policy is to know the scope of such business policies. To whom are you going to implement them? Who are the most affected? In your case, it could only be a particular department or a team. But it can also apply to the whole workers of the company. Regardless, you need to take into consideration that when a policy involves people, they have to be a part of the negotiating process. You need to hear their sides, comments, or suggestions. Remember that you're doing it not just for the sake of the company, but also for the strong relationship that you are trying to build with your employees sample.
Step 3: Communication
Communication is an essential aspect of the whole business policy-making process. Your workers have to know and understand the rules and their responsibilities in a clear and specific manner. In other words, you need to create a detailed statement that lays out the duties, consequences, and merits. There is a need to communicate your policies to them, so they will know what to avoid or to maximize. You can download our ready-made sample memo templates to convey your message effectively.
Step 4: Implementation
The most crucial step perhaps is the implementation part. You have to observe the strict implementation of such policies when everyone has agreed to them already. But you cannot impose it strictly without having it discussed with your employees. That is why the first three steps are of great importance before a company implements a business policy. It's your duty as a business owner to have your schemes communicated to your workers before you set them in motion.
Step 5: Revision
When a policy implemented is no longer relevant, then, there is a need for a company to make a necessary alteration. Update the business policy so it may serve its purpose well for the current demands in the industry. Schemes can also wok rusty and inefficient. So, make time to review it and make some revisions if it deems necessary.
4. Company Overtime Policy Template
This Company Overtime Policy Template is a useful tool to draft a company's overtime policy as easy as pie. The template has a preformatted content already that you can use as-is. You can edit it through Google Docs, MS Word, and Apple Pages file formats. If you need this template, you can download it right away.
5. Sample Policy Memo Template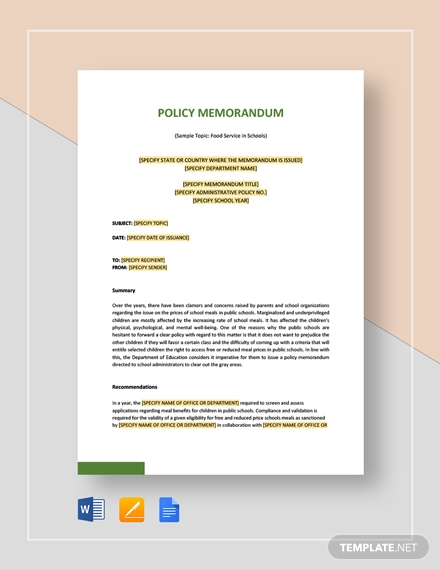 To help you communicate your new business policy to your employees, you can download and edit our print-ready Sample Policy Memo Template. It can help you make a professionally-made policy memo in an instant. Don't miss the chance to download it now. Secure a copy of this sample policy memo template anytime today!
6. Policy Proposal Template
In proposing a new business policy, you probably need a tool to draft your policy proposal. With that, we made this Policy Proposal Template available in Google Docs, MS Word, and Pages file formats. You can download and edit it using the mentioned file formats, trouble-free. Download it now to start the editing process!
7. Simple Company Policy Template
If what you are searching for is a company policy template with a simple layout, then this Simple Company Policy Template is what you need to download. The model makes use of the content and a layout that you can quickly modify using MS Word and Pages. On top of that, you can also have it printed either in A4 or US print sizes. Hurry and download this template to the advantage of your company!
8. Privacy and Employee Monitoring Policy Template
Draft a company's privacy and employee monitoring policy with the help of our ready-made Privacy and Employee Monitoring Policy Template. Personalize it by only providing the necessary and the relevant information needed to make it all yours. You can download the template anytime, anywhere.
9. Privacy in the Workplace Policy Template
Create a policy that ensures privacy in the workplace using this Privacy in the Workplace Policy Template. Protect what the company owns and take no risk by drafting a scheme you need to secure the confidential information. Download this template and customize the content either in MS Word or Apple Pages. What are you still staring at your screen? Secure this template now!
10. Sample Sexual Harassment Policy
More often than not, we need a sample policy template to guide us in the process of creating a policy for our business. Admittedly, it pays great to get a copy of this Sample Sexual Harassment Policy that you can download in a portable document format (PDF) today. Learn from this sample and obtain what can help you in drafting a good business policy.
11. HR Policy and Manual Template
Download this HR Policy and Manual Template in a portable document format (PDF) to aid you in creating a business policy you need for your company. Make use of the original content and learn from how the layout of this sample template to develop useful policies and procedures. What are waiting for? Download this file now!
More in Business