Memo Templates
13+ Credit Memo Templates – Google Docs, MS Word, Apple Pages
For any requested items of a customer's where they receive any defective goods or if the product didn't delivered in time, a credit sample memo template will serve as a reimbursement to the buyer by the seller. It serves lie a deal memo template that is operational in an example format, where there will be compensation for the inconvenience cause by the event.You can also see Business Memo Template.
Many sellers will find this handy when they experience problems in delivering their products so they will just have to print the document and send it to their customers. They can make an authorized document for the Memo Template that can serve as an assurance to their customers that proper solution will be given in the trouble they experienced.
In this online-driven business world, money transactions are done online. And in order to avoid online hackers and scammers, credit notes can be created for any kind of transactions. So, use this Credit Templates and get away from unwanted credit problems.
Credit Memo Template
Simple Credit Memo Template
Credit Memo – Excel Template
Restaurant Credit Memo Template
General Purchase Credit Memo Template Free Format

printabledocs.net | The green borders are certainly a step away from the traditional black and white credit memos you usually see. Plus, the organization of the various columns on the credit memo are really neat and well arranged.
Accounting Credit Memo Template Example Format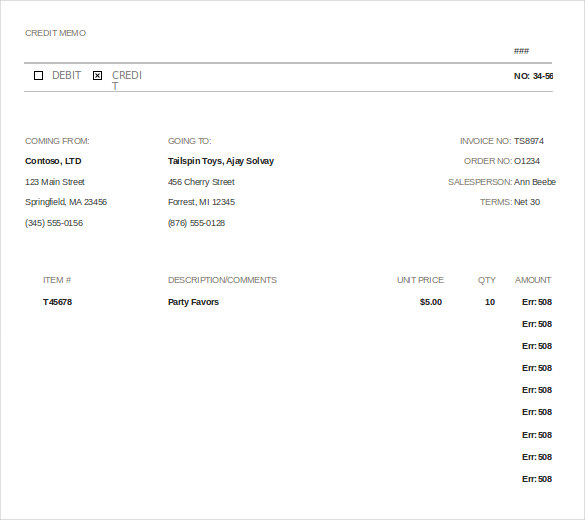 msofficeguru.org | In the field of accounting, credit memos like this have to be issued at regular intervals. If you download this template, you could use the same memo format to show your credit information every time.
Credit Memo Template Free Example Download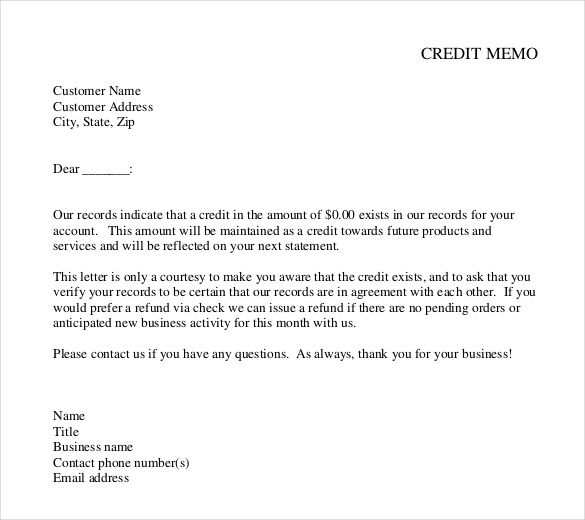 pdfimages.wondershare.com | If you want a detailed credit memo that is both professional and descriptive, this memo template is the one for you. It contains all the necessary information in the form of neat paragraphs. What more could you ask for?
Credit Memo Invoice Template Free Sample Template Download

freeonlineinvoice.com | Whenever you buy something from a shop, you'll be given an invoice which contain the nature of the items, the quantity, and last but not the least, the price rates. All this has already been included in this memo template.
Customer Credit Memo Sample Format Download

fmo.hawaii.edu | If a customer is dissatisfied with a product they bought from you or they want to return it, you could pay them back by giving them credit. This memo is a declaration of that. In order to create such a memo, you could take the help of this template.
Sample Example Format Credit Memo Download

printableinvoicetemplates.net | It might so happen that you're not familiar with the format of a credit memo. Don't be disheartened since there's always a first time. You could find out more about the format of a memo by using a memo template.
Credit Memo Journal Entry Sample Template

iconnect-corp.com | When it comes to matters as important as credit, it is always better to maintain a track of it. With all your credit memos, you could create a journal. In order to do that, you can take the help of this amazing credit memo template.
Vendor Sales Credit Memo Template Example Format

uky.edu | As a vendor, every time you sell something, you're expected to hand over a credit memo that would serve as proof of the transaction in question. Now you can make your life much easier by simply using this wonderfully designed template.
Example Process Flow of Credit Memo Free Document

finance.vermont.gov | Maintaining a record of flow of credit is not easy to say the least. Plus, it is harder if you're not familiar with the standard format. In that case, you could easily take the help of this well designed, professional memo template with a neat and clutter free layout.
Simple Credit Memo Template Sample Format Download

purdue.edu
If you have any DMCA issues on this post, please contact us!