Using a good Memo Template can shave off hours of paperwork in the operational day-to-day of running a business, be it your standard corporate outfit or a legal firm. We know that communication within any workplace setting is essential to keeping things running smoothly and effectively. You may also see Memo Templates.
When it comes to drafting an office-wide memo, many leaders can get stuck. You have to consider all sorts of details: Are you rambling? Have you presented all the necessary information in a manner that's clear and accurate? Are all the details laid out logically and coherently?
Simple Legal Memo Template
If you find yourself constantly stuck in the drafting phase with these questions in mind, take a look at these free PDF samples of legal memos. After studying them, your memo-writing skills should be up there with the mass communication pros.
Sample Legal Memo Template
Interoffice Memo Template
Simple Memo Template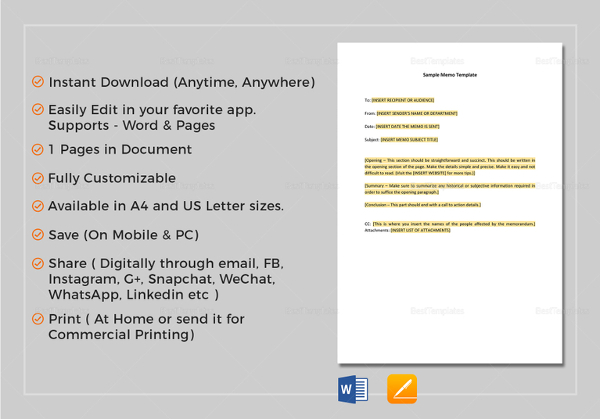 Formal Memorandum Template
Professional Memo Template
Inter-Office Legal Memo Template
Legal Memorandum Format Sample
Legal Tax Accounting Memorandum
Constitutional Law Research and Analysis Memorandum
Advanced Legal Research Memo Assignment
What Is a Memorandum?
To write a memo well, you first have to know what it is. Whatever form it takes—whether you fill in and print out a Word Memo Template, or if you have an Email Memo Template saved in your e-mail drafts—a memorandum is basically a written announcement.
This announcement can be directive, advisory, or informative, and depending on the matter at hand, it can reach complicated lengths requiring a multi-tiered table of contents (see Constitutional Law Research and Analysis Memorandum).
When Do I Write a Memorandum?
Whenever you feel it is necessary. These legal memos cover all sorts of subjects, mostly details about a law that was just passed or a workplace ruling that was just issued, in order to bring everyone within a firm up to date. The length and style of the memo will depend on the matter at hand.
Whenever you need to communicate something across an entire organization, or even a division or department within that organization, you will have to draft a memo.
You could also call a group meeting, but a memo will ensure no one misses it and there is a paper trail for documentation.
How Do I Use These Samples?
It is important to note that these are examples of an Internal Memo Template—i.e., it is addressed to employees and its circulation is restricted to within the workplace.
By downloading and studying each sample, you should be able to write a professional memo addressing anything, no matter the complexity.
But I Don't Work In a Legal Firm: Will These Help Me?
Of course. These samples will be useful references for any situation you find yourself having to write a piece of one-to-many professional correspondence. The legal business just happens to be in need of it the most, given that the business is notorious for its prodigious amount of detail that has to be communicated clearly, coherently, effectively, and in full detail.
Chances are you won't reach this level of detail in your office memos, but you'll be glad you know how it's done when things start to get serious.