Are you about to start a new project soon and looking for tips on where to start from? Well, it could be for your marketing plan or any campaign for your client. However, before you start the project plan, create a project outline with the help of a marketing plan outline template or pertinent templates. The outline will support your endeavor with highlights on the necessary points.
Project Outline Template Microsoft Word Example
There are millions of project ideas out there, and each requires some consideration before the project starts. Why not put those requirements in an outline. The template is free to download.
Project Proposal Outline Template Sample
The success of your project depends on how you outline everything from the start. An outline is simply a group of elements that you would like to go into the project. Use this template for outline plan. acq.osd.mil
Research Project Outline Template Sample Download
Your projects needs to have an outline for easy development. Most people have a hard time creating their projects because they do not have an outline. You can download and use this outline to help you.
Science Project Outline Template Free Word Doc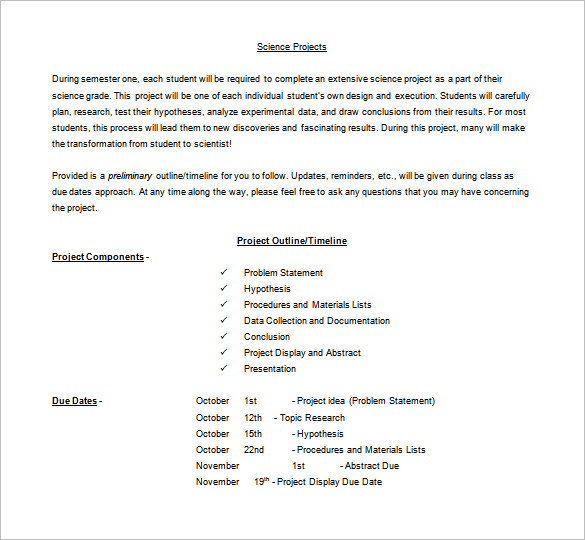 A project outline can make your life easier. The outline often contains every element that you would like to go into a project. Download this template to make your life easier. trafalgarsciencefair.weebly.com
Sample Science Fair Project Outline Template PDF Download
The  most successful project often has an outline. Usually, the developers use the outline as a tool to help them manage the project from the start. You can download this template and use it to create the best outline.
Senior Project Outline Template Example PPT Download
whsd.k12.pa.us
Sample Project Management Outline Template
Download Capstone Project Outline Template Example
How to Write a Project Outline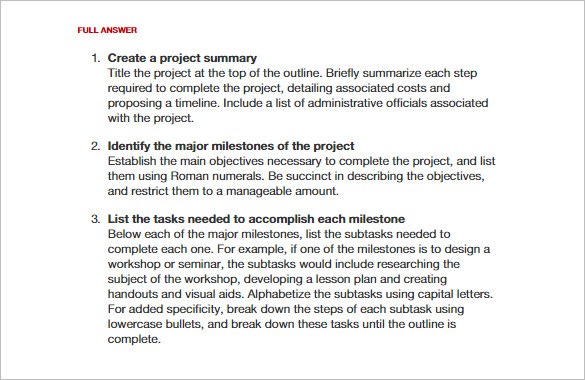 A project outline template example offers tips on creating project summary in the introduction followed by points for identifying important milestones of the project, people to be involved -and the list of tasks to complete the project.