Writing a script with regards to the restrictions of the twenty-first century film industry is an uphill task. You need to be true to the script and at the same time uphold sections of the story that have cinematic validation.  If you want to organize your thoughts with respect to the level of detail in your work then you can also check out our excellent collection of sample screenplay outline templates.
Outlining Your Script Story Outline
Getting started with writing a script should not be hard at all. As long as you have the best outline, the ideas will flow. You can use this template to create an excellent outline for the script. writersstore.com
Free Documentary Script outline Template Word Doc
Most people think that writing scripts is hard. In reality, writing a script is easy and straightforward as long as you have the best outline. Download this template to create a good outline. filmandmedia.ucsb.edu
Write a Script Outline Word Format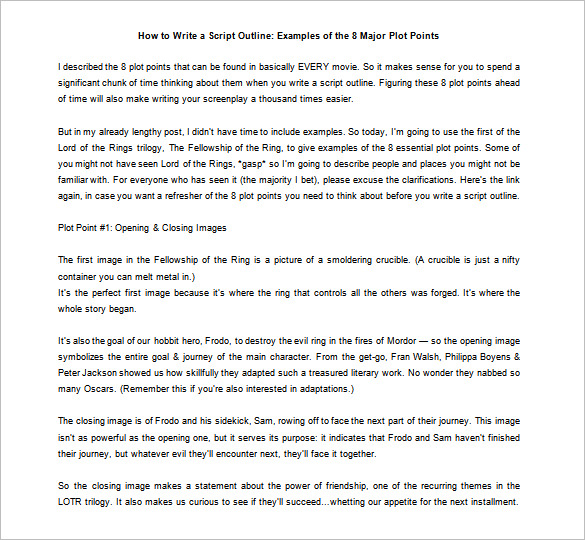 A great script can make the next best film. It could be anything really. However, you will need to have a good outline. You can download and use this template to create a good outline. scribemeetsworld.com
Free Video Script Outline Template MS Word Download
Although creating a layout for your outline from scratch sounds better, downloading a free template can save you a lot of time. The template is free to download. Use it to create your outline chiptudor.com
Blank Video Script Outline Template PDF Download
A heroic effort is not demanded when creating your script. All you need to do is to create a good outline and base your story on that. Download this template for free and use it to create your outline.
Download Script Outline Template PDF Format
Write a Video Script Outline Free
The Ideal Script: Why you need a Script Outline template:
The script forms the major part of the movie whether we like to admit or not. It's not just about the film's content; you need a screenplay which caters to the commercial elements while upholding the basic intellectual needs of a cinematic experience.
These outline templates help you modify the plot line that you have in mind to fit the chronology of different events happening in the movie
They help you keep true to the general structure of the book or script.
Even if you take leeway in the form of unscripted digressions these templates help you reach the inevitable conclusion and resolution outlined in the script.