As Uncle Sam and the global economy at large waited in anticipation for the unfolding of United States President Donald Trump's trade, foreign and economic policies with a promise of a greater America, we gladly bid 2017 goodbye along with its economic uncertainties. You may also see plans sample.
184+ Real Estate Templates in PDF, Word, Excel, PSD, HTML5, WordPress, Google Docs, PowerPoint, InDesign, Apple Pages, Google Sheets, Publisher, Apple Numbers, Illustrator, Apple Keynote, Google Slides - START DOWNLOADING
Real Estate Marketing Plan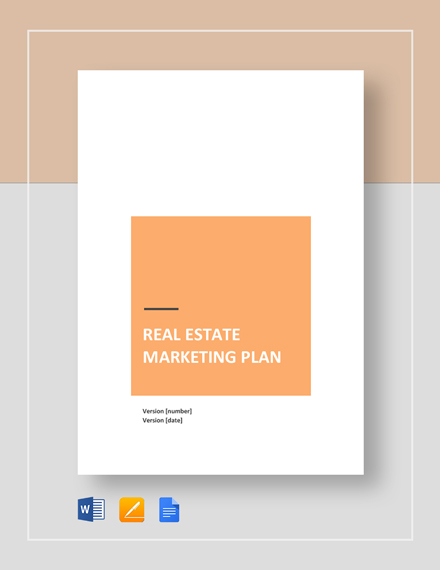 Real Estate Management and Business Plan
Accountants worked tirelessly as they hit brick walls trying to get their heads around tax laws changes and its implications while Europe starts to deal with the realities of UK's Brexit. Meanwhile, the economy in the United States continues to be promising in many areas, including the real estate industry. In general it's fair to say that things are looking quite well for the average American, politics aside. You may also see simple marketing plans.
Real Estate Marketing
Real Estate Budget & Marketing Plan
The State of Real Estate
According to experts, the confidence of the average consumer to purchase and lease properties has seen a good rise and unemployment rates decreased for the first time in the past seventeen years. 2017 gave the economy a growth rate of 2.3%, making the real industry market look good owing to an increased consumer demand especially in the country's busiest and biggest cities. You may also see business marketing plan templates.
When it comes to a successful real estate business or investment, marketing of course, is still the biggest determining factor. If you're new to the industry, you'll soon discover that among every successful investor in the real estate, is the skill to market well. Bridging the gap between a business and its audience or customer, marketing serves as the voice and carrier of a respective brand's message since it is through marketing that people get to identify with, know, like and trust a business. you may also see Marketing Plan Templates.
The same rule applies to real estate and a good plan plays a key role in the buying and selling game. With that said, developing a real estate marketing plan is your ticket to thriving in the good times and surviving in the market's tough times as an investor.
Real Estate Affirmative Marketing Plan
Visual Real Estate Marketing Tool Guide
Planning Matters
The most trusting and idle realtors are contented in putting a listing, uploading a property and then wait or hope for the best. Then there are some who would try to make your house or commercial property look like every other property on the market. As a result, buyers fail to find just what makes the property valuable or what sets it apart from the rest. Unfortunately, such cookie-cutter marketing tactics can inevitably have negative results to the pricing you have set. Strategies like these, are what you need to avoid so that it doesn't hurt the value of the property you're selling before you even have the chance to do your pitch. You may also see marketing plan samples.
Your best chance is a polished, well-written basic marketing plan that will help you stay on track and reach your real estate short and long-term goals. This document, as a very important part of your investment, should include a detailed budget that didn't come out of thin air to propose, target audience, marketing and advertising strategies and any other thing that would make you stay on top of your game and that of the competition. Having a plan will help you determine your target audience, set goals that are reasonable, monitor your progress and efficiently allocate your budget.
Keep It Real
The best advice we can give you is to be clear, thorough but still keep it simple and real. There are so many well-written plans that ends up along the pile of archives collecting dust under the office desk because they're either too complicated or unrealistic to be implemented. You're not making a document stating you heart's biggest desires in real estate. You may also see sales & marketing plans.
You're writing one to help you make projections about the development of your business over the next year and how you intend to fulfill them. Be honest with yourself and only set realistic goals and what your finances, time and other resources are capable of getting. You're not being asked to limit yourself but you don't have the sky as your limit either, although when it comes to opportunities in marketing, you're rather close enough if you get it done and planned right.
Marketing Plan for Real Estate Broker
Real Estate Marketing Strategy
30 Day Real Estate Marketing Plan
Components of A Market Plan:
1. Executive Summary
This section should be come first but written last in creating your sample real estate marketing plan. This should contain a summary of the plan in its entirety and should include the key points. It should also be as concise as possible, with as few words but written clearly, as its objective. When an investor reads this section, he or she should be able to immediately have a clear understanding of what you want to do and what your intentions are without him or her having to read the whole document.
The information in the executive summary can be used regularly as it also serves as a guide or reminder of your day-to-day marketing activities or operations. You can have a copy of this added to your planner for easy reference and checking of your marketing goals. Admit it, it helps when you have something to help you get back on track when you've strayed for a while and haven't realized it, and in marketing, staying and getting back on track is very important.
2. Mission Statement
Every organization needs a mission statement. To help you figure out what your should be, here are some questions you can answer: What is your real estate philosophy? How would you define your values? What rules do you keep to? How do you serve potential buyers or investors? What is it that sets you apart from the next brokerage? All these questions will provide you a firm ground for which your business and marketing plan can stand on, to thrive. The road towards success is clearer and way easier when you know where to find your motivation.
3. Market Analysis
You should know more than enough regarding what's happening in the real estate industry. How is the current movement of the market? Use the past to foresee the future. Are there any changes in reguations and governmental policy that can impact your business? How about in the construction industry? What are the latest trends? Where are millennials going to find their dream houses? Take a step back, read, look and listen to the world around you and try reviewing what is going on.
If you need more information on historical market data, get in touch with the authorities: your local, state or national associations. One or all of them will be able to provide you with the figures showing the market's history in your area. You also have your Multiple Listing Service which you can use to get the information you need. You may also see marketing plans.
4. Competitive Analysis
Try to analyze what the competition is offering and just how much you need to compete. While real estate agents technically makes up most of your competition there are a few entities in your area that may affect the success of your business. Most of the time, they are the ones you face and fight in listing presentations or those that are trying to take care of their market share in your area. Answering these questions below can help a lot in analyzing the competition so you would have enough leverage and marketing advantage:
Who are they? What are they offering the audience? Ow do they market their services and properties? What are their strengths and weaknesses? How are you going to deal with objections and rejections of any form? Do you see them only competing in certain areas of the market? You may also see marketing plans in PDF.
5. Identify Your Target Audience
Every business has a target market, in which case every agent also has a specific demographic in mind in writing the simple marketing plan. You might be waiting for fresh out of college twenty-somethings or young professionals leasing and buying apartments, newlyweds on a bungalow hunt or luxury-buying individuals in search of vacation homes.
It is important that you define whatever that demographic is because when you have identified your target customers, it would then be easier to develop the marketing plan sample according to what they might be looking for especially if you have a good understanding of how you should appeal to millennials versus that of Gen X, Y, and so on.
6. Appeal to potential buyer's emotions
The best marketing campaigns have set focus on real people and real stories. You might just need the same thing since you're technically selling a home. Make it about people. Make it human and think of a message that would grab your target audience's attention. The message you put across your marketing channels should also tell more about what sets you apart from just any other real estate firm, agent, or landlord. you may also see Best Business Marketing Plan Templates.
Real Estate Marketing Code
Printable Real Estate Marketing Plan
Real Estate Marketing Communication Plan
It all boils down to planning well because just like any business looking to thrive or succeed with a marketing plan as one of its priorities at the beginning of the year, real estate agents also have to create their own marketing plans to set targets in selling properties. You may also see sample annual marketing plans.
At the end of the day, your marketing plan should be strong enough to act upon but also versatile enough to fit and adjust the growth of your investment according to the market's movement, so any changes your market undergoes, you wouldn't be left panicking. You should be able to fit it for what works and what fails. You may also see event marketing plans.