A fundraising plan can be defined as a plan or a document that organizes fundraising events over a certain period of time for an organization. This plan generally includes events, campaigns, etc., so as to raise funds for charity. This creates sufficient room for mobilizing people. The time gap also ensures that they do not forget to attend the occasion.
36+ Fundraising Templates in Word, Excel, PSD, Google Docs, PowerPoint, InDesign, Apple Pages, Google Sheets, Publisher, Apple Numbers, Illustrator, Apple Keynote, Google Slides - START DOWNLOADING
Charity Fundraising Plan Template
Write a fundraising plan that would be key to the success of your charity goals by taking the help of this above-mentioned template. This document will be of great help as it allows you to create a comprehensive document that provides you with guidance on strategy and tactics in achieving your fundraising goals. All you would have to do is download the template, edit and customize it to suit your needs and requirements. Also, it is not just limited to the computer, but you can also download it with ease on any electronic device. Try it out now!
Board Member Fundraising Plan
thenonprofitacademy.com
The above template is a board member fundraising plan, that you can download and edit in the most efficient way. Here a board member can choose from the list the desired fund/resource development and fundraising activities that they want to participate in, and set goals in those areas.
Non-Profit Fundraising Plan Sample Word Template
theregenerationproject.org
A non-profit fundraising plan acts as year-long fundraising for any NPO. This template will help you plan how and when you can raise funds, thus making the task less daunting for you. By breaking down each activity, you can easily see how you will raise your total.
Campaign Fundraising Plan Sample Template Free Download
ndi.org
The above template is a document that is specifically designed to help you understand how to raise funds for a political campaign and how to develop and manage a fundraising strategy. Our plan template contains a three-day training session which helps to understand Fundraising Myths, Where the money comes from, Why people give money, etc.
5 Steps to Create a Fundraising Plan:
Step 1: Assess your Position
For creating the most effective fundraiser, it is very important that you know where you stand in the market. This way, you would know what to add in the plan, making it easier for you to create the most effective plan needed for your entity. Use past years' information, so that you can assess where you stand better, and also have a better idea on where to go from there.
Step 2: Create Goals to Achieve
You should always have a list of your goals to be achieved. This way, you can come up with the best strategy needed to do in the most effective way. Make a list of all the successes and challenges you might face and give the list of goals you have to reach. This is the best way you will know the priorities that need to be fulfilled by each and everyone in the organization.
Step 3: Set a Timeline
It is very important that you give a timeline/deadline for the action plan to take place and finish successfully. Staying on top of your goals needs a proper start and end to them as well, so the timeline you give will be of great help. Being on time will help you attract more donors. When creating the timeline, keep a check on all the milestones you have reached. This acts like positive reinforcement and will definitely help your employees by giving them the nudge they need.
Step 4: Determine Fundraising Methods
Before you start making the plan, it is very important that you mention the fundraising methods that you would want to use. This could include fundraising events, charity events, online donation pages, etc. This would allow you to make the perfect plan needed for the method you choose.
Step 5: Build Partnership
Building corporate partnerships is very important for a fundraising sample plan. This could be through sponsorship, grants, gifts, etc. Make a list of all the stakeholders you have and also, come up with strategies on how you can increase your clients. These partnerships act as an important source of revenue and income for nonprofits. Make the action plan and put it to force.
University Fundraising Plan PDF Format Free Download
cheyney.edu
The above-mentioned template is a userfriendly template, that you can use on any electonic device with ease. The plan template is driven by six overarching goals that inform university-wide budgeting, planning, implementation and execution, reporting, assessment, and continuous improvement.
Greek Housing Fundraising Plan Sample PDF Template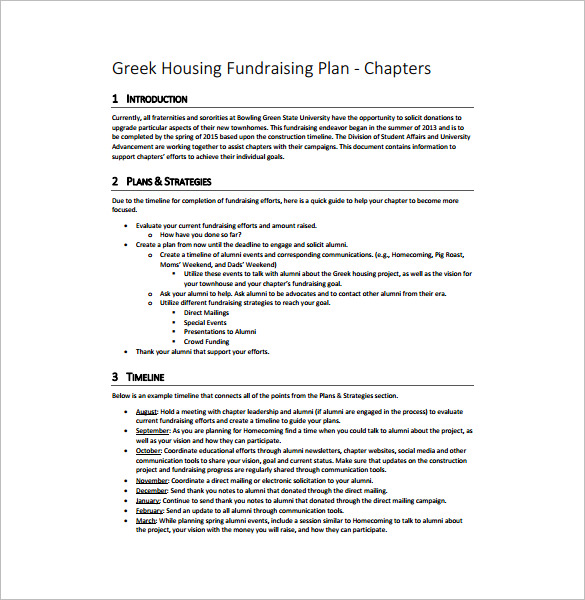 bgsu.edu
This above-mentioned Greek housing fundraising plan sample contains information that supports the efforts of people to achieve their goals in the best way possible. The plan template contains a timeline for completion of fundraising efforts, it has a quick guide to help your chapter to become more focused and achieve their goals.
MS Trust Fundraising Plan Example PDF Template
mstrust.org.uk
Annual Fundraising Plan PDF Format Free Download
joangarry.com
Sample Communication and Fundraising Plan PDF Free Download
framingmymessage.nl
North Sky Fundraising Plan Example Word Template
andrewolsen.net
Fundraising Strategic Plan PDF Format Template Free Download
bbbsi.org
Example of 5 Year Fundraising Plan Template
sagebrushlandtrust.org
Wrapping Up:
It is best when you take charge after having a plan so that you have a solution for ist of the issues that might crop up on the way. However, specialized consultants can be more useful since they are experienced in the job. Great fundraising simple plans are goal-oriented, with a specific message and tactics to be used within the given time-frame. It is very important that you also make a list of all the existing resources you have and if you need any. This is where the budget comes into place.
Make the necessary changes whenever needed in the plan, so that you are up-to-date with the fast pacing world. You need to have a proper strategy on how you will achieve your mission without many negative effects on your business. Set your targets and choose the best strategy that goes with these targets. Evaluate your business and make progress by taking the huge steps towards success, one by one.