Report Templates
30+ Incident Report Templates in PDF
An incident report is a formal documentation of the facts related to an incident. It is also a report form that is filled out in order to record information of an uncommon event or instance that occurs at the facility, such as an injury to a patient. The purpose of this report is to write a documentation regarding details of an incident while they are still fresh to those who witnessed the event.
An incident report template is helpful for a concise and accurate report writing. It contains standard report format, which is needed for your document to be organized. Here, we offer various incident report templates that ready for download.
Incident Report Template
Security Incident Report Template
General Incident Report Template
Employee Incident Report
Free Incident Report Template
Employee Injury Incident
osha.gov
Employee Discipline Incident
laborrelations.siu.edu
Accident Incident Report
Auto Accident Incident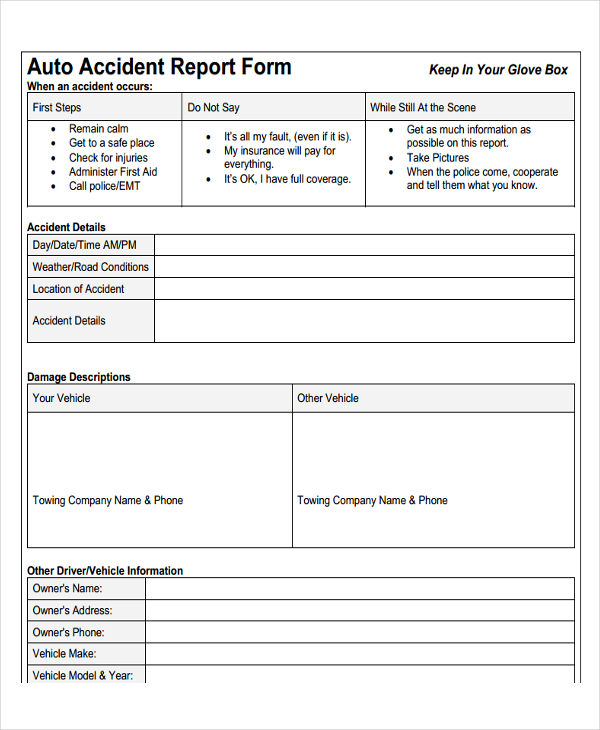 westmont.edu
Accident Incident Sample
commerce.wa.gov.au
Accident Incident Example
imperial.ac.uk
What Is the Scope of Incident Report?
The scope of an incident report is to lead the investigating group through the process of deciding event sequence that leads to the accident or incident. It will then be processed by identifying the root cause and corrective measures. This will help avoid any incident from happening again.
All incidents will be further investigated. It will be conducted as they identify needed generic corrective actions to avoid accidents. Regardless of how deep the investigation is, the procedure will vary with the circumstances of the incident. To help you when it comes to report formatting, you might want to check out Report Samples in Doc.
Situations that Require an Incident Report
The report alerts the need for immediate investigation and follow-up. Incidents that require reporting are the following:
Assault, homicide, or other crime resulting in death.
Any elopement that results in death or major permanent loss of function.
Rape
Poisoning occurring within the institution.
Equipment malfunction or equipment user error during a treatment or diagnosis.
Patient death, paralysis, or coma associated with a medication error.
Surgery on the wrong patient.
These are just some of the instances where there is an imperative to file an incident report. Our Accident Report samples are helpful when it comes to situations like these. You can check the link to see more document samples.
Behavior Incident Report
Student Behavior Incident
valleycollege.edu
Employee Behavior Incident
ohio.edu
School Behavior Incident
louisianabelieves.com
Construction Incident Report
Construction Site Incident
drexel.edu
Construction Accident Incident
uc.edu
Construction Safety Incident
drexel.edu
Tips to Prepare a Perfect Incident Report
Part 1
When writing an incident report, the first thing you need to do is to look for facts. Gather and record them. The following are the necessary details you need to include:
Date, time, and specific location of the incident.
Names of the people involved and their immediate supervisor(s).
Names and accounts of witnesses.
What are the instances that lead to the incident?
What are the people doing at the moment of the incident?
Certain injuries of the body.
What are the types of treatment for injuries?
Part 2
Based on the gathered facts, it will be the right time to determine the sequence of events. You should include in your report the events leading up to the incident. The instances involved in the incident as well as the events following right after the incident, should be written as well.
Part 3
Examine and determine the facts. There should be an in-depth analysis of the causes of the accident in your report. Include what are the primary causes, secondary causes, and other contributing factors.
Part 4
Never forget to include recommendations for corrective action. This might include immediate actions as well as long-term corrective measures such as:
When an employee is on training for safe work practices.
Activities for preventive maintenance. This will keep materials in good condition and are operational.
Job procedure evaluations with a recommendation for changes.
Conducting a job hazard analysis. This will help determine the task for any other hazards. Training employees for these will then be conducted.
Part 5
When it comes to formatting, ensure you short and concise paragraphs so that the reader will know when you are describing new facts. You can use bullet points as this will help your report to look more organized. It will be easier to read and will draw the reader's eye toward important points.
You can take a look at our behavior incident report samples for reference. These Report Examples will give you more precise insight on what should be included and the standard format as well.
Hospital Incident Report
Patient Incident
oig.hhs.gov
Hospital Security Incident
swa4safety.com
Hospital Incident Sample
mtc.edu
Medical Incident Report
Medical Emergency Incident
stpaulstrust.org.uk
Medical Device Incident
immune.com
Medical Assistant Incident
iata.org
Nursing Incident Report
Nursing Home Incident
health.ny.gov
Nursing Student Incident
uky.edu
What to Include In an Incident Report
These are the following details that you need to include when creating an incident report.
The incident's circumstances.
The date, time, and specific location of the incident.
Interventions taken to care for the resident immediately after the incident.
A description of the injured person's condition.
Pictures of the location.
A brief note of the interview with the injured person, as well as the other witnesses.
Details regarding where any equipment involved in the incident is located (in case it has been moved).
The contact details of any witnesses who were not interviewed.
Brief notes by the investigating person regarding the details in which the incident occurred.
Take note that it is vital that the report does not include any speculation or bias opinion as to what causes the incident. Proper incident documentation is also a must. Only write down information that is relevant to the incident.
Incident Report Templates
When it comes to proper documentation and report making, templates are always the best solution. They contain standard format and content are already added too. You can make changes if you want. These templates that we offer are well-written and organized. Employee Incident Report templates are a great example. Some of our report samples are in DOC format too for more options.
Office Incident Report
Dental Office Incident
sdaa.in1touch.org
Physician Office Incident
floridahealth.gov
Quality Incident Report
Drinking Water Quality Incident
dews.qld.gov.au
Quality Control Incident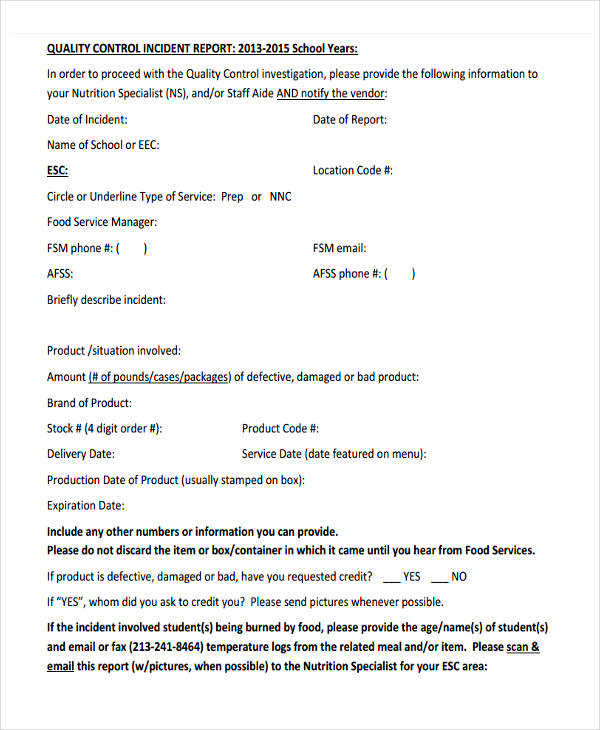 lausd.schoolwires.net
Quality Assurance Incident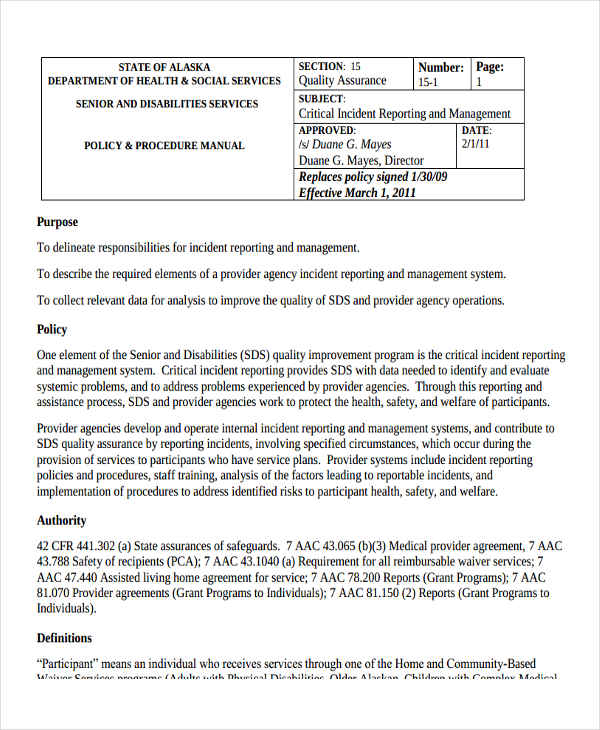 dhss.alaska.gov
Security Incident Report
Information Security Incident
hw.ac.uk
Cyber Security Incident
asd.gov.au
Hipaa Security Incident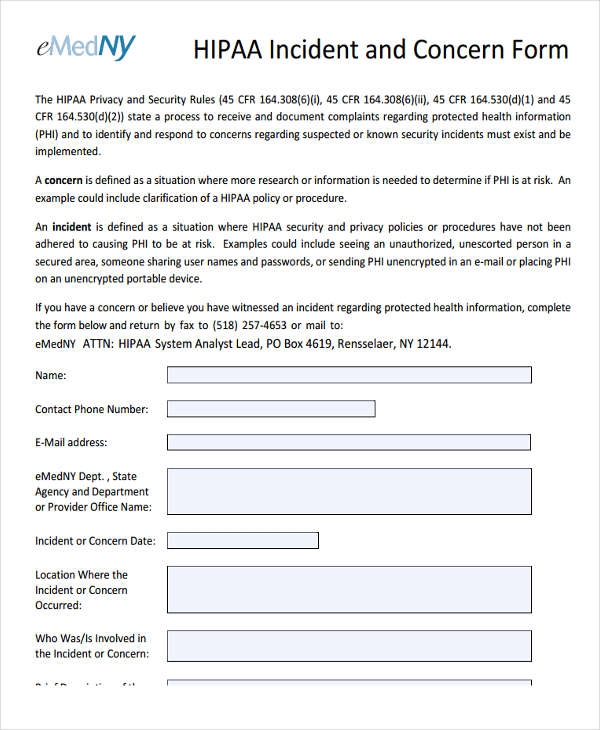 emedny.org
Do's and Don'ts of an Incident Report
Do's
You should always be descriptive than evaluative.
Sign the report with your full name (first, initial, and last name).
You only need to use approved abbreviations or you can write out the words.
Always practice writing the incident report in a chronological order.
You should determine each document with the person's complete name (last, first, and middle initial).
Don'ts
You should not use nicknames or aliases for those people receiving services.
Make sure not to postpone a documentation.
You should not use abbreviations that are not allowed.
You should not use the name of an individual receiving services in another individual's record.
Never counterfeit any documentation.
Incident reports serve as a proof regarding certain events that lead to the incident. If you are writing up an incident report, you should know what are the necessary details you need to write down. Make sure the gathered facts are real and not falsified. For a more convenient way of report writing, our templates will be a huge help.
You might want to see our blank incident report templates for proper guidelines. Some of these are report samples in PDF document. These are user-friendly templates that are very easy and simple to modify.
More in Report Templates