To attain success in today's competitive world organizations and individuals have to set realistic goals and targets. However, setting goals is just a beginning step in the corporate world. Making progression towards these goals in a time bound manner is what defines SUCCESS. Monitoring and assessment of succession made towards our goal is termed as Progress Report.You may also see report samples
Progress Report Template
Business Progress Report Template
Daily Progress Report Template
A Progress report is a summary of tasks at hand, task completed till date, challenges faced, resource utilized, and the expected results and timeline to achieve the ultimate goal of Report Template. There are countless Progress Report Templates available online to help track the progress of the projects. You may also see Incident Report Template.
Project Progress Report Template
Job Progress Report Template
School Progress Report Template
Student Progress Report Template
Editable Progress Report Template
 Employee Absence Tracking Template in iPages
Weekly Activity Report Template in Word
Professional Report Design Template
Simple Formal Report Template
Editable Training Report Template
Monthly Marketing Report Template in MS Word
Printable Annual Business Report Template
Weekly Status Report Template
Monthly Report Template
Annual Report Template
Business Progress Report Template Word Format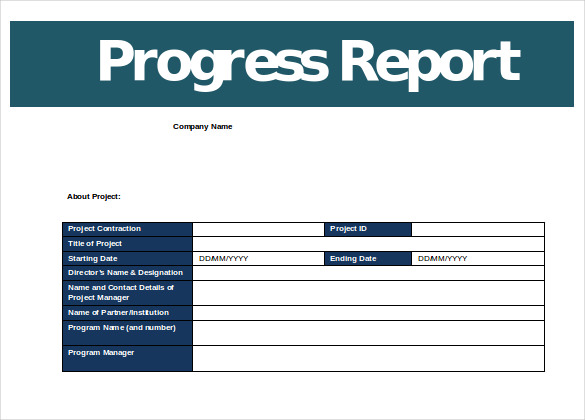 This template is used to review the overall performance of the business. It covers the following information: Details about the Report, About the Project, Targets achieved in a specific period(Start & End Date) Outputs of the project, Issues related to project, Risk Management & Analysis, Next target and review date. Using this template to monitor the advancement helps in pre-planning and predicting the risks involved and corrective steps to be taken to avoid/overcome the risk and achieve the business target within the timelines and budgets set. businesstemplatesz.org
Project Progress Report Template PDF Format
innovation.ca
Student Progress Report Template PDF
retsd.mb.ca
High School Progress Report Template PDF File
mchs-santarosa-ca.schoolloop.com
Elementary Progress Report Template PDF
edu.gov.on.ca
Weekly Progress Report Template PDF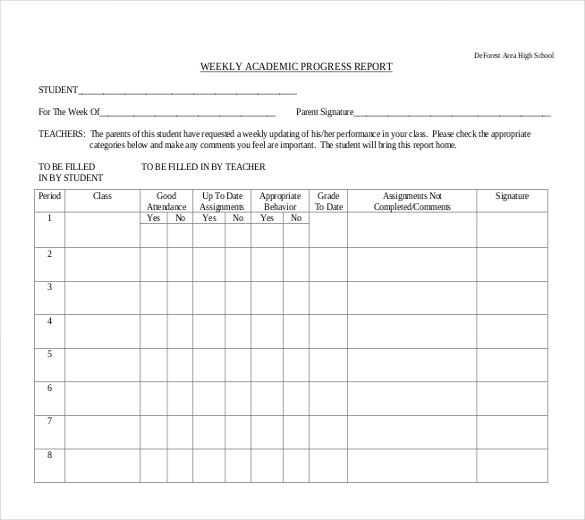 As the name suggests this template helps the organization to monitor the progress and advancement of the project on a weekly basis and take corrective actions in case of any delays or problems before it's too late. It involves data pertaining to the project like Name of the project, Date of Commencement etc. and second part includes information about the overall objective and strategic progress so far. It also includes pre-planning data for the next week. deforest.k12.wi.us
Monthly Progress Report Template PDF File
ucl.ac.uk
Academic Progress Report Template PDF Format
ocknights.org
Construction Progress Report Template
This template is specifically designed for construction and site management organization it covers data about the movement and progress of the construction site. The data includes information like Name of Construction Project / Site, Project Summary like work completed till a specific date along with the images of construction completed, and data on work anticipated till the next specific data. wasd.org
Employee Progress Report Template
This template is basically an overview of an employee's performance for a particular financial year, it covers information about the employee like appearance, dependability, attendance, interpersonal skill sets, mannerism, initiatives taken, judgmental abilities, attentiveness to details and responsibilities handled. An employee's progress is rated by his/her immediate reporting manager. This template further helps the management to decide about an employee's increment, promotion and advancement. durhamtech.edu
Postgraduate Progress Report Form
These templates are useful for monitoring the progress of an employee for the entire month and evaluate the employee's productivity. It includes information like Name of the Employee, Employee Code, Report for the Month/Year, Name of the Reporting Head, Activity Done, Reporting Time, Leaving Time, Total Hours worked, Signature of the Employee and the Reporting Head for authentication. This template gives an overview at the end of the month of the output of each employee in the organization for the period the progress report is reviewed. jkuat.ac.ke
Performance Progress Report Template
na.fs.fed.us
> Purpose and Importance of Progress Report Template
A progress report is a structured report about the advancement and performance of the project. It enables an organization to break and monitor a gigantic task into smaller parts and monitor the progress closely within the timelines and budgets set and lay a structured action plan for the pending project. This close monitoring reduces or rather eliminates the risk of failing a project.
Whenever a company takes up a small-scale or big-budgeted project, norm states that a progress report be prepped simultaneously documenting the different milestones achieved and problems encountered along the way to completion.
Good thing now there are readymade progress report templates available in different designs and formats – PDF, Word. The report is an important document as it gives insight to the people in-charge and higher-ups how the project is ongoing or went about. You can use the templates for existing and future projects.
> Conclusion
Progress Report Templates are ideally a great tool to monitor our success and achieve our goals. A plan laid down with care and monitored from time to time, brings an organization closer to its ultimate goal. So download the Progress report template in any format you feel comfortable like word, excel, pdf etc. and take your first progressive step toward the ultimate success. If you have any DMCA issues on this post, please contact us!