In a monthly report template, you must have a progress report template to tell the improvements you are taking in completing any task and audit of all that happened in a month may it be a project or income. You can start making the report using the example format downloaded online so you can have the template you can write down your status quo may it be in your work or an individual target goal.
It has the entire needed layout you can use when you are in brink of completing the task assigned to you like having an audit of the financial status of your company or just a track of what progress you have made in whatever project you are engaged now.
Monthly Quality Management Report Template
Asset Management Monthly Report Template
Monthly Risk Management Report Template
Contract Management Monthly Report Template
Simple Monthly Report Template
Easy to Edit Monthly Expense Report Template
Monthly Sales Report Template in iPages
Monthly Marketing Report Template in Word
Simple IT Management Report Template
Survey Report Template in Google Docs
Formal Report Template in Word Format
Professional Report Template in iPages for Mac
Free Monthly Report Template
Free Monthly Budget Management Report Template
Construction Monthly Report Template Sample
lamission.edu | Construction Monthly Report Template Sample records the monthly progress of the renovation, remodeling and improvements of college mentioning in details such as renovation of the business offices, the modernization and remodeling of the executive office corridor etc. It also breakdown the financial status of the projects and allocation of the budget as pie charts and blocks.
Free Department Monthly Report Template
odot.state.or.us | Department Monthly Report deals with monthly mileage tax report. It includes report on general reporting information such as due date and payment details and reminder, systematic guidelines and instructions of filling up every column and sections in the monthly report template. It also includes payment instructions and advice the required duration of the report maintained.
Employee Monthly Report Template Example
fortress.wa.gov | Employee Monthly Report Template consists of recording precursory of adjusted unemployment, resident civilian labour force, the number of unemployed monthly rate calculated accurately and in details taking into view even the small breakups of percentages. It also includes employment change precursory adjusted.
Sample Monthly Vanpool Report Template
media.metro.net | Monthly Vanpool Report Template sample is about keeping a monthly Vanpool report. It has several sections for keeping records of volunteer participant details, information on everyday trip, records the value for gas, tolls, parking fees, vehicle cleaning and other costs. It also has section to show acknowledgment of the volunteers who participated.
Sample Federal Probation Monthly Report Templat
canp.uscourts.gov
Free Monthly Wholesale Trade Report Download
census.gov
Sample Wrecker Monthly Report Template
dol.wa.gov
Sample Monthly Report Free Download
sdsi.gov.bc.ca
Free Monthly Oil Market Report Template
opec.org
Monthly Progress Report Template Example
ucl.ac.uk
Sample Project Monthly Status Report Template
employeeservices.gov.sk.ca
Monthly Sales Report Template Free Download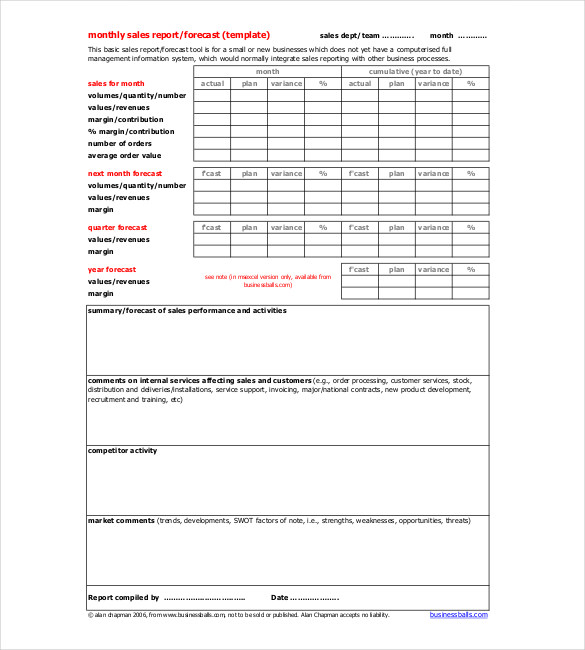 businessballs.com
Sample Monthly Project Status Report Template
umanitoba.ca
> 

What are the top Uses of Monthly Report Templates?

You can use monthly report templates to make monthly performance report, monthly status report, monthly project report, monthly attendance report, monthly sales report, monthly finance report and many such monthly reports types. Monthly report templates are also used to prepare for rewarding employees on the ground of their monthly performances and achievements at work during the month. Monthly reports templates are also used to write as composition of daily and weekly reports in an efficient way. With these templates, you can easily keep track of the developments and management of an organization and many other advantages, aspirations and future intentions.
> 

Who all Can Use Monthly Report Templates?

Senior and permitted employees usually prepares monthly reports. They prepare monthly report just after a week of the end of the previous month. It is time consuming to start from scratch. Nevertheless, with the help of monthly report templates easily available online for free, they use the templates to prepare the monthly report quickly.

With monthly report templates, you can complete the task of updating monthly audit financial status of your organization and progress of projects within a month. Therefore, the best way to prepare well organized monthly reports is to use the monthly reports templates, which suits your requirements perfectly.
>

What are the Benefits of Using Monthly Report Templates?

Monthly report templates are highly recommended format used for writing absolute monthly reports. Since monthly reports are records prepared to communicate several information and details about operations and business development, they play important roles in the development and uplift an organization.

Attractive monthly reports allow alteration and amendments in business decisions at the top levels. Such reports also display risks, flaws, and imperfections. That way, the management can have better outlook in decision making to make the business and the organization better.

Therefore it is highly recommendable to use monthly report templates to prepare perfect monthly reports effectively, easily, clearly and quickly. Monthly report templates help you write ad prepare monthly report with clarity on multiple management procedures and various conditions and ideas of working. You can go free download online of several monthly report templates and create attractive absolute monthly reports for your organization for business or use them for personal purposes. If you have any DMCA issues on this post, please contact us!