Report Templates
8+ Workplace Investigation Report Templates
Every workplace or office must carry out an investigation on the workplace ambiance and employees to ensure a safe, secure, healthy and completely professional environment. The workplace investigation report features findings on workplace safety features as well as the behavior or intention of staff. The report helps to identify any unprofessional attitude.
Workplace Investigation Report Template
Investigation Report Template
Workplace Investigation Report Template
The workplace investigation report features findings on workplace safety features as well as the behavior or intention of staff top word and excel report templates for free download. The Monthly Sales Report Templates helps to identify any unprofessional attitude on part of any employ or whether the workplace is fully compliant with safety regulations for prevention of incidents and so on. You may also see Sales Report Templates.
Sample Audit Investigation Report Template
Workplace Investigation Report Template
Every workplace needs to ensure the safety of its workers at every aspect like health, security, professional environment etc. If safety is not ensured at the workplace the efficiency of the workers gets affected and hence the business also gets affected.
There are a number of workplace investigation Word report templates available online which the companies can use as per its need and requirement and also with some alterations. These help the companies to have employee satisfaction which will help the business grow in the long run.
If you want to conduct a survey for your worker's satisfaction at the workplace you can have it done through using the templates available online. These templates mention the different areas of safety and security and the type of insecurity that can happen in an office.
The workers need to fill these forms which will let the management know about their safety so that it can work accordingly. It is a type of complaint form which an employee can lodge for any particular employee or a group.
If you cannot decide on how to frame a proper workplace investigation report, you can seek help from a workplace investigation report template.
Accident Report Template
General Incident Report Template
Confidential Investigation Report Form Template
ucl.ac.uk
Conducting Workplace Investigation Template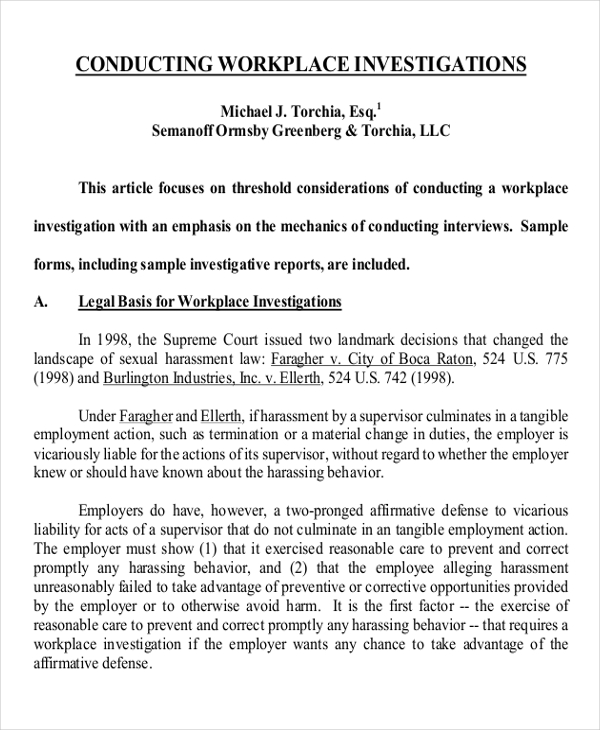 sogtlaw.com
Free Workplace Confidential Investigation Report Template
Benefits of the template
These are great time & energy savers as you no longer need to create a complete investigation report right from scratch.
Many sites offer Workplace investigation Report Template Free Download and hence you won't have to worry about any extra expense.
These report templates are easily customizable, enabling convenient modification on your part.
These are ready-made workplace investigation report frameworks where you are just required to enter the investigation information. A sample workplace investigation report template can be downloaded from the internet.
Conclusion
While working in any office, it is the duty of your management to take care of you and your safety at his place. To carry out this the management asks the employees, from time to time, to fill an investigation report. If this is not done from the management's side, you can also complain about the issue faced by you. For ensuring safety you can get these workplace investigation report templates online being already prepared. You can also edit the content as required.
If you have any DMCA issues on this post, please contact us!
General FAQs
1. What is a Workplace Investigation Report?
A workplace investigation report is an important business document that helps one look into any issues, allegations or concerns that can crop up unexpectedly within a business organization. It is the process of researching an issue between employees of an entity.
2. What is the purpose of an Investigation Report?
The main purpose of an investigation report is to investigate details of allegations, check evidence in-depth and to determine whether any misconduct has been committed or not. Such a report helps in understanding who the culprit and the victim are, the seriousness of the misconduct, etc. with ease.
3. What should be included in an Investigation Report?
The following points must be included in an investigation report:
Information to identify the case
Allegation sources
Information about the subject
Cope and purpose of the investigation
Case notes
Interview summaries and reports
Include the name of the person who reports, the case number, important dates if any, etc.
4. Define the Investigation process.
The investigative process is a series of activities or steps ranging from gathering evidence to information analysis. It also contains theory construction and validation. It helps in forming a reasonable ground to believe that something happened, and it finally leads to the arrest or press charges of a suspect.
5. How to Conduct a Workplace Investigation Report?
With the help of the following points mentioned, you can conduct a workplace investigation report with ease:
Decide whether to investigate or not
Take immediate action if and when necessary
Choose and investigator
Plan the investigation
Conduct interviews to gather details
Gather enough evidence and evaluate it
Take the necessary action.