Schedule Templates
12+ Media Schedule Templates
If you are so busy that you cannot keep a track of your media schedules, interactions, press releases, meetings and other conferences, the media schedule templates available for free and premium download can really help you. You can get awesome pre designed and formatted templates where you can pin your appointments, schedules, detailed timings and interaction dates and then relax as you won't forget any appointment thereafter. you can also see Weekend Schedule Template.
Media Schedule Template
Social Media Schedule Template
Sample Interview Schedule Template in Word
Editable Production Schedule Template
Blank Schedule Template in Excel Format
Free Download Media Schedule Template Excel Format

people.clarkson.edu
Free Download Marketing Media Scheduling Template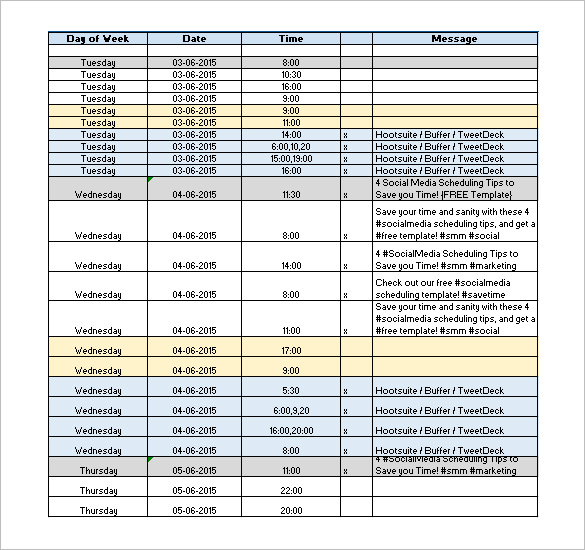 cta-redirect.hubspot.com
This template is perfect for media scheduling in respect of marketing. So, if you are someone associated with the field of marketing, this template will benefit you immensely. You can download this Marketing Media Scheduling Template easily from the internet to reap its benefits.
Printable HubSpot Media Schedule Template Download

Media scheduling can't get more effective. Since, this template is one of the best in its kind, you can use this take the hassle out of media scheduling. What will impress you most about the HubSpot Media Schedule Template is that it comes with a simplistic yet catchy design.
Vertical Measures Content Media Editorial Calendar Schedule

verticalmeasures.com
No media schedule can be successful without the right approach taken in the right direction. And that is why you need a template which is not only attractive in its design but also extremely useful as a media scheduling tool. This Vertical Measures Content Media Editorial Calendar Schedule Template can offer you exactly what you need to become a great media schedule planner.
How to Quadruple Your Traffic With a Media Editorial Calendar Schedule
Gym Schedule Template for a Day
Free Download
Free Download Marketing Media Schedule Content Calendar Template Excel

blog.hootsuite.com
Download B2B Scocial Media Shcedule Editorial Calendar Template

blog.hootsuite.com
Schedule The Media Interactions in an Organized Manner
You can use the top media schedule templates excel to schedule your media interactions and also plan out what part you are going to do at what time and hence have a Social Media Planning Template interaction in a smooth and easy manner. The best templates also allow you to categorize your interactions and media conferences and plan them out so as not to overlap with each other.
Easy to Fill and Print for Easy Use
You can use the templates easily by filling in the relevant details in your favorite or customized template and then taking a print out and pasting at a place which is accessible so that you never go wrong on a media interaction again.
Benefits of Using a Media Schedule Template:
If you are someone who has to deal with the media on a regular basis, then you will find these templates out-and-out essential. Most people who are in the news need to interact with the media. Sometimes there are so many appointments that it becomes likely for you to miss out on something important.
If you don't want to let that happen, you must opt for a media schedule template. Many people prepare media schedules from the scratch. They are able to do so maybe because they have got the time. However, if time is a constraint for you, you can take help of a template without apprehensions.
All of these Media Schedule Templates are available for download online. So, just search for the one that befits your requirements and get going. If you are a little apprehensive about the quality of print these templates can offer then here is what you should know- these template make no compromise on the quality of print. So, go for them and make your media interactions more organised and planned. If you have any DMCA issues on this post, please contact us!