Schedule Templates
25+ Training Schedule Templates
Be it personal or professional, many people entrust a lot of responsibility on a training plan and make sure to follow it religiously. A training plan can be developed for any activity. For example, if you wish to train yourself in certain dance forms, having a schedule template for the same will let you focus on a more systematic manner and accomplish your smart goal successfully. Take a look at the assortment of customizable training templates we have compiled here.
Training Schedule Template
Check out this high-quality Training Schedule Template that will help you create a document that provides the tracking and monitoring progress of a training plan or program. It is perfect to use for individuals or organizations who want to make sure a trainee follows the necessary procedure. Get work done in an easier manner by gaining access to this customizable file that is ready-made and professionally designed for users to save their time and money.
Work Training Schedule Template
Make use of this "Work Training Schedule" template as it allows you to keep a tab on the progress of work during a training program. This accessible file is designed by professionals so that it is convenient for users to operate. It is available for download at an affordable price and is print-ready. Grab this schedule template while you still can!
Training Schedule Templates
A training schedule plan involves the date, time, and venue for the training event. If you are running a company, training programs are generally sponsored to train their employees with new skills. They are conducted to help the employees with a set of skills to prepare them for the fast-growing competitive scenarios of the current industry. To create a training schedule, you need to have all the details of the training program. Details like starting date of the program, timings, number of attendees, duration of the program, essential skills to be trained in the program are included in the schedule. You can check out Training Schedule Templates to create a training schedule.
Employee Training Schedule Template
Download and use this Employee Training Schedule template as it helps you manage your employees' training schedule. This schedule in Google Sheets is guaranteed to help you keep everything better organized, while also allowing improved allocation of your company's training time. It is readily customizable in various file formats. Do not miss out on this opportunity. Make sure you hit that download button now!
How to Create a Training Schedule in 5 Steps
Step 1: Select a File Format
To create any schedule, you have to firstly open a new document in any of the selected file formats such as Goggle Docs, MS Word, Pages, etc. Before you begin creating a schedule, you can prepare a rough outline of the content you would like to include in your schedule.
Step 2: Place the Heading
After opening a new document, you can enter the heading at the very topmost section of the page. You can bold it and highlight it using the right font size and size. You can also take a look at our camp schedule templates.
Step 3: Enter Basic Details
Now, proceed to enter basic details in a box such as the name of the person who is in charge along with the date and location details. This information has to placed right after the heading has been entered.
Step 4: Insert a Table
Next, insert a tabular column as this will help organize the smart goals in an orderly manner. You can decide on the number of rows and columns depending on the contents that are to be displayed.
Step 5: Enter Contents
Lastly, enter the various contents of the schedule such as the date of training, type of training, name of the topic, trainer name, total duration, and date of completion. Once you have entered these details, you can save and print this document.
Monthly Training Schedule Template
Gain access to this "Monthly Training Schedule" template that ensures that your company's new hires undergo proper training that will enable them to undertake their responsibilities to the best of their abilities. This customizable schedule template in Word is of utmost quality and comes with many beneficial features. Download today!
Employee Training Schedule
Work Training Schedule Template
Monthly Training Schedule Template
Create a Basic Outline of Your Training Session
Every training activity comprises sessions, classes, events and a lot of small details which you must be aware of at all times. A skipped session can result in heavy loss if you have not been paying attention. To rectify this, download the training schedule template for free and always stay in touch with your next session.
College Training Schedule Template
Printable Teacher Training Schedule Template
Easy to Edit Project Schedule Template
Editable Camp Training Schedule Template
Basketball Schedule Template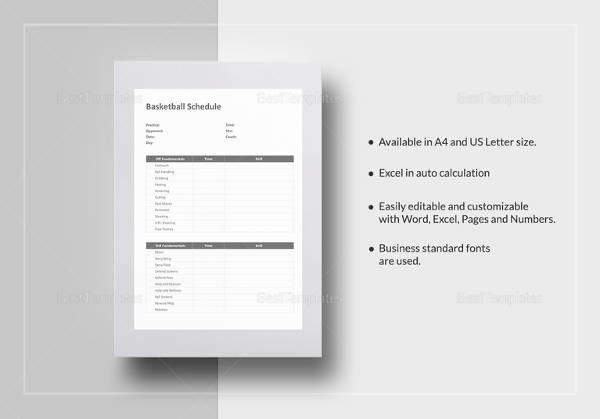 Weekly Schedule Template to Print
Daily Schedule Excel Template
Fitness Schedule Word Template
Monthly Work Schedule Format
Fitness Training Workout Schedule
Monthly Training Schedule
Project SDM Training Plan Schedule Template
dhs.state.pa.us
This is a very organized training schedule template you are getting here. the left-hand side of the template is about the different training programs or phases while the right side notes the duration of each. You may also see 24 Hours Schedule Templates.
Trainers Advice Training Schedule Template
trainersadvice.com
This blank trainers advice training schedule template that is shown-above has taken a detailed approach. It starts with a gist of training objective and timeline and goes down to a table that includes columns on time, section, presentation & responsible facilitators. You may also see the Appointment Schedule Template.
Employee Training Schedule Template
trainersadvice.com
This employee training schedule begins with a summary of the overall flow of training and then offers a chart on training sessions, timelines for each and concludes with a section on comments. You may also see Schedule Templates in PDF.
Training and Education Implementation Schedule Template
nessie.uihr.uillinois.edu
The training and education implementation schedule template have got the list of phase tasks on the left and the right side is about the start date, end date, and name of people responsible for each task. You may also see Printable Schedule Templates.
16-Week Marathon Training Schedule Template
This particular 16-week marathon training schedule template has offered a routine from Monday to Sunday for 16 weeks. The days for rest are also been mentioned here. It's very neat & organized. You may also see Free Excel Schedule Templates.
Army Training Schedule Template in Excel Format
usarmyjrotc.com
This army training schedule template offers the schedule of one semester for 4 months. The left side is about the chapters to be completed and the right side notes the timeline. You may also see Free Schedule Templates.
Training Schedule Program Template
Microsoft Training Plan Schedule Template
formscdn.com
Why Do You Need Training Schedule Template?
Training Organisation helps you to gain that much-needed expertise and experience which can lead you to your goal achievement. By remaining in control of your surroundings, you sign yourself up to the sweet success at the end of your training plan template. You may also see Team Schedule Templates.
Like every other course of action, training session also needs planning and implementing effective techniques to reach your goal work schedule template. Now, there are a hundred little details to take care of such as objective of the training, time, location of the training center, calendar, and tests at the ends and so on.
Fix your training schedules competently and never miss a session.