Schedule Templates
34+ Payment Schedule Templates – Word, Excel, PDF
Managing the Financial Statement and payment can be nerve-wracking and complicated. If you want to create a breakdown or list your monthly and weekly billing, make a listing from our Payment Schedule Templates. Develop a calendar chart, invoice letter, billing promissory note, Simple Loan Agreement, or account record by only making minor edits.
Our payment Schedule Templates make it easier for you to create a bill, claim, installment condition, and budget with the sample details. As a general contractor, you need to check the payment history of construction, manufacturing, and any project or company to ensure everything is paid on time. When you are a landlord, you may want to check the Payment Templates and pick a design for your rental real estate property and more below.
Printable Payment Schedule Template
Editable Monthly Payment Schedule Template
Payment Schedule Templates
When you are running a Small Business, payment schedules are the most commonly used documents. These Word Documents help in keeping track of what is going on in your business and in finding out pending business payment(s). These documents are signed contractual obligations payers need to make to the payees or employees at a specific time. It contains details, like the name of the payer, the name of the payee, the amount to be paid, the scheduled date of payment, and other relevant information on the payment. If you are looking for ideas to create a Payment Schedule, you can check out Payment Schedule Templates in PDF.
Simple Construction Payment Schedule Template
Download this payment Construction Schedule template to be up to date with all the payments concerning the construction company. It lets you note down information such as the claimant's name, respondent's name, and contact details. By using any of the available file formats, you can easily edit the contents of the PDF Document.
Loan Payment Schedule Template
Rental Payment Schedule Template
Contract Payment Schedule Design Template
Project Payment Schedule Template
Payment Schedule Template
Monthly Payment Schedule Template Example
Take a look at this free template that can help you in organizing your monthly bills. You can enter details such as the due date, late fee, billing month, total amount, payment date, and so on by easily editing and customizing the details in all versions of MS Word and MS Excel. After editing, it can be easily printed as well.
Loan Payment Schedule Template
Did you know that you can now make the organizing of loan payments easier and simpler by downloading this above shown free template? It comes with a Sample Sheet that is just perfect for those in the business of lending money. Not only is it easy to edit, but you can also customize the contents present in it using multiple software.
Contract Payment Schedule Template
Download this free high-quality Contract Payment schedule template so that you can easily maintain track of the payments concerning the contracted services. It comes with a tabular column that lets you add in details such as the description of the work/goods, claimed amount, scheduled amount, as well as the balanced amount. The respondent's details along with the claimant's details can also be entered using the present file formats.
Bill Payment Schedule Template
Maintaining a schedule of payments has never been easier, thanks to our above-displayed Schedule Templates in MS Word. It has spaces provided in the document so that you can easily enter the vendor and customer details. A tabular column is also present for you to enter the due date, Sample Notes, receipts, and amount information. Apart from that, you are also free to enter any terms and conditions at the bottom of the document.
How to Create a Payment Schedule
Initially, gather all the details about the expenses of the concerned business unit and its due dates. After gathering the relevant information on the expenses the company needs to make proper scheduling of the expenses, bills, and payments whether it can be loan amount, interest payment, bills, and predetermined Sample Agreement payment and the concerning due dates. We have Payment Schedule Templates in DOC and PDF formats.
Wedding Payment Schedule Template
Mortgage Payment Schedule Template
Bill Payment Schedule Template
Keep a check on bill payments just the right way by using this bill payment Schedule Sample. It is well organized and allows you to enter important and useful details such as the name of the payee, amount due, minimum payment, mode of payment, etc. This document makes use of business standard fonts and the contents in it can be edited on any software that is compatible with Google Docs, MS Word, and Apple Pages.
Monthly Payment Schedule Template Format
Ensure that monthly payments are done on time by using the payment Simple Schedule Template. It is simple yet effective in maintaining a record of the payment information. You can enter the name of your Large Organization along with other primary details such as the member code, name, monthly fee, and payment dates. You can also see the Hourly Schedule Template.
Why Do You Need Payment Schedule Template
This convenient bills payment Schedule Planner in Word records all your unpaid bills with their due dates and respective amount. All you have to do is keep checking at the end of the day and you will never miss a payment again.
Whether you are a housewife, student, employee, teacher, student, or anyone with bills and expenses to be paid at frequent intervals; this template is a godsend for your mortgage payment Printable Schedules (loan payment schedule template).
Get down to becoming a respectable bill payer by maintaining a flawless profile.
Schedule pdf Samples also help you budget your expenses methodically so you can pay bills on time.
Loan Payment Schedule Template
Construction Payment Schedule Sample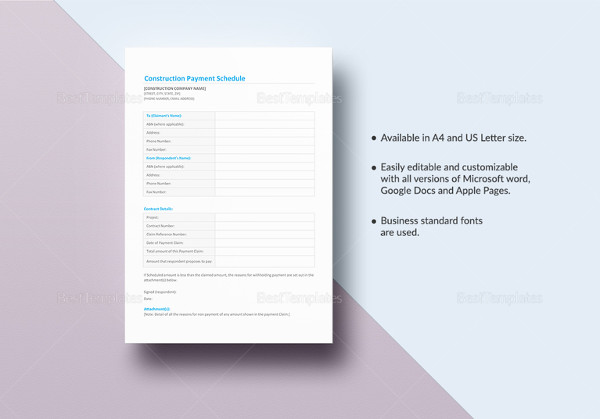 Project Payment Schedule Example
Monthly Schedule Excel Template
Blank Schedule Template in iPages
Expense Chart Payment Schedule Template
For business maintenance many bills and expenses incurred should be reimbursed on time as per the requirement and due date. To schedule every detail of each expense and its payment due date this type of Program Schedule will be useful for the business.
Contract Breakdown Payment Schedule Template
A business unit has to make many collaborations and alliances for the benefit of its company and as per the Simple Agreement made between the unit and its alliance certain payment and reimbursements need to be made. For such payment a proper schedule needs to be made and skip of any payment may lead to misunderstanding between the alliances and affects the business.
Project Loan Agreement Payment Schedule
Payment Project Schedule is details about the payment and expenses related to the concerned business project. It helps to calculate expenses related to the project and its due payment details. The project payment schedule helps to even calculate the total expense and period.
Weekly Chore Payment Schedule Template
tinyurl.com
Installment Billing Payment Schedule Template
exceltemplates.net
Landlord Loan Payment Schedule Template
score114.org
The Loan Payment Schedule should be created by every business manager and authority to achieve their business goals efficiently, to run a business many loans and interests on loans need to be maintained. To remember and make payments of interest and installments on time this type of Schedule Study needs to be made by giving full details about the loan amount, interest rate, and due date of it.
Real Estate Construction Payment Schedule Form
contraxgroup.com
Itemized Deductions Payment Schedule Listing
Account History Payment Claim Schedule
Schedule of Social Security Benefit Payments Calendar
Free Tuition and Fees Budget Payment Schedule
lausanneschool.com
Free Contract Payment Schedule Invoice
jeffthompsonortho.com
Promissory Note Payment Schedule List
chi-x.jp
General Contractor Payment Schedule Record History
goldgroup.co.uk
Free Payment Schedule Letter Template
canr.msu.edu
Pay Your Bills on Time Every Time
Electricity bills, telephone bills, internet bills, utility bills, monthly maintenance charges, and whatnot—there are numerous bills you need to take care of at the end of the Monthly Schedule. Now, you are only human and you are bound to forget which bills need to be paid when.
Purpose of Payment Schedule
It helps to ascertain all expenses
The main purpose of the Payment Schedule in Sheets is to make a list of payments and related due dates.
It provides overall details about the expenses and period for the business unit.
It conveys the Sample Budget about the expenses and so proper planning of it can be determined.
With the help of the above-mentioned payment Weekly Schedule  Templates, you can be assured of not missing out on timely payments. We have a template to suit every different type of need that you might have. So take your time browsing them and picking what you like the best.
More in Schedule Templates