Schedule Templates
57+ Sample Schedules
Having an organized schedule is important in order to achieve a productive timeline. It will also be hard to procrastinate if your schedule is in an orderly manner and you become less impulsive as you've planned out your time well. A schedule or timetable is a standard management tool that consists sections of time in which certain tasks or actions are designated to take place.
In order to track and keep a record of your activities in a timely style, our sample schedule templates are a bug help. These are pre-created templates in Excel or DOC that contain all needed details that a schedule template should have. You can modify them too! In case you want to add more details to it. Below are samples of our schedule templates. Select which one you think is applicable.
Sample Hourly Schedule Template
Free Download
Daily Cleaning Schedule Template
Free Download
Movie Shooting Schedule Template
Free Download
Student Study Schedule Template
Free Download
Weekly Cleaning Schedule Template
Free Download
Types of Common Schedules
When the project or task's scope is being regulated, a theoretical simple schedule that shows the major tasks and approximate start and end dates are developed. This is to allow employees, students, and those with specific task schedules to follow, to have a manageable and organized timetable. A great way to avoid unnecessary schedule clutter.
Public Schedule
This is the type of schedule reflects information that is usually made ready for public viewing so that members of the common society can plan certain activities around them. These may include:
Hours of operation of businesses, tourist attractions, and government offices, which provides and allows people of these services to know when they can attain them.
Schedule of transportation such as airline timetables, train schedules, bus schedules, and various public transport. This allows commuters to plan their travel time accordingly.
Internal Schedule
This is a type of schedule that is only necessary to the people who must directly follow it. A best example of an internal schedule is workplace schedule. This lists the hours that certain employees are expected to report in a workplace.
When it comes to crafting any of these schedule types, we highly recommend downloading our schedule templates. Another one is our shift schedule template, which is perfect for employees who want to manage their schedule well.
Monthly Employee Schedule Template
Free Download
Planned Preventive Maintenance Schedule Template
Free Download
Sample Monthly Work Schedule Template
Free Download
Electrical Preventive Maintenance Schedule Template
Free Download
Blank Hourly Schedule Template
Free Download
Daily Hourly Schedule Template
Free Download
Sample Study Schedule Template
Free Download
Bathroom Cleaning Schedule Template
Free Download
Blank Shooting Schedule Template
Free Download
Sample Preventive Maintenance Schedule Template
Free Download
Restaurant Cleaning Schedule Template
Free Download
Monthly Study Schedule Template
Free Download
Office Cleaning Schedule Template
Free Download
Monthly Study Schedule Template
Free Download
Weekly Study Schedule Template
Free Download
Sample Work Schedule Template
Personalized Work
revenue.ky.gov
Employee Work Schedule
uc.edu
Weekly Work
ets.mus.edu
Training Schedule
Weekly Training
achieve.lausd.net
Training Program
naco.gov.in
Daily Schedule
Printable Daily
pages.jh.edu
Daily Work
chasejarvis.com
Construction Schedule
Commercial Construction
almostheavenhabitat.org
Interview Schedule
Job Interview
career.fsu.edu
HR Interview
Sample Interview Schedule
ohrd.wisc.edu
Project Schedule
Construction Project
el-cerrito.org
Project Management
pm4dev.com
Project Payment
uniteddesign.com
How to Make a Schedule Using Microsoft Word
Are you having a hard time managing your schedule? Everything seems disorganized? Here are some simple steps that will help you organize your schedule properly.
Open up MS Word application on your desktop.
Once done, go to 'Insert' in your Word document.

Then click on the button that has 'Table' word in it.
Then you can go down to 'Insert Table'.

Search for a little box with a choice of columns and rows.

Next is, you may plan the table based on your hours. Depending on your desired time or how you usually manage your time per day.
You can adjust the columns/rows to match your daily hours.

You need to highlight the top row of the table.

Go to the 'Layout' option then click on 'Merge Cells'.

Next is, go to the row underneath.

You need to type in the days of the week in each cell.
You also need to leave the very first cell since you will be adding each hour of your day in the said column.

Move onto the first column.

You may start by typing in each hour of your day, again leaving the top portion cell empty.
Let's say, you wake up at 7:00 am, you need to type in the first cell '7:00 am'.

Move into the cell that says 'Monday, 7:00 am', and from there start writing out your daily schedule.
Always put a title to your schedule. The most common title is 'Daily Schedule' however you can put any title depending on what you like.
If you want a much easy way, opt for schedule templates! Just like with our maintenance schedule template which is complete and precise, all details are already added so that you can just download it instantly, but of course, you also have the option to edit it.
Payment Schedule
Bill Payment
christianpf.com
Contractor Payment
rethink-recruitment.com
Loan Repayment
gogebic.edu
Weekly Schedule
Free Weekly
academicsupport.jhu.edu
Weekly Worksheet
nova.edu
Schedule for Weekly Class
evolutionsdance.com
Employee Schedule
Monthly Employee
princeton.edu
Employee Training
umshare.miami.edu
Employee Shift Evaluation
flexrn.com
Appointment Schedule
Weekly Appointment
freechurchforms.com
Patient Appointment
peacehealth.org
College Schedule
Nursing College
con-main.sites.medinfo.ufl.edu
Weekly College Schedule
templates.office.com
College Class Schedule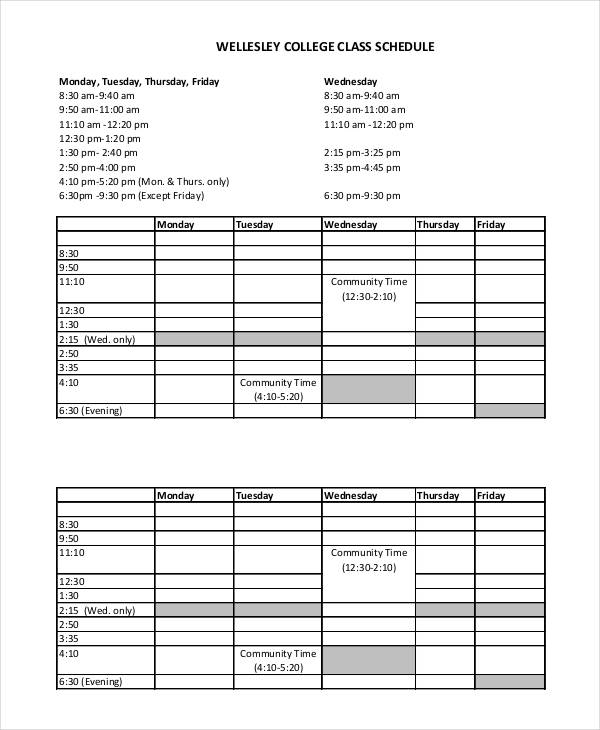 wellesley.edu
Types of Schedule Templates that We Have
Creating a work, school, or any schedule is not simple, especially when it comes to making schedules for the entire team or for the whole class. There is a proper format that you need to observe, so that the schedule won't appear messy.
A schedule template is the best tool that you can use for simpler and easier schedule recording and tracking. These are some of the schedule templates available on this page.
Work Schedule Template – this is a general schedule template that is intended for employees and employers alike. If you're looking for a schedule template that you'll use in your workplace, this is the ideal one.
Training Schedule Template – if you are conducting a training and you want your trainees to be aware of the designated schedule per training, this template is what you need.
Daily Schedule Template – want to have a proper and organized way of creating your daily timetable? Something that is well-coordinated so that you won't be confused with your daily routine anymore, this daily schedule template is exactly for you.
For more schedule variation, our travel schedule templates will help you ensure that you won't miss any flights or travel schedule.
Conference Schedule
Parent Conference
southsaxons.com
Conference Schedule
jbknowledge.com
Seminar Conference
einstein.yu.edu
Cleaning Schedule
Weekly Cleaning
thirtyhandmadedays.com
Kitchen Cleaning
bowcaredirect.co.uk
Office Cleaning
molinahealthcare.com
Meeting Schedule
Monthly Meeting
cctownship.org
Daily Meeting
dem.ri.gov
Board Meeting
columbuslibrary.org
Advantages of Using a Schedule Template
When talking about schedules, there are those who are so keen in keeping their schedule as organize as possible. There are a lot of available tools online in achieving this goal. One of these tools is a template. Here are some details why using them is advantageous.
Easy to download and modify if there is a need to edit some details. Though these are pre-created, you still have the option to edit it any way you want it.
It increases flexibility. They are a lot easier to update, and they are consistent when it comes to schedule tracking. It is easier to meet technological and instructional requirements.
They are convenient to use. Schedule templates give you more independence regarding schedule management. Basically, they make it possible for a large number of people to record and keep track of their schedule in a formulated way.
It decreases time for rework. Having schedule templates handy means that you do not have to waste time creating schedule manually and from scratch. You can just use the templates for your schedule needs anytime and anywhere. And you can use them over and over again.
If you want to have similar templates for your work schedule, you might want to see our monthly work schedule templates for convenience and availability.
More in Schedule Templates