Schedule Templates
10+ Vacation Schedule Templates
Vacations need proper planning (Event Planning templates) and preparations to properly execute everything in the limited time frame and this is where the vacation templates available for free and premium templates download come in handy.You can plan travel vacation easily using these top templates and jot down the minute details with the timing, locations, things to do, places to visit and organize them in pre designed schedule templates. you can also see Conference Schedule Template.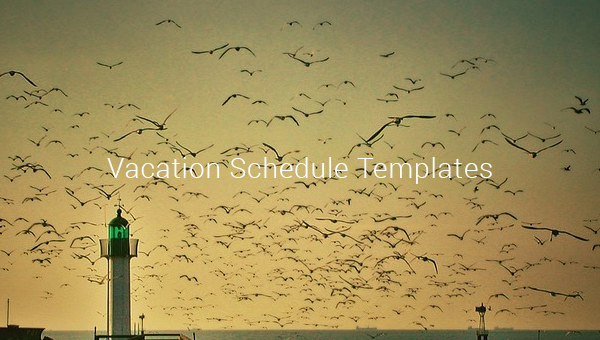 Simple Vacation Schedule Template
Vacation Schedule Template
Sample Camp Schedule Template
Visitation Schedule Template
Blank Schedule Excel Template in iPages
Free Download Vacation Schedule Template

scheduletemplates.org
This neat vacation schedule template lists the holidays for employees each week throughout the 12 months. The Saturdays and Sundays are marked in color for the convenience of the reader
Vacation Trip Planning Schedule Template

This is a complete vacation trip planning schedule template which begins with the dates included in the entire duration of the trip. It is followed by the activities to be followed and their timing.
Employee Vacation Absence Schedule Template

versitas.com
This employee absence schedule template is for 2 weeks. On the left side you have the name of the employees and the right side is about the types of leaves taken. It concludes with color codes for each type of leave.
Staff Holiday Vacation Planner Calendar Schedule in Excel

reviewmylife.co.uk
This staff holiday vacation planner calendar includes the names of the employees on the left, followed by their number of allocated leaves, remaining leaves and leaves taken throughout the month.
Absence Request and Vacation Schedule Microsoft Word

microsoft.com
Make Personalized Schedule List For The Travel Locations
You can personalize the top travel schedule templates excel by adding your own content, graphics, images and other things in the relevant designs and spaces which makes it easier to plan and follow your schedule.
Also, you can get personalized vacation schedule template for the places that you will be visiting and then can make your planning along with the date and time of reference. (schedule template,vacation schedule,employee vacation schedule template)
Execute Plans And Change Them According To Need
Vacation planning can be cumbersome and last minute changes happen at all times and this is where the best vacation schedule templates help as you get spaces and properly designed places where you can jot down your changed plan details also for remembering afterwards. If you have any DMCA issues on this post, please contact us!