Business
7+ Social Worker Job Description Templates
A social worker works with people assisting those in need of help and support. The work involves counseling clients going through tough situations to help them overcome. You may also see job description examples.
Situations include difficulties in; health, relationships, drugs addiction, child abuse, neglect, old age among others. It requires collaboration with other professions such as doctors who give the social workers information concerning the client. You may like Marketing Manager Job Description Templates.
Recreation Worker Job Description Template
School Social Worker Job Description Free PDF Template

bcps.org | Any kind of social work needs to be done by maintaining some rules and regulations. The school social worker is someone who works for the little hearts to give them a better environment. The social worker job description is a nice template which follows the exact work of a social worker if he is planning to work for an under privileged school.
Clinical Social Worker Job Description PDF Free Download

mnachc.org | The clinical social workers are one of hard working ones, to make sure that everything is done in a satisfactory way. The clinical social worker job description is the perfect one which lets the interested people know about the exactness of work. Download the amazing clinical social worker job description from the given link below.
Senior Social Worker Job Description Word Free Download

together-uk.org | The senior social work job description is a wonderful way to describe the job adjectives in a simple and clear way. The template is one of best way to maintain the professional decorum so that no point is missed regarding the processing schedule. Download this outstanding template from the given below.
Free Medical Social Worker Job Description PDF Template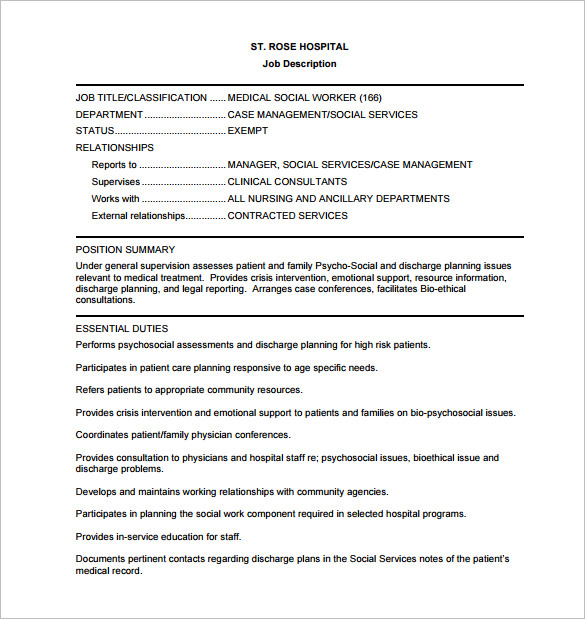 strosehospital.org | The free medical social worker job description template is the key to maintain a structure while describing the job adjectives of a social worker. The whole idea of using this job description template makes the declaration crisp and clear, so that any miscommunication can be avoided. Give this wonderful template a try by clicking the link below.
Child Care Social Worker Job Description Free PDF Template

lbhf.gov.uk
Social Worker Job Description for Hospice Free PDF Download

rowcrofthospice.org.uk
Social Worker Job Description for Hospital Free PDF Template
hvph.com.au
The job requires them to organize support groups where need be to assist clients. The support individuals, families and groups in the community. In the public sectors they work with schools, hospitals and voluntary organizations. In courts, they appear as witnesses. You may Also Like Job Description Templates
Utilization Details
Social workers are the people who work for the betterment of our society. As our society is diversified in a huge way, it becomes very ambiguous at times to get a hold on the exactness of work and work accordingly. The social worker job description comes into play here, because of its well organisation and time management.
The templates can be used to give a compact look to any declaration without any background work. It is easily understood by people; hence the template being user friendly can be used in vivid ways to make the job statement clear and crisp.
Who Can Use It?
Social working is always a noble deed, but when it comes about the responsibilities, it is quite complex and branched out. People who are running NGO's and school can use it to let people know about the certain norms they need to follow to be a social worker. At times, the list of upcoming work becomes way too lengthy; people can use these templates to make things clear on their part.
The templates can be highly used by the coordinating committee to keep the social worker know that accuracy they're looking for. The templates are easy to read and understand; therefore it can be used to enlighten the fact one needs to follow before calling himself a social worker.
How is it Beneficial?
Social work job descriptions are always beneficial to the people, who really interested in doing some good work, but aren't sure about the responsibilities. It helps the social activists to get a hold on the structured work they need to maintain, so that they whole thing synchronises in better way.
These templates are time saviour and organized the points you need to remember under a heading, therefore helping the viewers to get a clear cut view, minimizing the chances of miscommunication. A structured write up not only attracts a better crowd, but also inspires people to be a part of the whole idea.