Coming up with a well-organized, targeted, and comprehensive employment application form is a serious matter for most hiring companies. Employment application forms are not just mere depositories of job applicant details but are also considered as a talents and intellectual pool from which hiring managers choose when hiring new additions to their family. In connection with this, the provided simple employment application form samples and templates will give you a insights and functional ideas that can help you in the course of building an employment application form, which professionally represents the brand and standards of your business or company.
54+ Employment Templates in PDF | Word | Excel | PSD | Google Docs | InDesign | Apple Pages | HTML5 | Google Sheets | Publisher | Apple Numbers | Illustrator - START DOWNLOADING
Basic Employment Application Form Template
Restaurant Employment Application Template
Free Employment Application Form
Free Employment Application Template
Understanding Employment Application Forms
An employment application form, commonly known as a job application form, is a tool that hiring companies and organizations use in selecting new employees or members that are suited to the advertised job post. Specifically, job application forms make it possible for employers to check, examine, and review the applicants' basic personal background, educational competencies, work history and experiences, certifications and awards, and many more.
Free Downloadable Employment Application Form Template
jobs.alaska.gov
Example Blank Employment Application for Staff Free Download
usaid.gov
Employment Application Forms
Employment Application Forms are application forms submitted by candidates who are looking for jobs. Generally, companies received a ton of applications for a job. The hiring manager or the HR of the company has to go through all the applicants to select the right and suitable candidate for the position. There are many criteria for selecting a candidate from the applicants. The hr needs to identify the skills and experiences of the candidates. He/she has to see if they are matching with the kind of job the company is looking for. And finally, the selected candidates have to go through a round of interviews to test their skills. 
Application for Employment Template
morgan.edu
Standard Employment Application Form
neiu.edu
Benefits of a Well-Made Employment Application Form
The relevance and significance of employment application forms cannot be understated. Recruiters and authorized HR personnel spend most of their time building such forms, updating and tracking them to ensure that the forms can help lead them to the right and competent candidates. The benefits of using well-made employment application forms are as follows:
It streamlines documentation processes and procedures.
Job application forms make it possible and convenient for HR officers and recruiters to organize, monitor, track, and update their respective applicant and employee databases.
It efficiently screens and reviews the applicants' credentials.
Taking into account the number of job applicants that employers entertain in a day, a well-made employment application form can speed up the process especially in scanning and reviewing who among the applicants are perfect or have the potential to proceed to the next phases of the application process.
It helps recruiters prepare for subsequent application stages.
Most of the time, the initial interview follows the filling in of the application form provided that the applicant has passed the initial screening. With this arrangement, it will be easy for hiring managers to prepare and come up with targeted interview questions by grounding them on the job application form. Recruiters can save time and resources by going directly to the questions that need to be answered and conveying to the applicant what they are really looking for.
Thus, the list of pros in preparing a well-made job application forms is substantial. With these advantages in mind, you're now ready to fully grasp the ins and out of an employment application form template.
Printable Employment Application Form
sta.uwi.edu
Generic Fillable Employment Application
dli.mt.gov
Part Time Employment Application Form
silverthorne.org
Breaking Down an Employment Application Form
The efficacy and efficiency of a chosen job application form lies in its structure and employers' choice of content. Based on recent studies, these type of forms are divided into six major sections namely the applicant's personal information, educational background, work history and experiences, relevant skills and certifications skills, references, and other optional sections such as reasons for applying and other competency inquiries.
Applicant's Personal Information
In comparison to the other sections of an employment application form, this section is the most critical and at the same straightforward. This is where the applicant incorporates his or her full name, permanent and temporary address details, updated contact numbers and professional email addresses, government-related identifiers such as social security number, and other basic details that the hiring company may ask from the applicant.
Educational Background
It is a common practice among employers to provide and require a certain degree or minimum educational attainment for a specific job post. On the applicants' end, it is preferable that they exceed the minimum educational requirement in order to proceed to the succeeding application processes.
Furthermore, this section includes the full legal names of the academic institutions that the applicant attended including the academic degrees accomplished, date of graduation, number of years as per attendance, relevant certifications and honorary accomplishments, and extracurricular activities. Also, hiring companies can ask for the grade point average of the applicant.
Work History and Experiences
For job posts that demand for a specific number of working experiences, this section plays a pivotal role. This section may ask the applicant to provide the former's previous employers, their updated business addresses, the names of their previous immediate heads, former job title and description, the duration of employment, specifically the commencement and the end dates, and many more.
Moreover, you may also provide clear instructions as to the manner of writing the applicant's employment details whether starting from the most recent job titles or the other way around.
Relevant Skills and Certifications
As for employers, they may provide fillable sections for the applicants pertaining to their personal skills or work-related skills and proficiency. This section can help them in assessing and determining whether or not the applicant has the basic interpersonal skills or leadership and management skills that certain job posts require. The government-related and private certifications and licences must also be provided.
Furthermore, the extracurricular activities and engagements of the applicant must also be emphasized especially in job posts that require such skills. For example, non-governmental organizations are looking for individuals that do not merely suffice their educational requirements but also have the heart for service and volunteer works.
References
In order to validate and verify whether the provided information in the application form are genuine and true, hiring companies usually ask for references. At least three relevant references will suffice provided that the contact details are also demanded.
Optional Sections
These are considered as optional sections for the reason that hiring managers and recruiters can deal with such information during the interview stage. For convenience and reference purposes, it is advisable that applicant's provide the reasons for their application beforehand. Moreover, they can also ask competency questions to check and examine how the applicant answer and respond to particular behavioral or situational questions. The type of questions will solely depend on the preferences of the employers and the nature of the advertised job post.
Standard HR Application Form PDF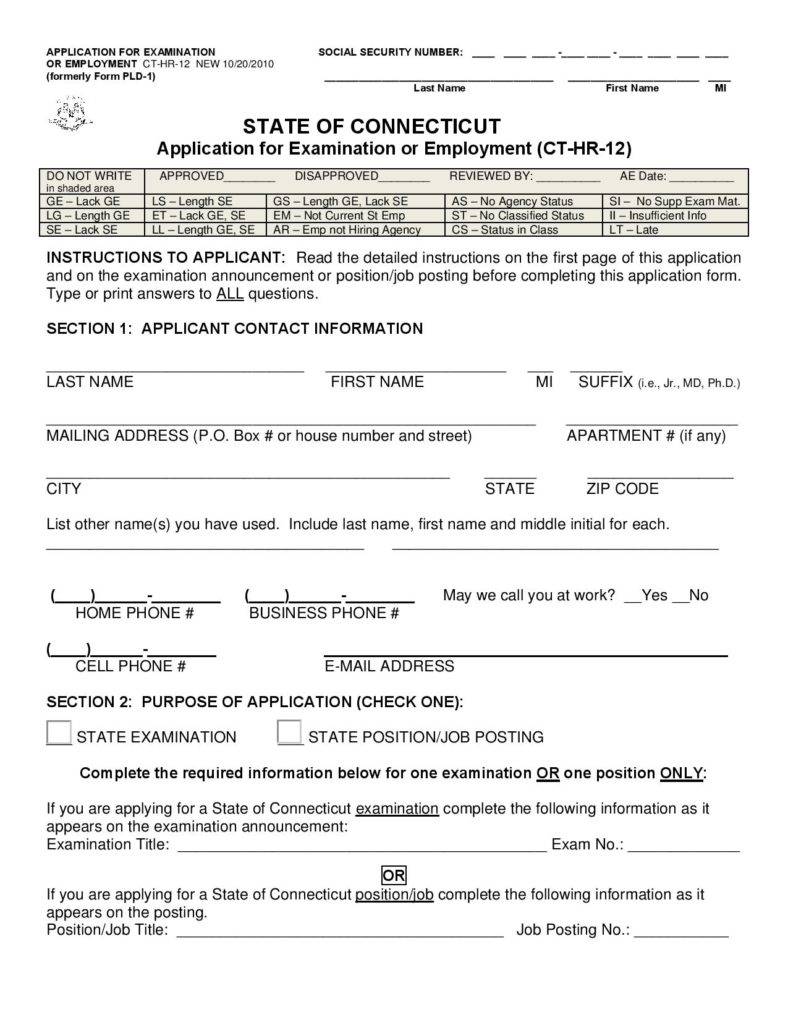 das.ct.gov
What Not to Include in an Employment Application
Knowing the essentials of an job application form template is not enough. Employers must have a clear understanding as to the type of information that they need to remove or ask appropriately if included in their employment application form.
Examples of such information are:
race,
physical disabilities,
political affiliation,
and religious affiliation.
Issues about the said information are considered as sensitive information. Employers, as a matter of etiquette, should not ask for such questions.
However, it does not mean that employers cannot conduct background checks. Depending on the governing labor laws, procedures, and policies of a certain country, employers may inquire into such details in order to uphold the security and legitimate dealings of their businesses.
For example, employers may inquire if the employee can suffice the number of working hours given that he or she has a particular physical disability. The questions should be more on whether or not the applicant can sufficiently provide the bonafide work qualifications demanded by a certain job post.
Job Application PDF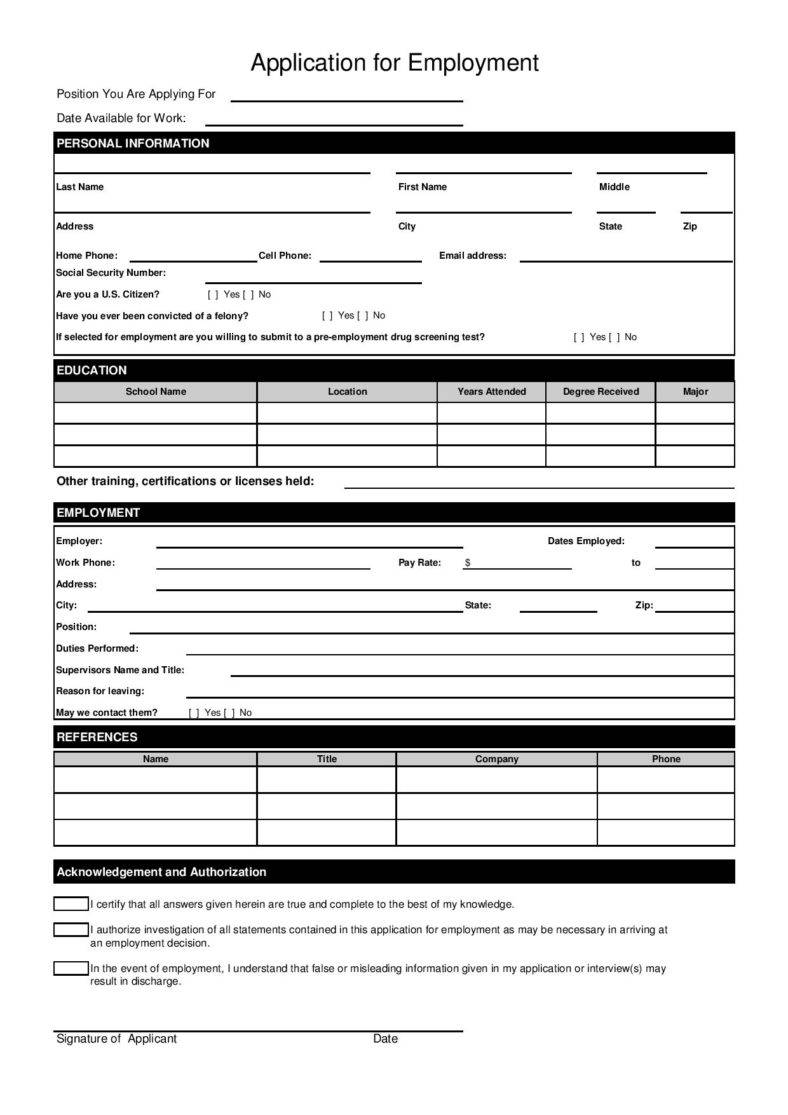 chamberlinlibrary.org
Standard Application For Employment Form
psc.state.ga.us
Printable Professional Job Application Template
benavidesisd.net
How to Make an Employment Application Form that Works
In the end of the day, the chosen job application form template must coincide with the branding and standards of the hiring company. Here are some effective and winning tips that HR personnel and hiring managers may consider in creating an application form:
Use a simple and concise language.
Job application forms must be comprehensible. Applicants should not have a hard time analyzing how each word or section means. The simpler the manner of writing adopted, the more convenient and easy for it for the applicants to fill them out.
Take note of the formatting technicalities.
Bear in mind that employment application forms are examples of business forms that is why the format and structure adopted must be professional and formal. There should be proper margins and smart choice of headings and subheadings. The headings and subheadings must be emphasized and highlighted so as to give them a distinctive feature compared to the rest of the supporting details.
Consider the nature of the advertised job posts.
Most employers come up with a generalized application form. However, adopting the said style will be counterproductive. As much as possible, the application form must be targeted, customized, and catered for a specific job post. In this way, it will be easy for hiring managers to screen and identify the cream of the crop.
Consider online application forms.
With the increasing developments in information technology, more and more employers are using online platforms to build and establish their online presence. Employers can use reliable application templates or online application forms and software to achieve the said goals.
Proofread your application form.
Employment application forms must be free from grammar errors and mistakes. You may also engage with third parties and ask them to review the application form to gain more constructive feedback and insights. Furthermore, you may also gain more insights from employment application templates and samples.
To Conclude
Employment application forms are not just mere scraps of paper. They are channels that employers can use to promote their employment opportunities and engaging work ethics to the general public.