Business
10+ Personnel Specification Templates in Word | Pages | DOC | PDF
The personnel specification refers to a description of the qualifications, skills, knowledge, experience along with other attributes under the selection criteria which must be possessed by the candidates to perform the job duties. These specifications are generally derived from the job description and form the foundation for the recruitment process. Personnel specifications are also used as a basis for making selection decisions during shortlisting, presentations and interview stages.
Table of Content
10+ Personnel Specification Templates in Word | Pages | DOC | PDF
1. Architectural Specifications Writer Resume Template
2. Person Specification Template
cardiff.ac.uk
3. Example of Person Specification Form
lancashire.gov.uk
4. Job and Person Specification Template
spb.sa.gov.au
5. CSA – Person Specification Template
lgjobs.com
6. Job DescriptionPerson Specification Template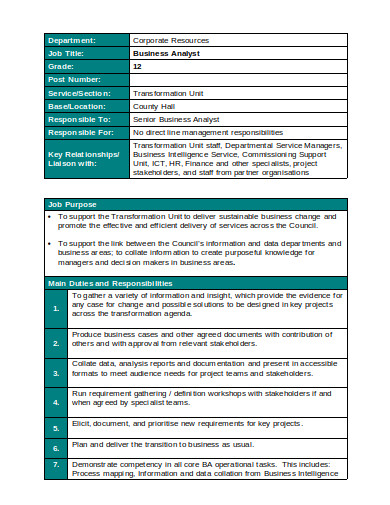 jobs.emss.org.uk
7. Person Specification Template
publicsectorjobseast.co.uk
8. Personnel Specification Sample
angriananhotel.com
9. Accounts Assistant Personnel Specification
davidgray.co.uk
10. Person Specification of Marketing Executive
chamber-international.com
11. Person specification of Receptionist
fitpro.com
How to Write a Personnel Specification?
Step 1: Qualifications
The first thing you must ask for the qualifications that are required for the position you are recruiting for. This may include any kind of trade qualifications or education that is required for the role specifically. For instance, you can mention if you specifically need a Bachelor's Degree in a particular field.
Step 2: Experience
Secondly, you must ask for the candidate's experience as it is considered to be an essential minimum requirement for the applicant for them to be able to successfully perform the role. This experience may include at least 5 years of experience working on any specific field like the plumbing industry or computer application, etc.
Step 3: Skills
Thirdly, then the specifications also need to include the particular skills that are required to be able to perform the job. This list can also be endless as it is the key to focus on the main skills that are required. This may include speaking a second language or typing skills, computing skills, some negotiation skills, etc. Make sure that you are specific.
Step 4: Physical Attributes
A personnel specification may also include some physical attributes which ask for any physical skills that are required to be able to perform the job. This is only if it is applicable, but for some particular roles such as painters, they must be capable of lifting furniture within the client's home, therefore, they need to be physically fit and able to lift. There are some jobs and roles that may require some physical attributes specifically.
Step 5: Personal Attributes
This section includes what personal attributes are required to be able to perform a particular role. This may include some particular things like their level of personal presentation and grooming along with their personality characteristics such as their level of self-motivation, polite and courteous, or sympathetic or empathetic, etc.
Step 6: Competencies
Some competencies are generally required to be able to perform the role. Some competencies are the specific capabilities that are required for the person to be able to succeed in their given roles. For instance, a business development manager may need to be a good networker or a strategic planner or even a relationship builder.
What is the Purpose of the Personnel Specification?
A personnel specification can make the interviewing process much more refined and properly streamlined from the start itself.
The candidates who are looking for jobs can assess themselves before applying and also understand how they will fit in with the specific role and your business. This will also allow them to match themselves according to the suitability and not just skills.
Personnel specifications also help in clarifying the two types of personal qualifications that are important to the employer, desirable, and essential. This will also enable the employer to be straightforward in what they want and how the candidate tries to matches these criteria.
It also helps to communicate equal opportunities within the recruitment culture of a business. A personnel specification helps in ensuring that you are assessing a candidate based on their abilities related to the role.
It also means that you test all of your candidates against the same list of priorities that are set out in advance. This usually helps in removing bias, personal interest, and prejudice, all of which can turn out to be problematic for recruiting successfully.
Why Bother Making a Personnel Specification?
By writing a detailed personnel specification, you are forced to think about exactly what skills and experience that are required for your role and the type of person that you want for the team. Giving a comprehensive brief to your recruitment consultant will allow them to work more effectively and quickly find your perfect candidate.
Providing specifications also provides candidates a better idea of exactly what you are looking for. Doing this will help to weed out inappropriate applications from people who might be suitable on paper, but not that interested in the role in real. It also helps in managing the expectations of successful new employees and to avoid certain situations where they may feel that they have been deceived about the exact nature of the position or role.
You can also use the personnel specifications as a checklist for evaluating some CVs and in interviews that may save you time and also make sure that you don't miss anything. Writing personnel specifications can also make you think about how your department works and allow you to shift some responsibilities around to increase efficiency.
More in Business