Business
9+ Protective Tariff Templates in Google Docs | Word | Pages | PDF | Google Sheets | Excel | Numbers | AI | PSD
In US history, Alexander Hamilton was the first American to propose the use of protective tariffs in his "report on manufacturers." His main goal at that time was to promote industrialization and break trade barriers, and he thought that it would subsidize the American efforts in building the manufacturing facilities. Along with his vision to compete with that of the British, he was able to convince the late US president George Washington. And in the year 1790, the Tariff Act was signed and implemented as America's second piece of legislation. Provided in this post is a comprehensive list example of templates and a step-by-step guide to help you prepare a document involving protective simple tariffs. You may download any of the models to your advantage.
Table of Content
9+ Protective Tariff Templates in Google Docs | Word | Pages | PDF | Google Sheets | Excel | Numbers | AI | PSD
1. Tax Client Information Sheet Template
This Tax Client Information Sheet Template can be used to account for every client or country that want to export its goods in your territory. In Google Docs, MS Word, Pages, and Editable PDF, you can have it modified easily. You only have to provide the necessary details which you can do on your personal computer or any macOS device. You may want to print it before you register the personal information of your client. So, download this tax client information sheet template now to your advantage!
2. Tax Receipt Template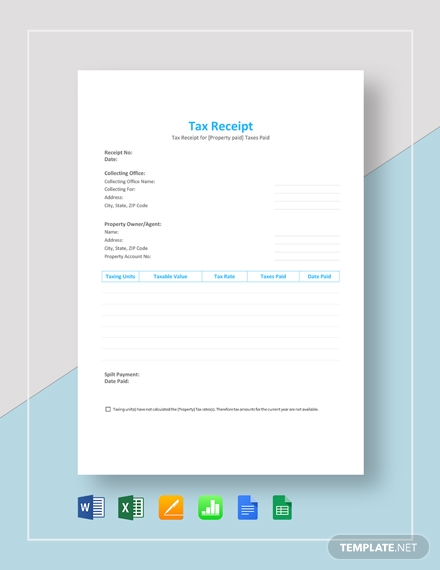 If you need a tax receipt sample to provide for your clients, this Tax Receipt Template is indeed necessary for you to download. You can quickly secure a copy of this template in any file formats mentioned in this product. It also readily available in A4 and US print sizes, so there's no problem printing it for both commercial and personal purposes. Need a copy now? Download it to start the editing process!
3. Printable Tax Invoice Template
Are you already exhausted in searching for a printable tax invoice template? Keep calm and download this Printable Tax Invoice Template to mark your pursuit as over. Get the chance to provide a tax invoice anytime instantly for your customers. The template is made available in almost all file formats. So, what are you still staring at your screen? Secure a copy of this template now!
5 Steps to Establish Protective Tariffs
Step 1: Identify the Purpose
When a national government decides to establish a protective tariff for every product, we both know that they did it on purpose. For one, it can be that the government needs to raise funds and increase government revenues. But the second purpose is quite controversial, and it deals mainly with the idea of increasing the prices of imported goods commensurating the domestically produced products. And the imposed tariffs for this type of business transaction are generally called "protective tariffs."
Step 2: Learn the International Trading System
A country's pursuit of establishing diplomatic relations with the other countries opens an opportunity for a global trading system. Free trade is a system to which it allows every state that wishes to deliver their goods to other states and receives the products they need for their businesses. Exports and imports are the standard terms for that. And while this whole trading system has successfully reshaped the current international trade, some states and companies still need to understand it.
Step 3: Engage in a Trade Agreement
Before a country can export or import the goods in another country, a state has to engage first in a free trade agreement or relationship. Generally, there are three types of trade agreements sample: the unilateral trade agreement, the bilateral trade agreement, and the multilateral trade agreement. Each trade agreement has only one purpose, that is, to reduce the trade barriers and establish a free-flow of goods beyond borders.
Step 4: Follow the WTO's Trade Policies
As an intergovernmental organization, the World Trade Organization (WTO) sets forth the policies to monitor business transactions concerning trade between countries. So if your company wants to export goods to other countries and receives it, you need to follow specific regulations. Otherwise, the WTO would take a necessary step to stop any transaction in the international arena.
Step 5: Determine the Tariff Rates
Every business that plans to ship its products to other countries must learn to estimate or determine the products' tariff rates. You can quickly do it by identifying your product's classification number. There are a lot of ways to do that. It can be through customs info database, FTA tariff tool, agricultural tariff tracker, or a WTO tariff database.
4. Worksheet Escrow Fees Template
Taking accounts of items, taxes, and fees are quite a tedious and stressful task to do. But with the help of our Worksheet Escrow Fees Template, you can be as effective as you want to in recording business-related matters. Need this template now? Download it and personalize using MS Word and Pages.
5. Sales Tax Invoice Template
Create a well-formatted sales tax invoice with the help of our ready-made Sales Tax Invoice Template. You can have it personalized in MS Excel, MS Word, Numbers, and Pages file formats today. All you have to do is click the download you can see below. Grab it now!
6. Receipt for Goods or Services Template
This Receipt for Goods or Services Template can be a useful tool if you need to provide a receipt for a product or a service purchased in your company. You can easily have it modified using either in MS Word or Apple Pages. So do not hesitate to download it for the advantage of your business. Grab it right now!
7. Free Tax Auditor Appointment Letter
Use this Free Tax Auditor Appointment Letter to draft an official appointment letter concerning the appointment of your new tax auditor. It comes with the original content already, and you only have to change the necessary information using Google Docs, MS Word, and Apple Pages file formats. Don't miss this chance. Download the template immediately!
8. Free Tax Invoice Template
Do you find it hard to draft a simple tax invoice from scratch? Why not try to get a copy of our Free Tax Invoice Template today? This template is easily editable and 100% customizable in any file format available at the side of this product. You only have to take your time changing the content to more appropriate information. Hurry and download it right now!
9. Free Commercial Tax Invoice Template
If you want this Free Commercial Tax Invoice Template for commercial purposes, you may grab a copy of it now. If you have Illustrator or Photoshop editing software on your personal computer, this template is easy to edit and personalize. You can also print it either in A4 or US letter sizes. Download now to start out for free!
10. Tax Invoice Sample Template
https://www.business.govt.nz
All sample invoice templates make it easy for the customers to write a document in as easy as possible. That is why we made it possible for you to access this Tax Invoice Sample Template in a portable document format (PDF). You can download this template anytime without costing you a cent. So, make haste and download the template right away!
More in Business