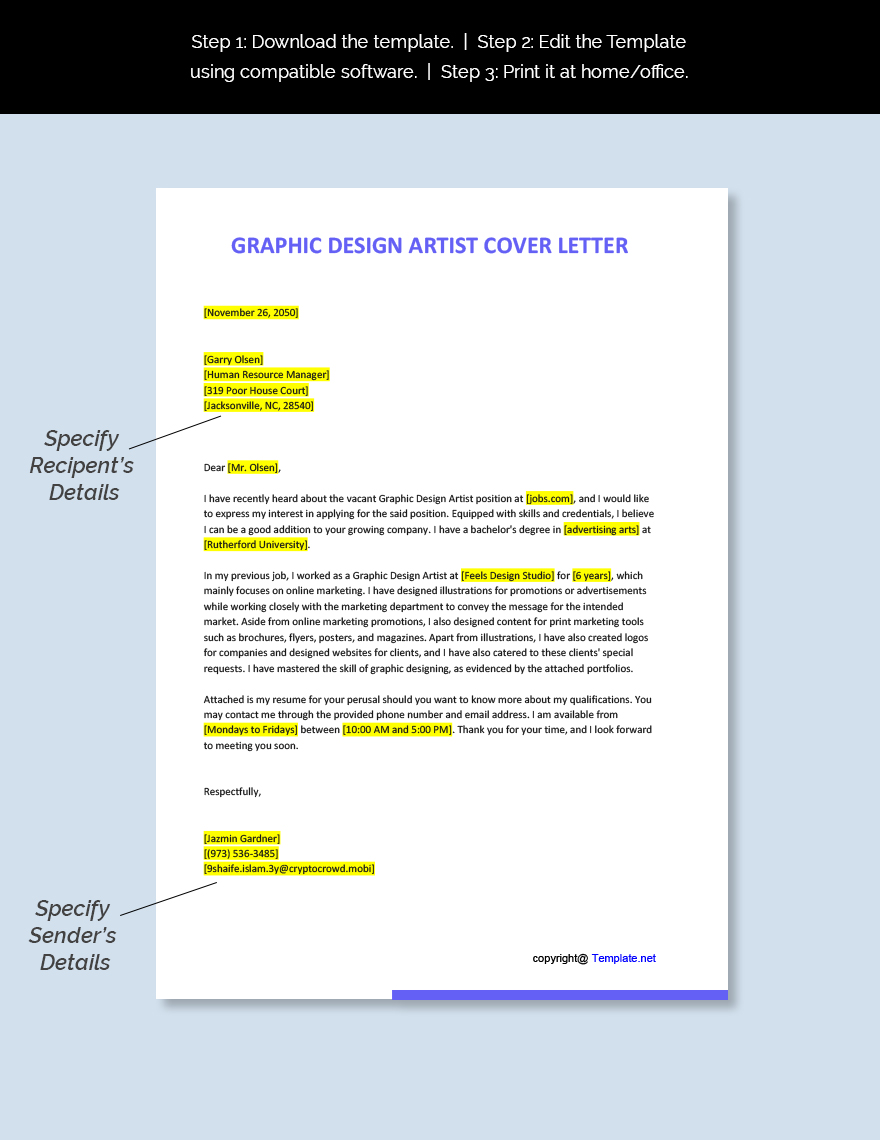 Download this Graphic Design Artist Cover Letter Design in Google Docs, Word, Apple Pages, PDF Format. Easily Editable, Printable, Downloadable.
GRAPHIC DESIGN ARTIST COVER LETTER
[November 26, 2050]
[Garry Olsen]
[Human Resource Manager]
[319 Poor House Court]
[Jacksonville, NC, 28540]
Dear [Mr. Olsen],
I have recently heard about the vacant Graphic Design Artist position at [jobs.com], and I would like to express my interest in applying for the said position. Equipped with skills and credentials, I believe I can be a good addition to your growing company. I have a bachelor's degree in [advertising arts] at [Rutherford University].
In my previous job, I worked as a Graphic Design Artist at [Feels Design Studio] for [6 years], which mainly focuses on online marketing. I have designed illustrations for promotions or advertisements while working closely with the marketing department to convey the message for the intended market. Aside from online marketing promotions, I also designed content for print marketing tools such as brochures, flyers, posters, and magazines. Apart from illustrations, I have also created logos for companies and designed websites for clients, and I have also catered to these clients' special requests. I have mastered the skill of graphic designing, as evidenced by the attached portfolios.
Attached is my resume for your perusal should you want to know more about my qualifications. You may contact me through the provided phone number and email address. I am available from [Mondays to Fridays] between [10:00 AM and 5:00 PM]. Thank you for your time, and I look forward to meeting you soon.
Respectfully,
[Jazmin Gardner]
[(973) 536-3485]
[9shaife.islam.3y@cryptocrowd.mobi]