Car rental and related services are fast becoming booming business ventures, especially on travel destinations where tourists need an efficient mode of transportation. If you want to create car rental quotations for your clients, it is highly recommended for you to resort to the usage of formal quotations as references.
5 Steps for Developing a Car Rental Quotation
Do you want to make a car rental quotation at this very moment? Below is a five-step process that you can rely on if you want to develop a comprehensive and highly-usable car rental quotation.
Step 1: Look For Suitable Car Rental Quotation Templates
First, identify the format that you would like to use for your car rental quotation. Select from a number of template options and decide the specific template that you will use to develop the final layout of your car rental quotation.
Step 2: Develop the Header of the Car Rental Quotation
Let the clients easily know that the car rental quotation is from your business. Create a header that you can include in all your standard quotation samples. Your car rental quotation can have your business logo, corporate name, and business address. Include your contact details like your mobile numbers, office phone numbers, and email addresses as well.
Step 3: Allocate Content Spaces for Your Client's Name and Contact Details
After the header of the car rental quotation, specify the details of your client. Include his or her full name, contact, information, and address. In this part of the car rental quotation, you can also write the date when the document has been crafted for referencing and tracking purposes.
Step 4: Indicate Important Car Rental Quotation Content
The body of your car rental quotation is the most important part of the document. Present the type of car that will be rented, the number of vehicles that are included in the quotation, the time frame in which the car rental is effective, and the duration of quotation validity. Do not forget to include pricing details.
Step 5: Finalize the Car Rental Quotation Draft
Make sure to check the car rental quotation first before sending it to your clients. You have to consider the quality of your quotation as it can affect the ways on how the document can impact your clients.
11+ Car Rental Quotation Templates
1. Quotation for Hiring Two Taxis
powermin.nic.in
If you are a business which main operations deal with car rentals, it is imperative for you to develop a car rental quotation. The professional quotation templates that you will make can help you specify your offers to your clients. As an example, a quotation for hiring two taxis can enable you to limit your services and obligations as well as the number of vehicles that are made available for a specific renting transaction.
2. Car Rental Quotation Template
aliveandthrive.org
A car rental quotation template can help you protect your business and its rights. For you to create a detailed and usable car rental quotation, use the perfect quotation formats in PDF for your business as your layout references.
3. Quotation for Supply of Taxis
agkar.cag.gov.in
If you plan to make sample business quotations for supply of taxis, be particular with the terms and conditions of the quotations. Indicate the validity of the quotation content as well as the additional amounts that you can potentially charge to your clients if services outside the initial approved quotation has been acquired.
4. Quotation for Hiring of Vehicle
cbic.gov.in
Your quotation for hiring of vehicle is intended to be created not only for the benefit of your clients and business but also for the advantage of other stakeholders involved in the transaction. In instances where drivers and other workforce are abused, you can present the approved quotation as an evidence of your agreement with your client.
5. Car Rental Quotation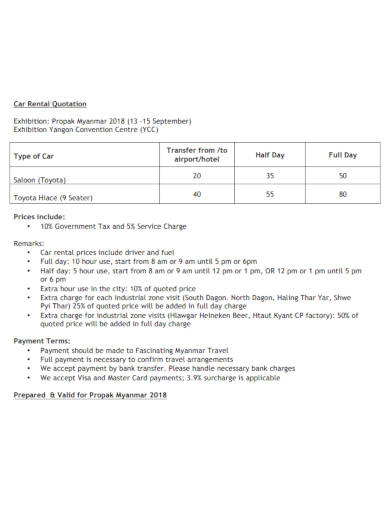 propakmyanmar.com
We suggest the usage of a free quotation template if you want to have an easy-to-understand discussion within your car rental quotation. A detailed and reasonable presentation can make it easier for your clients to select you rather than your competition who have also submitted their quotations.
6. Quotation for Providing Rental Taxi
kvsrogurgaon.in
When making a quotation for providing rental taxi, you have to know how to put your obligations into the minimum. Do not over-promise especially if you have no power to deliver what you have specified in the quotation. This can only cause misunderstandings and disputes once the quotation has already been approved by your client.
7. Rental Car Request for Quotation
undp.org
Clients who are looking for car rental providers or contractors are expected to give a rental car request for quotation. This document is very helpful to businesses as they can use it to point out all the specific demands and expectations of the customer. You can use sample quotation templates, request for quotation samples, and other references when making the specified document so you can have an output that is properly formatted.
8. Quotation for Hiring Car Service
ibef.org
A car rental quotation can only be effective if it contains all the offers of your business that are relevant with the needs of your customers. Hence, a quotation for hiring car service must be particular with the kind of rental service that the client wants; the type or model of car that the client would like to rent; the scope and limitations of the car rental services; and the total car rental price that the client must pay.
9. Car Rental Reservation Quotation
arubathewedding.com
In some instances, a car rental reservation quotation is important to be approved first before a business can give a final car rental slot quotation. This is done to ensure that the client is truly interested to hire the business for its car rental needs. The specifications of terms and conditions for this type of car rental quotation vary from one business to another.
10. Sample Quotation for Hiring of Vehicles
nidm.gov.in
It will not harm your business if you will look into sample quotation for hiring of vehicles. Doing this can help you become more familiar with all the parts of a car rental quotation, which can then result to the execution of tactics and strategies that can make your quotations better that those made by other businesses.
11. Car Rental Quotation Example
mca.gov.in
When selecting the quotation templates to utilize, you have to first look at the previous car rental quotation examples used by your businesses. Evaluate the things that you need to improve on so you can develop your grey areas while resorting on your existing strengths as a car rental service provider.
12. Quotation for Rental Vehicle Service
ungm.org
The more templates and examples you see and review, the more knowledge you can get about the efficient creation of a car rental quotation. Do not belittle the usage of a quotation for rental vehicle service as this document can surely help you to get more clients in the future.
Since you are already aware of the benefits of having a car rental quotation, do you think that the usage of the quotation document is for your business? If you believe so, start downloading the samples that we have put together in this post and begin drafting your car rental quotations.