While MySpace may not have the same standing as it once did, the social networking site still has over 25 million users. Perhaps the great appeal of MySpace – aside from its music emphasis – is how customizable each profile can be and the site essentially gives you your own mini-site to be as unique as you want. With easy video integration and endless creative options, MySpace still remains popular. Here are 30 top creative MySpace templates for you to use on your profile.
50,000+ Designs, Documents Templates in PDF, Word, Excel, PSD, Google Docs, PowerPoint, InDesign, Apple Pages, Google Sheets, Publisher, Apple Numbers, Illustrator, Keynote. - START DOWNLOADING
1. Nightfair from Create Blog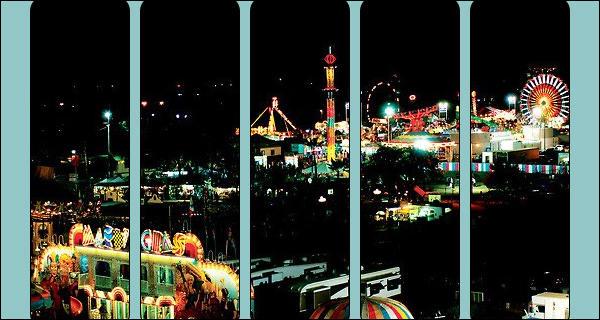 A light and slick MySpace design. Specially designed to host music with a large 4 panel image as its center piece. Allows for blogging.
2. White Oleander Flowers from Create Blog
A floral design that also combines dark grays and greens to create a well-rounded style. Neatly laid out in a grid format.
3. Sleep from Create Blog
A minimalist design. Sleep makes use of a lot of white space and has a clear style. Great for a no nonsense profile.
4. Unintended Lust from Create Blog
A darker theme from Create Blog with a patterned background. The music player is well positioned at the top and the dark gray boxes emphasize the profile.
5. Tinkerbell
A transparent profile that allows as a full screen background image. A clean design without being overly complicated.
6. Punk Pink
Another clean and transparent MySpace profile template. It is neatly arranged and the background image can be changed to suit your preferences.
7. Green Night from Create Blog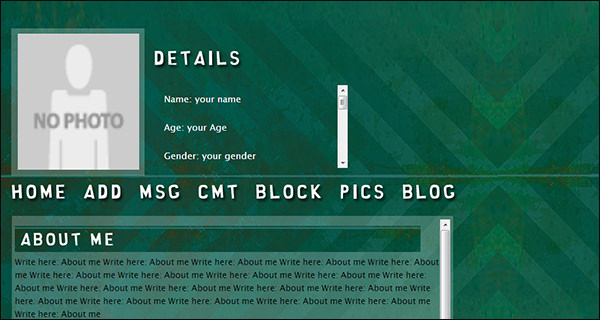 A MySpace profile template that makes good use of different shades of green. Stylish and compact for those wanting a neat profile.
8. Time Waits For No One from Create Blog
Stylish and arty template for MySpace. Uses background images and the colors work well together in a compacted format.
9. Cute Little Girl
Dark themed template. Cute Little Girl uses black, purple and blue to create a shadowy night effect.
10. Tree from Create Blog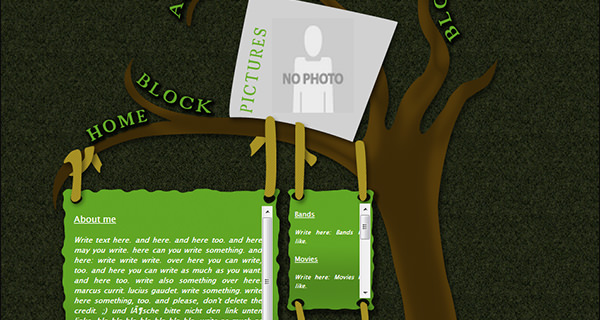 Very compact but innovative template. Built around a tree, this design will certainly make your profile standout as different with style.
11. Twilight
An artistic themed design that has a transparent layout with a painting background. Great for arty and creative profiles.
12. You Are The Only Exception from Create Blog
Artistic and creative MySpace profile design with an almost mystical feel. Themed around the pop band Paramore and is well laid out.
13. Alice in Wonderland from Create Blog
Template based around Alice in Wonderland and features a creative design as well as a rollover included in the main template. Highly interactive design.
14. What Is Beauty from Create Blog
A clean and airy designed template. Navigation bar at the top keeps this template nice & compact, and it has a specific box for music videos to be uploaded and integrated.
15. Regina Spektor from Create Blog
Very creative template. Has a notepad styled main feature and the navigation bar is found at the bottom. Innovative design.
16. Creative Layout from Fillster
The background images give this template a cool and calm feeling. Basic colors means that information is displayed well and found quickly.
17. Impossible
A creative design that incorporates many different colors. Looks arty and as though a paint brush has just glided over it.
18. Dance
Space provides a calm, intergalactic feel. Uses dark colors to ensure that the profile is easy to read and is displayed neatly without being depressing.
19. Creative Layout II from Fillster
Tanned themed template. Nice background image and the rest of the template is sleek and well laid out. Soothing color scheme as well.
20. Unicorns
This template has a sketch theme to it. A background sketch and a clean & white layout are simple but effective in creating an aesthetically pleasing profile.
21. Undisclosed Desires from Create Blog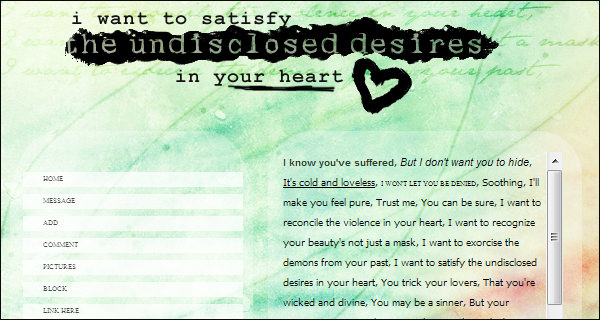 Creative template. Has a minimalist and compact design although manages to fit all aspects of the profile into the space. Also benefits from a artistic color scheme.
22. Stillness from Create Blog
Green themed and creative template. Different shades of green complement each other and it has a large navigation presence for easy access.
23. She Live in a World of Magic from Create Blog
A very compact but imaginative template. Fantastic blend of colors and a compact design to give off an artistic feel.
24. Free Thoughts from Create Blog
Dark themed template that manages to capture both black and some white to have a well-polished finish. Good use of a large navigation bar.
25. Ubuntu from Create Blog
Based around the Ubuntu Linux system. Uses the same color scheme and is great for a colorful but minimal MySpace profile especially for Linux fans.
26. Converse <3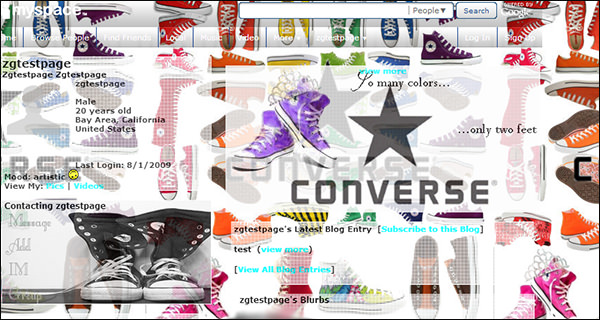 A template that makes heavy use of background images. May seem cluttered in some spaces but it has a creative design that incorporates much more than just profile information.
27. Anything but ordinary
Arty design that allows the profile to stand out through bordered boxes. Nice and smooth color scheme as well. An all-round well designed template.
28. Misguided Ghost from Create Blog
Compact template for MySpace profiles. Misguided Ghost has a scenic background and a simple black & white color scheme, but is highly effective.
29. Checkered (double background)
Slim line but creative template. Very basic color scheme and has a minimalist design but manages to incorporate a lot into a small space.
30. Butterflies
Innovative and compact design. In a Lemonade Sea is almost cartoon-like while still looking stylish and providing a unique profile template.