Letters
27+ Sponsorship Letter Templates
In any event, you get to see a certain product being advertised. It becomes clear to you that the company is the one sponsoring the event. The company is also mentioned in announcements and other spoken matters. They are even thanked for their generosity. This is all a product of sponsorship.
In getting a sponsorship, you must write a sample letter with the intention of having that company give you funding for the event. This must also detail how much you need and how you are going to boost the branding of their product.
University Sponsorship Letter Template
Free Sponsorship Letter Example
Free Sports Sponsorship Letter
Free Visa Sponsorship Letter
Free Corporate Sponsorship Letter Template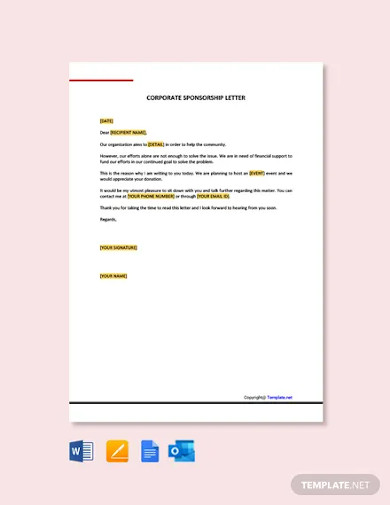 Free Professional Sponsorship Letter Template
Free Sample Sponsorship Letter Template
Free Event Sponsorship Letter Template
Sample Sponsorship Letter

www1.udel.edu
Prospective Sponsor Letter

pauldingeducationfoundation.com
Letter Asking For Sponsorship

sbc.edu.hk
Sample Request For Sponsorship Letter

sourcetemplate.com
Corporate Sponsorship Letter Sample

financialbeginnings.org
What Is A Sponsorship?
A sponsorship is basically asking a company to give you monetary help in exchange for some benefits that you can give them. It is usually done by writing a sponsorship letter to the company and detailing why you need the sponsorship and offering them the said benefits. Most of the time, the business rights are used to its commercial advantage.
Getting a sponsorship is a tough ride, especially when it involves the number of people attending the event. It is a tough sell when there is a little number of people attending the event. However, it is easier to pull up a sponsorship when it is a large event. People will surely attend it no matter what. You may also see sponsorship letter samples.
A sponsorship can evolve into strong relationships between the business owners and event organizers. When an event is successful on its first try, the sponsoring companies can sponsor again to the same event organizers. It is sort of becoming a cycle for both of them and it brings out the best in every collaboration they do. You may also see sponsorship request letters.
Sponsorship Letter Sample

uhkf.ca
Sample Sponsor Letter Template

samhsa.gov
Sponsorship and Fundraising Sample Letter

mesasistercities.org
Sample Sponsorship Proposal

soroptimist.org
Sponsorship Letter with Packages

tappi.org
How To Write A Sponsorship Letter
Sponsorship letters are written in the hopes of getting a company to fund your event. The letter must be convincing enough for any company executive to invest and risk their money for you. In doing that, here are the steps in writing a sponsorship letter:
1. Set goals.
You need to have a clear set of goals before you do anything that relates to sponsorship. You have to think of what you want to achieve with the sponsorship and in the event as a whole. Sponsorship letters are written with a set of purposes in mind. You have to understand why the goals need to be achieved. You may also see sponsorship letter for events.
2. Make a list.
Think about the businesses you know and start listing the ones who can potentially fund your event. Determine through research if these companies have provided similar events before. You also include those businesses that you have a connection with. Invest in the hope that they can sponsor your event. You may also see fundraising letter templates.
3. Know what you seek and offer.
You have to know what you are looking for and what you can offer in the sponsorship letter. In this part, you have to be specific about these aspects. Sponsorship can either be in cash or in kind. In the case of cash sponsorship, you will be given the amount of money you need for the event. In-kind donations can be in a form of material goods or services. It's up to you on how you utilize it. You may also see fundraising letters.
In return, make a set of offers that you can give to the company. Sponsorship is not a one-way street. You want something and they get something as well. An example of a benefit that you can give your customers is the appearance of their company logo on your website. Social media promotions of the product can also be a good benefit.
4. Be specific about who gets the letter.
Addressing the letter with "to whom it may concern" sounds very informal. You have to know the person you want to send the letter to. Do a background research on the potential businesses and determine the names of their leaders. Make sure you get the spelling right since it is important when you begin writing the letter.
5. Study sample sponsorship letters.
Take a look at the sample sponsorship letters and see how it is written. This will give you an idea of how to write your own. Study the format, tone, and construction of the whole letter. While it is advised not to copy everything, at least you would know what to do the moment you start writing. You may also see sample donation letters.
6. Pick the right tone.
Sponsorship letters have this formal and convincing tone at the same time. You just have to know what tone to pick and go a long way from there. Have a professional tone in the letter instead of being too casual. Remember that you are asking for a favor and giving them something in return. You should know how to pick the right words. You may also see sample thank you letters for donations.
7. Start making the letter.
Follow the standard business format while writing the letter. Start with the date, followed by the sponsor's name and address. After a space below the address, put the salutation. It starts with "Dear Mr./Ms.", depending on the gender of the sponsor. Put a salutation under the comma and enter another space for the first paragraph of the letter.
It is always advised to keep the letter short and simple. In the first paragraph, explain your intention of asking a sponsorship for the event. Give them a clear background of what is your event about and what it aims to do. Next thing that you have to do is convince the sponsor to fund your event. State why you need it so much and list down the benefits that you could offer. Give supporting evidence to your intention. The last paragraph should wrap up everything and you hoping for their consideration of your request. Close the letter by putting "Sincerely yours" and your name at the bottom. End it with as much gratitude as you can give. Put your signature above your name to certify the letter. You may also see sample donation letters.
8. Proofread the letter.
It is a must that you do a proofreading of your letter before you send it. Get rid of the spelling and grammar errors as this would cause a headache to anyone who reads it. You may also see sample sponsorship letter for donation.
9. Follow up the letter personally.
You may go to the office where you sent the letter to. Ask the employees around if the recipient has received the letter. You can also write follow up letters to make asking for updates more professional. You may also see sponsorship proposal templates.
Example Sponsorship Letter

letourneau.org
Sponsorship Request

internet.savannah.chatham.k12.ga.us
Wedding Sponsorship Letter

recamft.org
Attracting Sponsors To Your Event
The most logical thing to do when looking for funding in your event is to get sponsors. Nowadays, it is not enough to send a generic letter to companies when seeking for sponsorship. Your package has to be attractive enough for it to gain the attention it deserves. Here are some tips in attracting sponsors to fund your event:
1. Study the sponsors and current trends.
Do a background research on your sponsors and try to figure out what could make them say yes to your request. Study how they make their advertisements. You would get an idea about the formula that works for them. You also have to study the current trends, and how its transition affects the market. Take note if the company is coming up with a new product. If they are, it is the best time to request for sponsorship. For sure, they want their products to be seen by their target audience. These will help you in tailoring the perfect proposal.
2. Make the proposal shine.
Companies review proposals and letters from several event organizers seeking for sponsorship in their events. Each has a style of writing that is distinct from one another. The tone is professional and general at the same time. In making your proposal stand out from the rest, you can tell the humble beginnings of your company to what it is now. You also need to describe what your company does and what it aims to achieve in the future. The demographic audience is also included. Give your proposal the jaw-dropping factor it deserves. You may also see sponsorship proposals.
3. Offer benefits.
Of course, businesses don't risk their money without getting anything in return. In exchange for their sponsorship, give them something that is favorable to them. Offer them the best benefits such as the promotion of their products and encouraging people to follow their social media accounts.
4. Form a partnership.
To further boost your company's brand, you should reach out to more established companies. Form a partnership with them to get yourself recognized by other companies out there. This can help you in getting sponsorship quicker and easier. Reach out to companies who offer the same, or close, to the products and services that you offer. Make sure it is in line with your company branding.
5. Mingle with potential investors.
Sponsorship is a game of trial and error. You just don't have to target the bigger companies in looking for funds in your event. Try looking and mingling with smaller companies who can provide funds. These potential investors have the ability to fund your event as long as you give them the maximum benefit. You may also see sports sponsorship proposals.
Sponsorship Letter Template

garrettcountyschools.org
Drum and Bugle Corps Sponsorship Letter

bushwackers.org
Why Brands Sponsor Your Events
In any event, it is a common thing to see big brands being mentioned. That means they have given sponsorship to the event and got something in return. If you are asking yourself what the sponsors want as you write your sponsorship letter, then you are out to win their big yes. Companies sponsor events for these reasons. You may also see sponsorship proposal examples.
1. Gain brand awareness.
This is the very basic reason why companies sponsor events regardless of how big or small it is. They need to expose themselves to the target audience. For smaller companies, this is their way of reaching out to their target audience without paying too much. For big companies, sponsoring events is their way of acquiring a new set of audience. People have to know that their brand exists and they can provide the best product and service around. You may also see business sponsorship proposal templates.
2. Block competition with other companies.
Business owners look at how other companies are doing their promotional activities. They are taking note if they are going ahead or lagging behind in terms of their promotions. If another company promotes the products by putting out billboards and making television and online ads get into the game by sponsoring an event. You may also see proposal letter templates.
3. Increase the sales of the product.
Along with increasing brand awareness is the goal of increasing product sales when sponsoring an event. They usually offer free samples of their products to the people to convince them into buying the product. Companies just want to get their products into the hands of their customers in any way possible. You may also see thank you letter formats.
4. Engage in an audience.
It is also the goal of companies to engage in their audience when they sponsor and event. They can have the opportunity to speak to their customers and ask them about what they think of the product. By then, they would have an idea on how to improve their product and promote it better the next time. Sponsoring an event also increases a company's reach and exposure to the people. They will have a chance of interacting with new clients that can help their business. You may also see simple request letter templates.
5. Get media exposure.
Big events are often televised. If it is a very important event like the Super Bowl, big companies will surely sponsor it. Having media exposure can establish your brand well in the perception of the viewers. For smaller companies, it lends a great advantage on them to be exposed in the media while sponsoring an event. This gets them to be known to the people and can be a game-changing move for them. You may also see formal letter formats.
6. Deliver a massive return of investment.
Business owners live in the principle of getting something in return after giving their part in the business venture. More often, they get a great deal of return on investment when they sponsor an event. When they drop all their cards in sponsoring an event, their sales increase and their brand is recognized well in the market.
7. The cheaper method of marketing.
Compared to other marketing forms, sponsoring an event is cheaper than any of these. They just have to strike a deal with those who want their events to be sponsored and pay a sponsorship fee. It's that easy. You do not have to pay for the airtime of a television ad, make a concept for it and pay celebrities to endorse your product. Just go to the event and see where it goes from there. You may also see free thank you letters.
8. Testing the product.
Some companies test their products in events before they launch it. It also makes them see what works and what does not. This also makes the businessmen see what interests people and apply it in their product. You may also see introduction letter templates.
9. Generating traffic.
Sponsoring an event is a good way for business owners to attract more people. The number of people visiting your event booth is far greater than the people who drop by your shop every day. It is a good way to give customers a glimpse of your small business.
10. Reposition the product.
An event sponsorship is used by companies who have been put in a bad light to alter the perception of their product to the people. The product is given an all-new kind of boost that will surely make an impact to the event and to the people attending in it. You may also see donation request letter formats.
11. Enhancing social responsibility.
One of the key reasons why brands sponsor events is to show that they care about the community. They want to reach out to the people since they are the ones bringing revenue to them and the ones that need their products and services. You may also see donor thank you letters.
Ateneo de Manila University Sponsorship Letter

ateneo.edu
Types of Sponsors
Sponsors for an event are not only limited to businesses, although they comprise majority of the sponsors in an event. There are other big time players and sponsors we have never heard of before. You may also see sample proposal letters.
1. Media sponsors.
Media sponsors are likely to be seen in large and high-profile events. They provide a real-time coverage of the event. They promote your event in their social channels and write an article about the event which can be published on online news sites. This is, of course, in exchange for the benefits that you want in the event.
2. Promotional sponsors.
In an era where digital content is heavily consumed minute by minute, bloggers, vloggers, and celebrities with a massive amount of following can help promote your event. They work similarly with media sponsors. The only difference is they promote the event through their social media accounts without any other channels. Their followers will instantly see what these influencers are up to. In turn, they get to be aware of the product.
3. Cash sponsors.
These are the kinds of sponsors who give out cash for the event to keep going. It is usually done by companies and they get some benefits in return. The amount of cash being sponsored depends on the deal between the company and event organizers. You may also see professional request letters.
4. In-kind sponsors.
Some companies go for in-kind sponsorship. They give material donations to the event organizers which they can use for the event. Products and services are offered for free in exchange for a higher level of benefit in the sponsorship. It can help you save a lot of money as well. You may also see business letter templates.
Tennis Sponsorship Request

moneytennis.com
Baseball League Sponsorship Letter

japansocietycanada.com
University Sponsorship Letter

haramaya.edu.et
Elementary School Sponsorship Letter

mariereedes.org
Types of Sponsorship Packages
Winning over a sponsorship is not just done through letters, follow-ups and convincing too much. Right now, sponsors are hard to win if you do not have attractive sponsorship packages that go with your letter. You need to know how to make them say yes. It should just go beyond brand awareness. You may also see partnership termination letters.
These are the list of packages that you can offer your prospective sponsors:
1. Event live streaming.
Today, event organizers offer live streaming services to the companies. Their logos appear on screen as graphics or being focused for a few seconds in the live stream video. Social media sites and video streaming sites like Youtube and Facebook has this kind of service. This makes the event reach more people and increase awareness of the product's brand. There is a big chance that the same people who watched the live stream will attend the same event next year. You may also see confirmation letters.
2. Food and drinks.
In any event, it is a need for event organizers to provide food and drinks to their attendees. Event organizers can ask for supplies from food companies to sell their products in exchange for exposure. A mobile kitchen and pop up restaurants can be set up within the area to provide this need to the attendees. Food and drinks are the basic commodities of a person and it's a great help to have food stalls around the area. You may also see sample business letter of intent.
3. Giveaways.
People love to have something as a keepsake for attending the event. For this reason, event organizers hand out giveaways. It is much better if you and your sponsor give a giveaway that is experience-based such as a trip outside the country or to the beach. This entices the audience to attend the event. You may also see sample exit letter template.
4. Games.
How to make an even more fun and interactive? Come up with games. These can make the event happier and allow people to mingle with each other. You can give the products of your sponsor as prizes as the game wraps to a close. You may also see demand letters.
5. Charging stations and internet connection.
With social media in full swing, attendees need a strong internet connection to document the event live as it happens. Whatever snapshot and video they get, they post it on their social media accounts. This serves as a subtle promotion that has the power to reach a wider audience. Event organizers should make sure the internet connection is strong so attendees won't have a hard time posting their snapshots of the event. You may also see letter formats.
6. Virtual reality.
Event organizers set up virtual reality areas where attendees can experience anything and everything about the product virtually. They don't have to go to another place and just wear a virtual reality headset to experience everything. Attendees can experience a three-dimensional image of the whole experience. You may also see writing a promotion letters.
Conclusion
Events do not come into life without sponsorship. This is the main backbone of the whole event, and not having a clear plan on who funds your events will clearly topple all your smart goals. Your convincing power matters in getting sponsorship. It is the main factor in getting the funds you need.
More in Letters