Letters
23+ Business Letter Of Intent Templates – PDF, DOC
A business letter of intent is an important document that confirms a company's deal to finalize a partnership, sample proposal, franchise application, cooperation, collaboration, or employment. The content may contain information to supply goods and services both parties provide or the type of company like a startup, contractor, small business, and other service providers. However, simply detailing your confirmation, contract purchase, or lease may not be enough to exude a professional appeal to your recipients. Our business letter of intent templates provides well-written sample content to serve as a guide even for beginner writers.
The following letter templates provide content insights to supplier request formal letters, a join entire contract, basic loan requirements, and other vital business deals. The letter would state information about the parties involved in the business, the purchase price, nature of the business proposal, liabilities on the part of both the parties, etc.
Free Letter Of Intent For New Business Template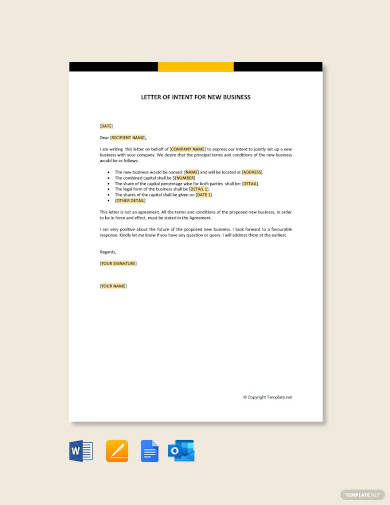 Agreement Letter Of Intent To Purchase Business Template
Letter of Intent to Do Business with the Company Template
Letter Of Intent For Business Partnership Template
Letter Of Intent For Business Proposal Template
Simple Letter of Intent Acquisition of Business
Provide an accurate definition of all inclusions and exclusions of a sale or acquisition of a business by making use of this letter of intent for a business template. Get a clear picture of what the seller is offering such as specific assets and exclusions of the sale. Indicate purchase price and other conditions such as employment arrangements for employees of the business being acquired. Get a standard simple letter of intent that allows you full customization of the Word document to fit your specific needs. Try this template out now!
Professional Letter of Intent Template
Do you need to draft an important document that lets you sample outline an agreement with another party about your business? You're in luck for we have just the template for you! This letter of intent PDF is perfect for initial proposals to the other party, especially when it relates to purchases, acquisitions, contracts, and mergers. Editing is also made a breeze as an added convenience for the user. Check it out now!
Simple Restaurant Letter of Intent Template
Simple Restaurant Non-Binding Letter of Intent Template
Simple Restaurant Letter of Intent for Transaction Template
Basic Letter Template of Intent for Business
Letter of Intent in Business Partnership Cooperation
scribd.com
Small Business Request Formal Letter of Intent
wikihow.com
Sample Business Letter of Intent to Rent
esampleletters.com
Contract Business Letter of Intent to Supply Goods
contracts.onecle.com
Business Letter of Intent for Service Providers
futures.bc.ca
Business Contractor Letter of Intent to Lease
images.kw.com
Letter of Intent for Collaboration Business Proposal
extranet.getty.edu
Business Purchase Plan Letter of Intent Sample
extension.iastate.edu
Letter of Intent for a Business Company Transaction
thepapertreeacademy.files.wordpress.com
Letter of Intent for Franchise Business Application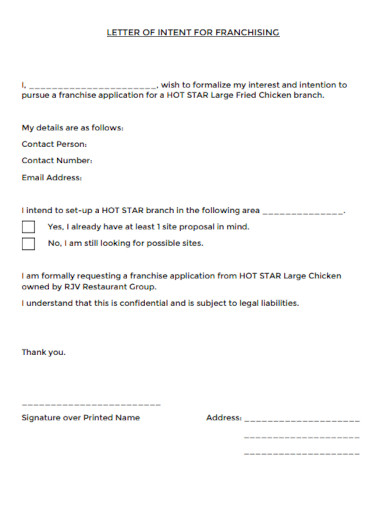 hotstar.com.ph
Business Supplier Letter of Intent Template
scionix.nl
Employment Loan Business Letter of Intent
rd.usda.gov
Startup Business Investment Letter of Intent Template
eforms.com
As per the data gathered by the United States Postal Service, the number of first-class mail they process and deliver per day reaches 181.9 million pieces.
Moreover, they send 3.5 million corporate emails to over 222 000 email addresses daily.
According to Statista, individuals received an estimate of 281 billion emails per day in 2018.
Conclusion:
A professional letter of intent is much like a cover letter that you can use to introduce yourself to other business large organizations. This means that you can use this letter to show your application to an employer who would want to hire you. It highlights the intentions of two or more parties that want to do business together. Such letters are legally bound to all the terms and conditions that are mentioned in the sample contract. You must remember that these letters in Google Sheets should include all meaningful credentials and you can also use them to show off your writing skills.
With the help of the templates that are mentioned in this article, you can make the best use of them and make the Word letter of intent you need. All you would have to do is pick the one that suits you the most and add your details. You can also download them on any electronic device and in any file format you think suits you best. You can now save a lot of time and effort as you do not have to make printable letters of intent from scratch. You can also take the help of the proposal letters in Word to make the best-needed letter of any kind. Happy Writing!
General FAQs
1. What Is a Business Letter of Intent?
A business letter of intent in PDF can be described as a document that can be used when an organization is finalizing a deal or a simple contract. It shows the purchase or sale that you made from another party. This way, the parties involved know that you are serious about the deal.
2. What Is the Purpose of a Letter of Intent?
The main purpose of a letter of intent Pages is to help the start of a small business deal or a project that is between parties involved. This can be done by knowing the key concerns and thoughts that will simple form the basis of the conclusion of the project.
3. Why Is a Letter of Intent important in Business?
An academic letter of intent is important in business because it helps you decide on your business. When you decide to sell your inventory business, it is important to take each step of the process of the deal pretty seriously. The stage is typically where the seller has the power to negotiate the most.
4. How does a Letter of Intent work?
A letter of intent is a legally written document that simple outlines the understanding between two or more parties in a business deal. In such a document, they intend to formalize the binding sample agreement and make sure that everyone involved knows the legal terms and conditions of the deal.
5. What Should a Business Letter of Intent include?
A PDF business letter of intent must include the following:
Valid reasons as to why you are writing the Word letter of intent
Give details on who you are and what you do
Highlight your achievements
Praise the company you are writing to
Mention all the details that need to be in the reference letter.
More in Letters